Submitted by Dr. Jennifer Penrose of Penrose & Associates Physical Therapy
Dr. Jennifer Penrose from Penrose & Associates Physical Therapy interviews Marissa Ang, ATC who is an athletic trainer working in Dr. Penrose's clinic with a very specific role in working with seniors. We discuss how those 50+ need to have a balanced work out: aerobic, strength, balance exercises, and flexibility. We discuss how falls are one of the leading causes of injuries and death for those 65+. Marissa describes some balance tests you can easily test yourself with at home and what to do about it.
Unfortunately, falls is one of the leading causes of life altering injuries.  One in 4 adults over 65 falls every year.  Sadly, every 19 minutes an adult dies from a fall.  If you cannot balance on one leg for at least 30 seconds you are at risk for a fall.  Tune in to the podcast to learn more about how to test your balance.  Balance involves your sensation on the bottom of your feet, leg strength, core strength, vision, and your inner ear/vestibular system.  Keep the entire balance system in good shape to stay out of the doctors' office.  Penrose has 3 different classes that incorporate balance training.  Email or call to find out which one is right for you!  In fact we will let you come to the first one at 50 percent off if you mention this write up! Listen to the podcast here.
In fact the research is solid that in order to live longer you need to be exercising! In fact lifting weights cuts your early death by 46 percent!
Did you know that 1 in 2 women over 50 have soft bone and 1 in 4 men? The best thing you can do is to do strength training that is hard enough to stimulate bone density. How do you do this?  When you lift weights you want to feel like you are working hard. So on a scale of 0-10 you should feel like it is a 6-7. You should not be able to do 10 repetitions+ in a row. If you do 10+ repetitions then you are doing endurance training, which is good but is not "strength" training. If you have not been lifting weights it is wise to start with good form, instruction, low weights and work up to the idea of working at 6-7 intensity of 5-6 reps 3 sets. As always, start gradual and work up to it to avoid injuries.
Strength training often intimidates people and many people unintentionally get injured.  We offer small group strength training classes (6 people) to provide feedback on form and provide modifications so that each person works at the correct level for them.  If you want help getting started come to the "Penrose Power" group training sessions starting September 9.  You can come to the first one at 50 percent off if you mention this write up!
In fact here are the descriptions of the small group training classes we offer to help you stay out of doctors' offices and prevent falls:
Photo courtesy: Penrose & Associates

Penrose Power (formerly Stronger Bones) is small group training designed to improve bone density and full body strength. This small group training will also use unstable surfaces to challenge your balance and core! If you need more strength to get up and off the floor, or return to hiking, kayaking, or what you LOVE this is for you!

Penrose Posture and Flexibility (formerly Yoga for Osteoporosis) is a modified version of yoga using a chair. This small group training is great for those who are stiff, lack flexibility and need to improve posture and balance. All yoga positions are modified to protect those who have been diagnosed with osteoporosis, arthritis & spine issues. These poses aim to increase bone density. If you want better posture, ability to golf better, put socks and shoes on, feel less ache in your joints; this class is for you!
Penrose Pro (formerly Stronger Bones with additions) is a circuit class. This circuit will address ALL six important functions of fitness; strength, endurance, cardio, posture, flexibility and balance! Everything in one class!  Patient must be able to walk without an assisted device and stand up from a chair in order to participate.
If you want to attend the first one at 50 percent give us a call at 360-456-1444.  Classes during the week are limited to 6 people; Saturday limited to 10 in order to give feedback and progress each individual at their pace. Hurry space is limited!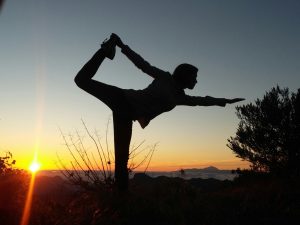 Links to the monthly podcast called "Stay Healthy South Sound" We interview local experts so you can stay healthy and enjoy the South Sound!
We also have free pain tip reports on our website on different topics: balance, back pain, neck pain, osteoporosis, knee pain. Our next free workshop is knee pain on Thursday, October 17 6:00 p.m. – 7:00 p.m. Let us know if you would like to come info@penrospt.com.
Penrose & Associates Physical Therapy
1445 Galaxy Dr. Suite 301, Lacey