It's all about getting messy throughout the month of July at the Hands On Children's Museum (HOCM) with Make a Mega Mess month, part of the Summer Splash Festival. Foam, paint, and mud are just some of the mediums kids can get messy with all month long. Small to Tall Pediatric Dentistry is the sponsor of Make a Mega Mess month and the museum has curated a myriad of colorful, gooey, dirty and bubbly activities for kids during summer break that are not only just fun but also have an educational tie.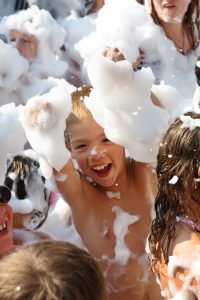 This is the fourth year for the Summer Splash Festival at Hands On. In preparation for the summer long festival, the museum planning team annually researches and seeks out unique activities that children would enjoy but also have educational value. Looking to other museums across the country, activities like the Fantastic Foam Party became part of the HOCM schedule for the 2019 lineup. Inspired by a similar event organized by the Children's Museum of Phoenix, HOCM fleshed out the concept for the foam party while building a calendar of additional events to celebrate an entire month of messiness.
Make a Mega Mess Month is an opportunity for the museum to provide families with unique experiences each time they visit. "When we first imagined Summer Splash as a summer long festival of fun, it was very much strategically a way to mitigate the learning loss that is so common among young children during the long breaks from school," explains HOCM Senior Development Manager, Amy Brockman. "One of the things I have learned from visitors in these last four years is that it is really nice to be able to come visit the museum time and time again over the summer and have quality, in-depth learning experiences."
On July 12 and 13, the inspiration for the month, the Fantastic Foam Party, will feature an arena in the museum's Outdoor Discovery Center, filled with wet foam. The bubbly foam is organic, biodegradable and is safe for skin. In the padded ring, a machine will blow in a slew of foam, free for children to run through, play in and dance in, as music will be playing throughout the party.
Adults bringing children to the museum for the Fantastic Foam Party are encouraged to bring a towel and a change of clothes for young guests. "We will have towels on hand, just in case," says HOCM Event Manager, Paulette Beadling. "If you just go in the foam for a few minutes, which is probably what most kids will do, they're not going to get soaking wet, but they will get covered in foam, so some may want to towel off their arms and legs."
With 400 pounds of cornstarch ordered, HOCM will also be hosting an Oobleck Dash July 26 and 27. A solution of cornstarch and water, the substance oobleck allows museum guests to run over it without being submerged. This messy dash will also incorporate teaching kids about the physics behind oobleck as part of the activity.
"If one were to dash across it, one would not sink into this oobleck substance and if one does stand, one does sink," explains Brockman. "So, it's a dash. Can you run across the oobleck without sinking? These activities will be very infused with STEAM education."
Little ones will be able to unleash their inner artist beginning mid-July with a Paint-a-Thon from July 14 through July 25 and through the Giant Chalk Castle, running through August. Superhero Days at the end of July will feature costumed characters with an opportunity for kids to write their own comic and decorate their own mask or cape. Mud Pie Mondays are another HOCM staple, where kids can handle locally composted dirt while learning how to cultivate a real plant.
And we can't forget about getting messy in water. The Cork Boat Regatta will run July 5-7 and again August 1-4, where kids can design their own boat and then test it out in nearby pools of water.  "The Cork Boat Regatta is an opportunity for kids to put together corks as well as other recycled materials that tend to not sink," explains Brockman. "They combine them in whatever way they want to, with either rubber bands or hot glue guns, and then there actually is water to have a regatta."
Speaking of boats, construction is also underway on the museum's newest permanent installation, the Megan D Schooner, located in the museum's Outdoor Discovery Center. This new and exciting exhibit will open in August. Watch the museum's Facebook page and website for announcements. In the meantime, families can watch volunteer carpenters work on adding finishing touches to the exhibit.
To learn more about Make a Mega Mess month and all activities for the Summer Splash Festival, visit the Hands On Children's Museum website.
Sponsored