It's been less than two years since Northwest Home Team Realty opened, but you wouldn't know it by walking through their doors. The business that started with 4 sales brokers and 1 administrator has expanded to 21 sales brokers and three administrators – and they recently completed a build-out for a brand-new office. All in the space of 21 months.
The keys to success? Two factors, according to husband and wife team and founders Steve and Jessica Poulos. The first is a system that generates customers for the company's brokers. "We operate differently than other real estate offices," says Steve. "We have an in-house concierge service that gets in touch with people in the first five minutes after they've visited our website looking for information. When they're ready, we hand them over to our brokers, so they're not out there trying to hustle new clients. From there, the clients are matched up with the best fitting broker."
That approach generates approximately 450 new customers per month, making Northwest Home Team Realty a firm that brokers are clamoring to join. "We're sought after because of the amount of business we bring," says Jessica.
Additionally, the agency is part of a nationwide training system. Every member of their team, including Steve and Jessica, does daily professional development training and the couple frequently attends conferences focused on keeping abreast of new trends in the industry. "It's not the old school of real estate," says Steve. "We have a system and we want everyone to be trained on the same system. For our clients that means no matter who you're working with from our office, you're going to have the same experience."
Another key factor is their company culture of service rather than selling. "We're not sales brokers, we're here to serve the community," says Jessica. "Buying a home is most likely the biggest investment our clients will make, so we're here to make it a great experience and make sure they get the most amount of return on their investment."
That experience begins the moment clients walk through the door and a receptionist hands them a menu of refreshments to choose from. Then it's about fulfilling the company vision, "We will never settle. We will persist in the meticulous delivery of unparalleled service and expectations. We will do it better than everyone else."
"Everything is serving," says Steve.  "It's not how many houses can we sell, it's how many families can we serve."
That culture is ingrained through staff training and weekly debriefing sessions. "We tell all of our staff that we need to have an attitude of service," says Jessica, "even if it's something as simple as smiling." Meetings end with each broker affirming, "Glad to be here."
"This is our business and we get to choose how it's going to be run," says Steve.  "We made a decision: you need to be glad to be here, and if you're not, it's not a good fit."
Often, clients end up as friends, says Jessica.  "I think customers see that they're not a transaction to us. We actually care about their family's goals. We treat them like family, and they become family to us."
Once clients have closed on a home, they receive a perk card that allows them to use the amenities at the company's office. "People will come in and make copies for their upcoming garage sale," says Steve. "We've had clients use our conference room for PTA meetings."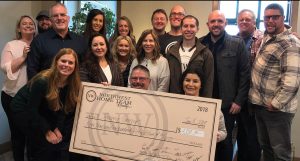 Aside from buying and selling existing homes, the agency has a strong focus on new construction, working with several builers who have built thousands of homes in Grays Harbor, Lewis, Mason, Pierce, King, Kitsap and Thurston Counties.  At any given time, Northwest Home Team Realty has multiple new construction communities underway. The result is even more business for brokers.
For all of their success and exponential growth, the aspect of their business that both Steve and Jessica find most satisfying is making a difference in the community. In 2018 the business donated nearly $5,000 to Homes for Our Troops after all of the windows of a new home being built for a severely disabled veteran were stolen. The materials had been donated by people and businesses in the community. "I love the fact that we're able to use this company as a vehicle to serve others and give back," says Steve. "To be able to do things like that, that's what it's all about."
Learn more by visiting the Northwest Home Team Realty website or calling 360-529-0992.
Northwest Home Team Realty
111 Tumwater Blvd SE Ste A 109, Tumwater
Sponsored