When you first meet Mike Whitlatch, the self-proclaimed introvert appears as normal as anyone can be, but there is more than meets the eye when it comes to this big thinker. Owner of Inbound Designs, Mike enjoys being creative and innovative while providing design work, promotional items, logos, branding, marketing, as well as dynamic websites for businesses all over Thurston County. But when the Lacey resident hops on his Harley-Davidson, he becomes another persona.
While participating with the Imagine Guild and planning for the annual Children's Ride to raise funds for compensated care at Seattle Children's Hospital, there was a discussion on how to make it more fun. First came an idea for an Elmo helmet and then someone mentioned the iconic Muppet Animal, known for his wild antics as a drummer. With only three days before the big ride, Mike's friend Terra Perkins worked tirelessly to complete the character out of a motorcycle helmet, complete with the goofy grin and crazy red hair.
While on the road, Animal gets a lot of attention from passing motorists. Everyone lights up when they see Mike pass by as Animal with his wild hair in the wind. "People will be driving by looking sad and all of a sudden they are smiling and pointing and getting their kids to look," Mike laughs. "Kids come out and want to pet it. Everyone gravitates to it and it's been pretty cool." It surprises Mike that many of the young people know who the frenzied Muppet character is.
One day, Washington State Patrol approached Mike on the freeway with the lights going. Thinking he was about to be pulled over he was surprised when they rolled up next him with two thumbs up. The police passed him by to Mike's relief only the slam on the breaks and hit the lights again. All Mike saw were the flash of a camera and the police officers were gone.
With his love of his motorcycle coupled with his desire to give back, Mike recently decided to launch a whole new company called Iron Horse Rides. He is selling his house and taking out a loan to start the motorcycle touring company offering guided tours and dream rides.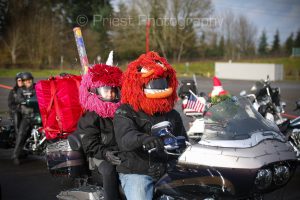 With the money from tours, the next portion of the business is the healing section called Iron Horse Healing. Inspired by equine therapy, Mike would like to apply those practices to a different kind of horse – an iron one.
By using motorcycles as healing tools, veterans, first responders, those experiencing post-traumatic stress disorder (or kids coping with a parent who has PTSD, or kids with a disability can experience the joy found on two wheels.) Mike envisions street rides with sidecars, dirt bikes, camping trips, hospital visits, and much more…and of course Animal will be along for the ride.
A mighty band of Iron Horse Spartans will help Mike with the cause. "A bunch of people are really backing me up on this," says Mike. "I am so jazzed about it. I see a real need for it and how I can implement it."
Mike discovered how to align his business to have more impact by integrating multiple companies and giving back to the community through Evolved Enterprise. Companies that follow the practice, such as Zappos, find a new way to do business while making a difference in the world through experiencing the good.
The visionary entrepreneur in Mike knew he wanted to evolve with his business. "When you experience the good, you create something to grow your community," shares Mike. "It is all about those different avenues of bringing everyone together and the synergy of giving back. It has this huge umbrella and creates an ecosystem."
It was Shari Aldrich, president of Bodymechanics School of Myotherapy & Massage in Tumwater, who inspired Mike to put it all on the line and take the leap into his dreams. He was introduced to her by chance through a friend and then Mike helped her with her websites. "All that led me up to this," shares Mike. "She introduced me to this whole new world. She exploded my universe and opened my eyes and was monumental in this."
With great friends to encourage him and an amazing mentor in Shari, Mike is excited to live his life to the fullest while giving back in a meaningful way. "I see a lot of unhappiness out there from the stresses of our lives," says Mike. "Life is too short to not go live your dream and make it happen so that is my mission right now. I am going to go live my bliss. My Harley was it and so I am going to make that happen and build a legacy with that."
For more information on Iron Horse Freedom, sign up for the newsletter. To support Iron Horse Healing, see their Go Fund Me. Mike Whitlatch can be reached at mike@ironhorsefreedom.com.