Locally owned and produced, Oly Granoly, delivers hand-crafted granola to only one Olympia locale, Spud's Produce Market. Since Oly Granoly's outset, Spud's owner, Dave Jekel, has been a longtime supporter of the company. Oly Granoly and Spud's believe in food being close to the people and are both passionate about making it fun to shop local by providing selections that can't be found in a typical super market.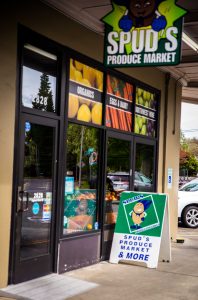 Oly Granoly started when owner, Mary Ellen Jones, experimented with granola recipes in her home kitchen. After encouragement from friends and family, Mary Ellen pursued the possibility of selling her granola in a retail setting. "I played with recipes for a while," she shares. "It actually was a bit of a push, because I was just making it for friends and family. Everyone said, 'you have to sell this.' And so, I reached out and Dave has certainly been the cheerleader of it for years. With most homemade products like that, you have a group of supporters who are like, 'what are you doing? Get this out there!' and it has been very well-received everywhere it's been."
Hand-roasted, Oly Granoly's philosophy is centered around making one product and making one product at the highest quality. "We sell only one kind of granola," explains Jones. "I've played with the idea of having different varieties, but making granola and eating granola is a pretty organic process. I didn't want to mess with the original recipe. It's really pure, it's a real clean taste. If people want to throw in chocolate chips, they can, but that's just not the way we will ever sell it."
First learning about Oly Granoly from Spud's customers, Dave has been eager to keep Oly Granoly on his store shelves for the past five years. "Mary Ellen is great," he says. "She always takes care of us. Whenever we need something, she gets it for us and she's super easy to work with and a really good person. We have it in both of our stores and it's a really nice product that you can't find anywhere else."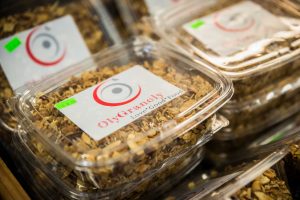 Mary Ellen viewed Spud's as a natural fit for her granola. Because she makes Oly Granoly in Olympia and in small batches, it is separated from many other brands, even ones found on other specialty grocery shelves. "I think Oly Granoly is best fit for these independent markets in towns where people are looking for something different from the traditional grocery store," she explains. "Places that have more unusual items and tasty items that are local, rather than mass-produced."
In addition to Spud's, Oly Granoly was carried in other specialty shops and boutique hotels outside the Olympia area. Possibly looking to grow in the future, Mary Ellen enjoys that Spud's is currently Oly Granoly's only Olympia retailer. Because of the support and the friendly atmosphere that Spud's provides, Oly Granoly has found a home inside the market. "I've had a relationship with Dave at Spud's pretty much from its inception," she shares. "Oly Granoly is a very small company. We're looking at growth, but not very quickly. Right now, we have an exclusive arrangement, so Spud's is the only one in Olympia who carries our product. And our granola is the only granola in Spud's. We like the idea of only serving one vendor in town because that gives them a sort of exclusive tie-in with our product. We choose that based on who they are and the kind of business that they run."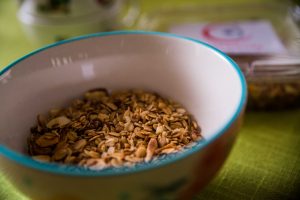 For Mary Ellen, it is the personal connection that makes her partnership with Spud's special. Her ability to create the product in Olympia and hand deliver it to the local produce shop is all part of the unique Oly Granoly experience. "My favorite part of the granola business is working with people like Dave at Spud's," she says. "They're out there doing things for the right reasons and they are close to the community. With granola, you kind of get in your own space and do your own thing. It takes a long time and that's why it's superior to other granolas that you may find on the market. I love our process. Baking it, bringing it in, chatting with Dave, hanging out for a while at Spud's. It's very local."
Oly Granoly is available at both the Tumwater and Olympia Spud's locations. To learn more about Spud's and the food they carry, visit the Spud's Produce Market website.
Spud's Produce Market
Olympia
828 Capitol Blvd SE, Olympia
360-915-9763
Monday-Sunday: 9:00 a.m. – 7:00 p.m.
Tumwater
804 79th Ave. SE, Tumwater
360-764-8915
Monday-Sunday: 9:00 a.m. – 7:00 p.m.
Sponsored