Local landmarks make a city special. In downtown Olympia we've got the stately Capitol building, murals, statues, and fountains galore. Nestled amongst them is one of our most beloved, long-standing spots: the Olympia Oyster House.
Though there has been a restaurant with the same name as far back as the 1880s, the distinctive barrel-roofed design didn't make an appearance until the 1920s. Having burned down twice over the last 90-plus years, it's been rebuilt both times with the same unique facade.
In 2019, the Oyster House opens its doors once again. After a flurry of carpentry, staffing, and detailed physical improvements, Patrick and Dannielle Knutson, Pam Oates and Scott McKinney can't wait to show off their handiwork. Long-time restauranteurs, they're excited to bring locally sourced seafood and tasty delicacies back to anxiously waiting Olympians.
Knutson started washing dishes in restaurants at 13-years-old before moving up the line to chef. He currently has a restaurant in Federal Way as well as the Budd Bay Café in Olympia and River's Edge in Tumwater.  Dannielle and Pam are also working managers and partners at Budd Bay Cafe and River's Edge. Partner Scott McKinney worked for his family's McKinney's Appliance business for many years until opening up the ever popular Pints and Quarts Pub in Lacey.
With bars less than half a mile apart, Knutson and McKinney quickly became good friends. They offered occasional cross-promotions and eventually joined forces to bring the Oyster House back to life. "We'll have lots of the same menu items," says Knutson, "but add twist and flair on things."
Flair like fish and chips your way. Instead of one option, they'll have multiple choices of fish, breading, and more. Classic fried clam baskets won't just be chewy, bready Manila clams but a seasonal, sustainable variety. "We're a couple of foodies," they laugh, "we just love to play with the old recipes and have brought on a couple of amazing chefs."
While starting from the ground up, they are honoring the region, downtown and the building's legacy. Resumes came flooding in, but now all servers, cooks, and front of house staff are in training for the upcoming grand opening.
"So many people told me 'My family brought me here many years ago,'" recalls Knutson. As the oldest standing seafood restaurant in the state, there's a lot of history to celebrate. Dining tables have vintage menus and recipe cards varnished under the surface that show interesting—if slightly oddball—takes on seafood over the decades.
"The expectation of a culinary outing has changed over the last 100 years," says McKinney.
With this in mind, they hope to create "a new feel but keep it the same," says Knutson. They even hope to bring the esteemed Olympia oyster back into the spotlight.
More than just food, the Oyster House honors its founders and community. Knutson and McKinney are bringing back the restaurant's founding family to speak to newly hired staff about its long history. Family artifacts, articles, and menus have been turned into a panoramic mural when you enter the building. Look for the iconic swizzle sticks once hand-crafted by gluing drink stirrers to actual tiny oyster shells.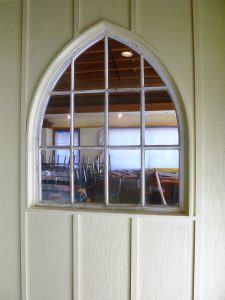 The entry foyer, which opens onto Fourth Avenue, felt dark so an original Saint Martin's University clerestory window was installed. Look closely and you'll see some of the original paint on its gothic-style tracery.
The bar is made from gigantic tongue-and-groove barrels sourced from the Olympia Brewery Company. Barrels one and two are revived, refreshed and serving drinks once again. "We want people to be surprised when they walk in," says McKinney. "We've got a lot of history coming to this place."
Shellfish will be sourced from many local farms and guests greeted by staff shucking oysters to order. When outside decks—with their mountain, water, and Dome views—re-open this summer, shuckers will move outdoors to lure passersby in with their fresh delicacies. Carved panels with the names of these local farms will be installed alongside one already bearing the restaurant's name.
Admittedly, "it's a work in progress over the next few months," shares Knutson. But their fixed menu, with a rotating sheet of seasonal specials, is ready to go. In addition to local oysters, the team have been working with many local distilleries to keep the bar fully stocked.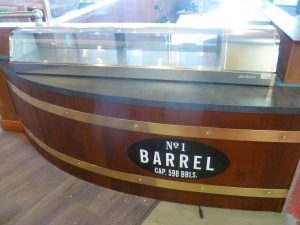 Parking, sometimes tricky during downtown events, parades, and lazy summer nights, will also be easier. The men have leased half of the lot next door from the Olympia Yacht Club in addition to generous street parking along the boardwalk.
The National Trust for Historic Preservation stresses that "by seeing historic buildings―whether related to something famous or recognizably dramatic―tourists and longtime residents are able to witness the aesthetic and cultural history of an area…a city needs old buildings to maintain a sense of permanency and heritage."
At the Olympia Oyster House you can not only witness cultural history, but enjoy it on the half shell with a twist of lemon. Follow them on Facebook and Instagram for details on their February grand opening.
Sponsored