Dave and Karissa Jekel, the owners of Spud's Produce Market believe in stocking their shelves with quality, affordable and locally owned products whenever they can. "We don't have space to waste," shares Dave. "When we bring something in, there's usually a story behind it and we feel very strongly that there is a reason to have it." One of the products Spud's Produce Market is proud to stock is Sweet Lo's Ice Cream.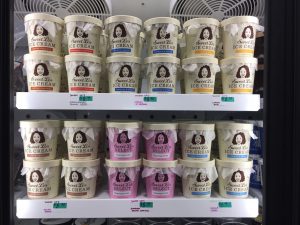 Sweet Lo's Ice Cream is a small business started by Lauren Wilson in Seattle. Lauren's ice cream is made completely from scratch and each pint is hand packed with love. She originally reached out to Dave on Facebook and sent over some samples for him to try. "I brought it home and my kids just went nuts for it," describes Dave. "My littlest daughter, she really likes her ice cream, when she scooped it out, she immediately liked the full cookie on top, that blew her away. When she ate the ice cream she goes 'We have got to carry this dad! We need to call her right now!'"
Spud's Produce Market initially started selling four flavors of Sweet Lo's Ice Cream. After many calls and requests by customers, they now stock all seven flavors – vanilla bean, cookies and cream, rocky road, lemon bar, strawberry pound cake, coffee caramel and Sweet Lo's rotating seasonal flavor. During the wintertime, it's gingersnap cookie.
Lauren started Sweet Lo's Ice Cream in 2013 after moving to Vermont on a whim one summer. "I got this crazy job at this little farm to table restaurant," she shares. "The women that owned the restaurant said I could sleep on the floor in the evenings while I looked for a place to stay. One morning, I stumbled upon a little ice cream maker in the basement of the restaurant." And the rest, as they say, is history.
She made her first batch of homemade butter pecan ice cream upon her discovery. "During the process of making ice cream from scratch I felt myself waking up in a way," Lauren continues. "I made the custard on the stove and then I candied and toasted the pecans with butter and brown sugar. Then I churned it and put everything together," describes Lauren. "When I tasted it, I discovered how incredibly different and good homemade ice cream is compared to what I was eating before. I could literally taste each ingredient that I used. From the heavy cream to the brown sugar. In that moment I knew I wanted to share that exact feeling with the world."
After moving back to Seattle and starting a GoFundMe to raise money for a commercial pasteurizer, Sweet Lo's Ice Cream hit stores in 2017. The two main ingredients in Sweet Lo's Ice Cream are cream and milk. They make 80 percent of all their add ins, including the lemon bars, pound cake, strawberry sauce and salted caramel.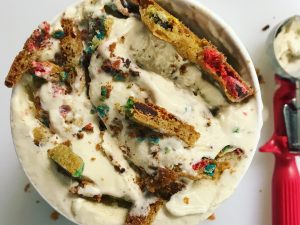 "From start to finish our process is from scratch," explains Lauren.  "A lot of ice cream companies use a premade base that has stabilizers and preservatives in it, ours does not. We are ample with our inclusions so each bite has a mix in, whether it be an Oreo or a lemon bar. The homemade element, the care that we take in every process from acquiring ingredients to pasteurizing to all the baking that we do is translated per pint. On a daily basis, I get an order from the distributor and I make that order fresh, so each pint hits the store probably only three or four days after it has been churned."
Lauren's goal is to continue growing her wholesale business and getting homemade ice cream on multiple store shelves. "I want my ice cream, my business and me to be welcoming to everyone," she shares. "I know it is a little difficult because of the price point and that's because we are working with a distributor, so it's a little higher than I would want it to be, but that's a goal of mine, keep it accessible."
Currently you can find Sweet Lo's Ice Cream at both the Spuds' Produce Market locations, in Puyallup, Tacoma and various locations in Seattle.  You can reach out to Lauren via email at lauren@sweetlos.com or find Sweet Lo's Ice Cream on Facebook "If anyone has any questions, don't hesitate to reach out, I love talking about ice cream," encourages Lauren. Don't forget to follow Sweet Lo's Ice Cream on Instagram to stay connected to all things ice cream and take part in free giveaways.
Spud's Produce Market
2828 Capitol Blvd S, Olympia
Monday – Sunday: 9:00 a.m. – 7:00 p.m.
360-915-9763
Spud's Produce Market II
804 79th Ave SE, Tumwater
Monday – Sunday: 8:00 a.m. – 7:00 p.m.
360-764-8915
Sponsored