The Hawaiian plate lunch is a popular mainstay of Hawaiian food culture. The idea of a plated lunch first began in the 1800s on the island's plantations. The fruit and sugar plantations had a high demand for labor and workers came from around the world to seek employment working on the sugar and pineapple plantations. Men and women from China, Japan, the Philippines and Portugal worked in the fields together and began sharing the foods that they brought for lunch. Workers would bring large portions of rice or the proteins like chicken and pork that made up their family cuisine. They would all share in what essentially became a multicultural pot luck. After the plantations were closed down, food trucks popped up serving the plated lunches to construction workers and other laborers. The plated lunch generally consists of two scoops of rice, a macaroni salad and a protein. When you add another type of protein it becomes known as a mixed plate.
Washington state has long been a popular destination for Pacific Islanders to attend school, work and raise their families. Louis Matautia came from Honolulu to study at Saint Martin's University in 1985. He met his wife Donetta while they were both working at the Governor's Hotel in downtown Olympia. Louis and Donetta settled in Littlerock and began their family.
Over the years Louis and Donetta would frequent L&L Hawaiian Barbecue in Lakewood. The traditional Hawaiian menu gave him a taste of home in between visits back to Honolulu. Traditional favorites like Loco Moco, two hamburger patties over rice with gravy and eggs, Mixed Plate and Spam Musubi are just a few of the island favorites which make up the menu of the Honolulu-based franchise. For years Louis and his wife Donetta had asked L&L to open a location closer to their home in Tumwater. After a couple of years of waiting, they decided to take matters into their own hands and open an L&L Hawaiian Barbecue franchise of their own.
Both Louis and Donetta credit their local partners for helping them with their dream to bring quality Hawaiian food to Thurston County. Everyone from the City of Tumwater to the professionals at L&E Bottling Company. "Paul Lawrence of L&E Bottling Company bent over backwards to help us in so many ways," shares Donetta. "When he first came to talk with us about our beverage service, I thought he looked familiar," explains Donetta. She soon realized that Paul's sister was a dear childhood friend and she had spent hours at their home. "He was the little brother running around the house," laughs Donetta.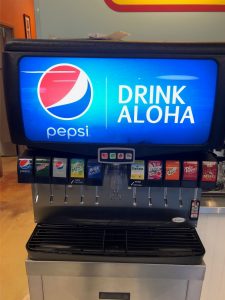 Today, Paul is the reason that the Tumwater L&L Hawaiian Barbecue has the only "Drink Aloha" Pepsi dispensing machine on the mainland. Paul had to get authorization from his own distributorship and then get Pepsi corporation to buy off on the machine. "We really wanted the "Drink Aloha" logo on the machine as it would be the same as the L&L franchises in Hawaii and Paul made sure we got it," says Donetta.
L&E Bottling Company also printed and hung the graphics in the exterior windows which depict sunny beach scenes and hint at the warm environment that lies within. Entering L&L Hawaiian Barbecue is like walking onto a beach. The floors are custom stained to replicate the ocean complete with waves and sand. "We wanted people to feel like they were on vacation when they entered the restaurant". "We have family and friends that are from Hawaii who love to come here and feel the bright, positive vibe that we have created here in Tumwater," says Louis and Donetta.
Donetta's background as a graphic designer came in handy when decorating. No detail has been forgotten, from the selfie-friendly beach wall mural in the corner, complete with "#hawaiifortheday," to the surfboards that line the walls in the restrooms. Customers are greeted with a friendly "Aloha" from their employees who range from full-time kitchen staff to local high school students working part-time after their sports practices conclude. The Matautias have two daughters who both attended Tumwater High School. L&L Hawaiian Barbecue is a supporter of the local high schools and gladly contributes to educational programs in the community . "We have a great appreciation for the community of Tumwater and how it has welcomed L&L" shares Louis and Donetta.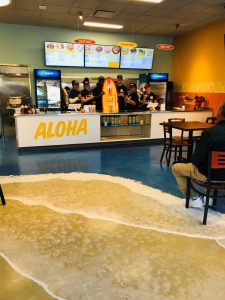 Visiting L&L Hawaiian Barbecue is not just a meal but an experience in Hawaiian culture. They opened their doors to lines of people waiting over two hours to taste the delicious marinated meats that they offer daily. L&L Hawaiian Barbecue celebrated their official Grand Opening on Monday November 26. Kalua Pork anyone? L&L Hawaiian Barbecue is open!
L&L Hawaiian Barbecue
5312 Littlerock Road Suite 101, Tumwater
360.810.2495
Monday – Saturday: 11:00 a.m. – 9:00 p.m.
Sunday: 11:00 a.m. – 7:00 p.m.
Sponsored