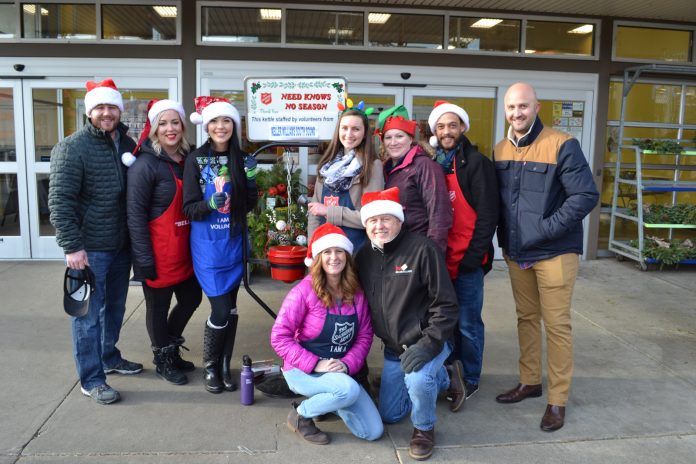 Submitted by Thurston County REALTORS
Thurston County REALTORS Association (TCRA) installed their 2019 officers and board and raised money for several charities at their Installation Luncheon and Holiday Charity Auction on December 6, 2018. The annual event drew nearly 200 attendees and was held at Indian Summer Golf & Country Club in Olympia, Wash.
Wreaths, arrangements and gift baskets contributed by local businesses and individuals lined the large ballroom at the country club for the Holiday Charity Auction that raised more than $7700, a record amount for what has become a yearly event. The money raised by each item went to the charity chosen by the item's winning bidder.
At the event, REALTORS also presented a $6000 check—part of the proceeds from the Association's annual fundraising golf tournament last September—to the Thurston County Food Bank. The Association had also donated a portion of the money raised at the tournament to the REALTOR Relief Fund that provides help for those who experience devastating loss from disasters like the recent California wildfires.
Newly installed TCRA President Kevin Gordham says that in 2019, REALTORS will continue their many charitable activities that contribute so much to local Thurston County communities.
"We are out in the community daily helping clients find or sell a home here and the quality of life we all enjoy is one of the biggest attractions to the area," says Gordham. "Our Association members are dedicated to community giving and support."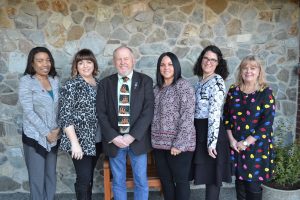 The 2019 officers installed at the event are:
President: Kevin Gordham, Keller Williams Realty South Sound
President-elect: Christina Janis, Epic Realty
Treasurer: Kim Torres, Academy Mortgage
Treasurer-elect: Necia Leach, Thurston County Title
Secretary:  Michelle Mewhinney-Angel, Windermere Real Estate/Olympia
Past-president: Tonia DeBeaux, John L Scott, Puyallup Main 
Along with its officers, 10 of the local organization's board members were also sworn in.
A day following the Luncheon, about 100 TCRA members, many of whom donned Santa hats and other festive wear, rang bells and sang carols in front of several area stores to help fill the traditional Salvation Army's Red Kettles during Thurston County REALTORS® Ring Day.
Many REALTOR Associations across Washington state and the U.S. participate in Ring Days in December. TCRA has participated in their event organized by REALTOR® Gregory Moe of Windermere Real Estate/Olympia for the last several years. This year, they helped raise more than $18,700 for the Salvation Army–Olympia Corps.
"The enthusiasm for the day was incredible," added Gordham. "Our members devote their time to help the less fortunate. We are motivated by our care for the community, the wonderful place where we help people find a home. Ring Day is just one of the local REALTORS' charitable activities in a year that is filled with giving."
The Thurston County REALTORS Association is a professional trade association of more than 700 REALTOR and Affiliate members and is dedicated to protecting homeownership, ethics and professionalism within the real estate industry.