Since 1906, Olympia Federal Savings (Oly Fed) has been a part of the community. A lot of things have changed. The streets were paved.  The horseless carriage replaced the horse and became a common convenience, not just a fascinating novelty. Customers got older, and their children and grandchildren grew up and became customers too. The banking industry changed, and many financial industries didn't survive the ups and downs of time, either being swallowed up by other banks, or simply folding. But Oly Fed continues still, on this journey of life with its customers, and the key to their success is a simple one. Oly Fed changes too. And the most recent change is the addition of a new type of checking account, Journey Checking.
What Makes Oly Fed Different?
Oly Fed is chartered as a mutual savings bank. That means they are owned by their customers. Every adaptation, growth and change over the years has always been for the benefit of their depositor-owners. They don't answer to Wall Street or some faraway interest, but to their customer owners and the people of their community, and that's what makes them rare. "When we develop products, it's about benefiting our customers," says Ryan Betz, marketing and public relations manager for Olympia Federal Savings. "That's been our business model for almost 113 years now."
Journey Checking's Benefits to the Customer
it's been many years since Oly Fed has offered a new checking account product. Journey checking is the result of talking with customers and engaging with the community about how they can better serve them.
The checking account offers a premium interest rate on the first $10,000. Customers with Journey Checking will receive a three percent interest rate Annual Percentage Yield (APY), one of the highest rates on a checking account for everyday customers you can find anywhere.  Of course, there are a few simple stipulations. Customers need an opening deposit of at least $100; a cumulative total of $500 or more directly deposited in the account monthly; 10 or monthly debit card swipes; and sign up for online banking and e-statements. It's that easy.
Rewards for the Community
Journey Checking doesn't just benefit the customer, but also the community. Every debit card swipe will benefit local community organizations and charities. For each swipe a customer makes, two cents will be donated to a different organization each month. For November, the first month of Journey Checking, the Thurston County Food Bank will benefit from the two cents swipe. In December, the Family Support Center of South Sound will be the selected organization. Keep an eye out on Oly Fed's social media channels, like Facebook or Twitter, to find out which charities will benefit in the months to come.
Looking Ahead to the Future
Currently on the horizon, Oly Fed has a local rewards app in the development process. In coordination with local restaurants, breweries, retail shops and a variety of local services, Oly Fed's local rewards app will benefit customers through discounts on food, merchandise and services. Receiving the reward will be as simple as downloading the app, selecting a reward from a local business, and paying with an Oly Fed debit card. Customers can also conveniently receive notifications when they are in the area of a reward business that's offering a discount.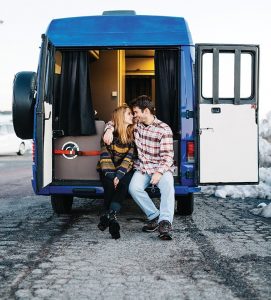 Oly Fed is also preparing to launch online account opening for increased customer convenience. "This new offering aligns with our already convenient mobile banking system and banking apps as customers have found themselves using their banking on the go," says Ryan, "they can be anywhere in the world and take care of their banking needs with Oly Fed."
Life is a journey and Oly Fed wants to be there with you every step of the way. "We want to be there for our customers, from their first checking account, to when they buy a car or purchase a home, or start saving for their children's education," says Ryan. "We see ourselves as a partner in helping them meet their goals." For Oly Fed, the objective is not just a search for money, but an effort to support their customers to reach their goals at every stage of their life's journey. And customers can feel good knowing their dollars are staying local, helping to reinvest in their community too.
If you would like to see if the new Journey Checking is a good fit for you, you can stop by any of Olympia Federal Savings' eight local branches or check out the Journey Checking web page. Or stop in to take a look at the other great products and services that Oly Fed can offer to help you keep your dollars local.
*Variable interest rate account. Rates accurate as of 11/01/18 and subject to change anytime and without notice. Requires the following:
Direct deposit of $500 or more per monthly statement cycle
Debit card activation and at least 10 debit transactions posted per statement cycle
Must maintain active online banking access as outlined in the Online Banking Terms and Conditions Agreement
Must sign up to receive eStatements
One account per Social Security Number
Premium Rate – When the Premium Rate qualifications are met, if your daily balance is $10,000.00 or less, the interest rate paid on the entire balance will be 2.92% with an annual percentage yield of 3.00%.
Above Cap Rate – When the Premium Rate qualifications are met, an interest rate of 0.10% will be paid only for that portion of your daily balance that is greater than $10,000.00. The annual percentage yield for this tier will range from 0.10% to 0.10% depending on the balance in the account.
Base Rate – When the Premium Rate qualifications are not met, the interest rate paid on the entire balance in your account will be 0.10% with an annual percentage yield of 0.10%.
Fees may reduce earnings and rate may change after account opening.
Member FDIC and Equal Housing Lender.
Sponsored