It's easy to take for granted the beautiful, sunny days. One day the sun is there, the next it is gone. The days are growing shorter, and cooler, and it is only a matter of time before the rainy season sets in for a good while. On those dreary, rainy days, it makes all the difference to step out of the car under cover from the elements. With Mullinax Ford of Olympia's recent consolidation onto their new site at the Olympia Auto Mall, customers are enjoying the service drive, a covered garage for them to drop off their vehicle for service that keeps them out of the weather on those cold, drizzly days.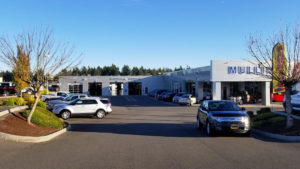 "People can just pull their vehicles in and meet with their customer service representative," says Michael Matos, service director for Mullinax Ford, "It is a really convenient feature to have especially on cold and wet days."
The dealership doesn't just use the service drive to check in customers for regular maintenance and repairs. The service drive also makes a convenient location to host a regular car seat checkup. Once a month, the Thurston County Sherriff's department provides a free car seat checkup at the service drive to ensure that even the littlest customer at Mullinax Ford is staying safe. Officers are on hand to ensure that every child safety seat is properly installed and that the right type of safety seats are being used for each passenger. The checks occur every second Saturday of the month, from 10:00 a.m. to 4:00 p.m. and they are just one of the many ways that Mullinax Ford likes to be involved with the community.
The Service Starts in the Drive, Continues Inside
The service drive is just the first step in the comforts and conveniences that Mullinax Ford offers to their customers when they come in for vehicle service. Once you get checked in with one of the friendly customer service professionals, you can head over to the lounge waiting area. The spacious lounge is designed with comfort in mind. With six televisions in the showroom and waiting area, something will hold your interest while you wait for your vehicle to be serviced. Wi-Fi is also available so you can work or peruse Facebook. The comfortable waiting area offers a selection of popular magazines as well, if reading is your thing.
Another popular feature is the children's waiting area. This separate waiting space has its own television tuned to child-friendly programing, coloring books and other fun things to occupy the kiddos while mom or dad's car is getting serviced. "The separate section, with soundproofing is really popular with our customers," Matos says.
Mullinax Ford offers complimentary coffee too, but if you are looking for something more substantial, you can purchase something at the full-service café, which serves soups, salads, paninis, and made to order espresso coffee. "It's nice to have a variety of hot and cold foods and beverages on site," says Matos. "Food there is delicious."
And if you schedule doesn't allow for waiting at all, a complimentary shuttle service is available to and from your home or office.
Mullinax Ford is a full repair shop. They offer regular vehicle maintenance services like oil changes, tire rotation, fluid-top off, filter changes and multi-point inspections. They also do more complex services, including transmission repair, brake fixes or collision repairs. They offer original equipment manufacturer (OEM) parts with parts and labor warranties. All services and repairs are performed by the knowledgeable and highly trained technicians.
Whether you are need routine maintenance to keep your vehicle in peak running condition or are looking for a repair that will get everything back into shape, Mullinax Ford has you covered. "Customers can make appointments online, but I really recommend they call us so we get an accurate assessment of what their vehicle needs," Matos says. Customers that call in to schedule service can also get an estimate over the phone.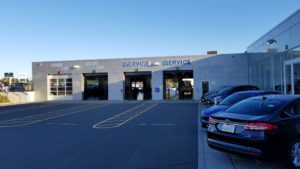 If you want to schedule service and take advantage of Mullinax Ford of Olympia's convenient service drive, call 877-943-0031 or check out the Mullinax Ford of Olympia website.
Mullinax Ford of Olympia
2225 Carriage Dr. Olympia
Service Hours:
Monday-Friday: 7:00 a.m. – 5:30 p.m.
Saturday: 8:00 a.m. – 4:30 p.m.
Sunday: CLOSED
Sponsored