When Debra invited me to meet her community of friends, I opened the door of Sharilyn's home to a group of women laughing in the living room, seated in a circle with plates of appetizers and drinks. This group of women have been close for over 25 years, having met while all educators at Meadows Elementary. Debra tells me that they've been an invaluable support system in her life, and played a significant role in empowering her to start and run her business, Ila's Foods.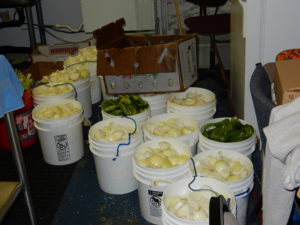 What began as a book club eventually transformed to a close group of friends. These women, who go by the name "The Ha-Ha's", now travel together, volunteer together, put on plays, support each other, attend weddings, funerals, and other milestone events, and still continue to exchange books with each other to this day. When I met them, we spoke about the importance of community: both family and the community that you choose to have. "We've had some amazing adventures. We've also had some serious times where we were really out there for what we believe in," says one of Debra's friends.
The Ha-Ha's reminisced and relayed stories to me about the times they've had together, from performing a dance routine at Mary's daughter's wedding to their efforts in supporting Debra with Ila's Foods. "When I started business, I didn't know what I was doing," shares Debra. "I was about a year in, when my husband was diagnosed with Parkinson Disease. These women came to me, as we have for every crisis, big or small. They offered to do whatever I needed. They came in and helped me cook, process, jar, label.  Many times- often the entire group, sometimes a few or a couple. But they came in force. They picked up products and delivered orders for me. They helped me set up, take down and man my booths. They called, offered, showed up- without me even asking. They came, washed dishes, prepared fruit, filled jars."
Food and community have always been passions of Debra's, which is evident in both her business and her personal life. Many of Debra's products are named after important people in her life, such as Noah's Spicy Pumpkin Butter. This autumnal spread with pumpkin pie spices got its name from her friend Tammy's son Noah. Tammy would make Noah a spice cookie that they called "Noah's Spicy Cookie". He was eating the cookie with apple butter, and made the suggestion that Debra should make something similar, but with pumpkin. This idea led to the creation of a delicious, classic product from Ila's Foods.
When Debra was a librarian at Meadows Elementary, working with the rest of the Ha-Ha's, every holiday season she would bring in hot chocolate to share with classes of children while reading The Polar Express. The Ha-Ha's pointed out that Debra has always loved sharing food with people as a means of coming together and taking care of each other. When they spend time together, the group almost always has dinner together, often taking turns cooking or all bringing dishes for a potluck-style meal.
Debra expresses how empowering it is to have a community of strong women that is so supportive and long-standing, especially for a female business owner like Debbie. The Ha-Ha's, a group with an age difference of thirty years, have uplifted each other and helped each other through milestones such as marriages, becoming mothers and grandmothers, health and wellness, and anything and everything else that life could throw one's way. "I love seeing women helping women, women doing what they believe in, and that's something that I see in this group", shares one of the Ha-Ha's. Every year, to celebrate their friendship and how far each one of them has come in the past year, the Ha-Ha's take a retreat where they make a point of spending quality time together by avoiding television and instead hike, kayak, eat food, and connect with each other.
"They taste tested new recipes, helped choose labels, spread the word about my product…but most importantly, they have supported me, problem-solved, lifted me when I needed it, loved me when I was overwhelmed. There is nothing they would not or did not do to keep me going— in a growing business with no employees. I seriously, could not have gained any success without these women by my side," says Debra.
Almost any local business is a reflection of the support, efforts, and countless hours of work done by a caring group of community members. The Ha-Ha's are a touching example of what happens when a group of people who truly care about each other come together to support each other in business, family, love, and life. To see the products that they helped make possible, visit Ila's Foods' website, check out any of the local businesses that carry Debra's products, or stop by the kitchen at 8036 River Drive SE, Suite 204 in Tumwater.
Sponsored