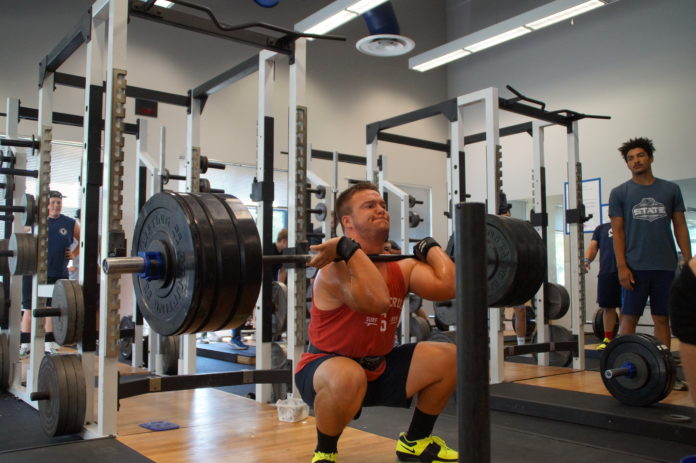 Dave Claridge wears two uniforms. With the Thurston County Sheriff's Office he is an administrative sergeant and an assistant leader of the SWAT team. No nonsense, alert and ready. When you see Dave in the afternoons at Black Hills High School weight room where the music is blaring, he has on athletic gear and a back-facing cap. You might not realize it's the same person. He is both a law enforcement officer and a strength and conditioning coach. It is powerful combination changing lives in deeply touching ways.
On the high school campus, Dave is alternately the most loved and most hated adult. He smiled as he explained this. The students love the results they are creating. Strength and conditioning means fewer injuries, better performance and increased skills – mentally and physically. They are not always as enthusiastic about doing burpees or showing up on Saturday mornings for yoga and conditioning. Nevertheless, students keep coming back because they can see and feel the difference.
Preston Lee is a senior on the varsity football team playing running back and outside linebacker. He likes his increased speed, strength and explosive power that he has developed through the training program. "But it's more than lifting," he added. Now that he and his teammates spend time together in the gym, they have cultivated a deeper connection with each other. It's an intangible element that translates to more intense and genuine school spirit. Preston grinned and noted that Coach likes their music, too.
Dave likes the notion that the students get to see him as a positive figure representing law enforcement. Students are clear in knowing that their coach has their back. That might be as a spotter for a heavy weight or as a person who can intervene on behalf of a youth who is endangered by a violent parent or other difficult situation. At the same time Dave is unhesitant in dealing head on with a student's bad driving or inattention to studies. The roles of coach and officer mix and mingle. With two sons who are students and athletes at Black Hills, so he is also an experienced father.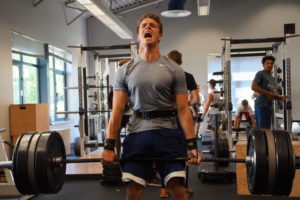 It has been only recently that the strength and conditioning program became an integral part of the sports teams. Previously, it was optional and less organized.
Now student athletes spend time throughout the week in the gym. There is a comprehensive calendar of workouts in sync with games. The systematic and detailed programs designed by Dave are coordinated with the other PE classes as well. Progress is tracked and results are tabulated. His programs integrate cross fit with traditional weight lifting to include functionality and high intensity with an ever-changing workout.
It is a reasonable question to ask if a weight room is really that important or necessary for high school students. Students' lives are already full with homework, classes, sporting events, social activities and hopefully a little sleep. Madi Shepler, senior volleyball player, as well as shot put and discus thrower, places great value on the training but also the support, guidance and leadership of her coach. "Working with Dave, I gained muscle, added to my vertical, and became much faster. Strength and conditioning is valuable to me because I give my all during every workout and feel both mentally and physically stronger every time I'm done," elaborated Madi adding, "Coach puts all of his time into the weight room and each person who steps foot in it. He wants each and every one of us to be faster, stronger, and better athletes. Not only does Dave focus on those aspects but how we think mentally about our sports and how we play and train."
Questions such as, "How do you listen to your body?" or "How do I feel today?" are important to answer honestly. Becoming a mature adult is hard work. "Watching people have personal success is awesome," Dave sighs. "It's the biggest thing, which is why I'm here."
The Black Hills High School Booster Club has been instrumental in upgrading and improving the equipment in the weight room. There are new bumper plates, bars and kettle bells that are more in line with the abilities of the students. Plans are in motion to acquire a crossover machine, which would allow more students to work out together in a smaller area. Dave has been instrumental in maximizing the available equipment and space.
Coach Dave stands out as someone who understands that developing a healthy self-image is not given to a person – it is created within the individual. Black Hills strength and conditioning program nurtures its student athletes. Support a Booster Club dear to you. Consider attending a sporting event. Coach Dave and his wife Trisha, co-owner of Woodshed Furniture, watch their sons play football and also enjoy the girls' volleyball and soccer games.  Woodshed Furniture has invested in the weight room at Black Hills as well as other youth sports and activities in the area. Invest in our children in the form of resources and after school activities go far in their successes and success of our community.
Sponsored