An hour north of Olympia, there is a town on the edge of Hood Canal known as Hoodsport. Its quaint size and beautiful scenery make it a "must-see" spot on any tourists' list. The only problem is that once you factor in the cost of gas and park passes, it can really add up. Don't let the dollar signs scare you from discovering this oasis. Enjoy Hoodsport on a budget.
One of the best parks in our state is located just outside of Hoodsport – Potlatch State Park. This 84-acre park boasts a whopping 5,700 feet of saltwater access. The beaches are perfect for discovering sea life and building the perfect sand castle. It's also a hot spot for kayaking and with the right conditions, windsurfing. As mentioned, this is a state park so you will need a Discover Pass. A day pass is $10 and the annual pass is $30. It is well worth the annual fee to enjoy the many incredible parks our state has to offer. If money is tight, Discover Free Days are offered 12 times a year so if you plan ahead accordingly, you can visit Potlatch free of charge.
Now that you've combed the beach, it's time for a bite to eat. Hoodsport offers a lot of options in a small area of town. Lucky Dog Casino is more than just a fun place to play slots. Their Northfolk Grill serves all ages a variety of food items including sandwiches, salads, entrees. With most food in the $10 range, it's an affordable option for the whole family. The Burger Stand is prominently placed on the corner with budget-priced milkshakes, fries, and burgers. There is also the popular Hoodsport Pizzeria with their fresh baked pizzas, wraps, and gyros. For a true taste of the Canal, check out Hoodsport Coffee Company. Along with their fresh-brewed coffee, they offer hand-made soups and sandwiches. To top it all off, this is the place to enjoy a cone of Olympic Mountain Ice Cream made just down the road in the Skokomish Valley. Their flavors are local, seasonal, and downright delicious.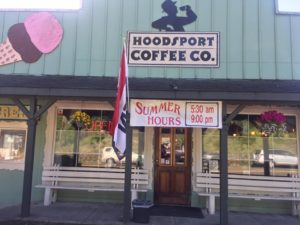 Fueled up and ready for an adventure? Take a hike! The whole family can take part in a variety of hikes near Hoodsport. This side of the Olympics offers breathtaking views through the forest and along waterways bringing down the snow melt to the Canal below. There are plenty of free hiking trails and rest areas, but some of the best do require a fee. The Staircase Loop Nature Trail is a great option for families with a 2.1-mile-long journey that is mostly flat terrain. Not to mention it offers some sandy beaches next to the river for some downtime to lounge during a much-needed break. This particular trail requires an Olympic National Parks Pass. The annual pass is worth the cost if you plan to visit again in the calendar year, but Free Entrance Days are also available four times a year.
One of the most popular recreational areas near Hoodsport is Lake Cushman. The day-use cost for a full car is $10 at Skokomish Park and it is worth every penny. Formerly known as Camp Cushman, this resort has more than 41,000 feet of shoreline to swim, boat, and relax. The views are stunning and the water is extremely cold. It's a great spot to cool down on a hot day. Their day-use area has picnic tables, mountain bike trails, and bathroom facilities. If you saved a few dollars from lunch by packing your own, check out their kayak and paddle board options to experience the view from the surface of the lake.
Head back into town to enjoy a one-of-a-kind shopping experience. Owly's Wayside Nest brings unique antiques to the forefront of Hoodsport. Wander around this cozy store to see the history of the area brought to life through rows of artifacts. Walk down the street and step into Laurie's Hoodsport Gift & Liquor. One would not think a liquor store would be much for exploration, but Laurie's has locally made items that are truly amazing to see. Local artists are on full display here. Even if your budget doesn't allow you to purchase anything, these stores give a sense of understanding the Hood Canal.
It's been a long day in Hoodsport. It's time to make one last stop with the few dollars you have left. A trip to this area is only complete with a tasting at Hoodsport Winery. One of the first wineries in Washington State, it has become an institution for fruit wines. Raspberry, apple, blackberry, and the popular rhubarb are all a part of their label for tasting along with their Orca Series wines. If you decide to buy a bottle as a keepsake, the tasting fee is used towards the total purchase price.
With so much to see and do, one day isn't enough! With a day trip to Hoodsport you will fall in love with the Hood Canal. That love will have you coming back for more to see, taste, hear, smell, and feel the town of Hoodsport.