What's the point of having summer break if you aren't doing anything fun and exciting? Unfortunately, teen activities can get expensive. Shopping, going to movies, and other events (like concerts) are all super fun, but the cost definitely starts to add up. Luckily for my fellow teens, I have compiled a list of fun and budget-friendly things to do for the rest of summer!

Air conditioning can be so refreshing during the long days of summer. BoomShaka is an indoor trampoline park that features foam block pits, a trapeze, a swing, and a trampoline dodgeball court. To stay updated on deals and receive coupons, visit BoomShaka's social media pages (Facebook, Instagram, Twitter, or through Snapchat). Their website also recommends buying tickets to "fly" for a whole group in one payment to reduce the cost. BoomShaka states that customers should call for more info about specific discounts or ticket promotions. It's a great way to step out of your comfort zone while exercising in a fun new way.
For teens who may not want to be airborne, roller skating could be a solution to summer boredom. Skateland offers the traditional roller rink experience, complete with concession stand, popular music, and even the option to host private birthday parties. Skateland's prices are already under $10 (ranging from $6-$8), but Wednesday evenings are "Dollar Nights," with the price for entry (whether you need to rent skates or not) being only $2. Their schedule can be found online here. It's fun to skate anytime, but I have really enjoyed going at night and having the chance to get out of the summer heat.
Another classic Olympia activity takes place at the Eagles Ballroom on 4th Avenue. Every Tuesday, the Ballroom hosts OlySwing, a regular swing dance lesson/all ages dance. Admission is $5 and coming without a partner is totally okay. That being said, it is super fun to go swing dancing and learn or practice your moves with a group of friends. The introductory lesson starts at 7:00 p.m. and the regular dance takes place from 7:30-10:30 p.m. The event's format is drop-in, so feel free to arrive when you can and stay as long as you want.
For a daytime activity, why not head down to Tenino to visit the unique Quarry Pool? Legend has it that the old stone quarry started to fill with water while construction was underway, causing the workers to evacuate, leaving their tools behind to rest for eternity in the bottom of the pool. The Quarry Pool hosts a regularly cleaned and chlorinated kids' side, with the deepest part being only three feet. The second half of the pool is a deep natural lake (75+ feet) bordered by a picturesque, mossy stone waterfall. For swimmers who may be nervous about the pool's depth and unknowns (myself included), lifeguards are on-duty at all times and swimmers must pass a swim test to be permitted in the deep end.
If you live in the Tenino School District, admission is $3/person and it's $5 for non-residents. The Quarry Pool closes on September 2, but if you enjoy the pool this year, you may want to consider a season pass for next summer. While regular hours are Wednesday through Sunday from noon to 6:00 p.m., the pool recommends calling day-of to confirm the hours, as sometimes the schedule can change due to weather or staffing.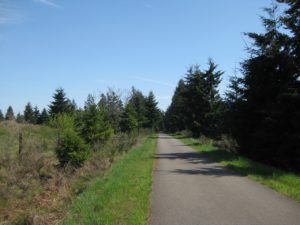 As far as cheap food goes in the summertime, local places in Oly are where it's at. The 5th Avenue Sandwich Shop (also called 5th on 4th) offers many sandwiches for under $10, but I think the best deal is their cinnamon rolls. The large rolls are typically $4, but you can purchase day-old rolls for $1. The cinnamon rolls are yummy. I also highly recommend their $6 slices of pie, which can be served nice and cold for summer.
Taking advantage of the sunny days can be done for free. Summer is one of the best times to really explore the Pacific Northwest. A great resource Thurston County has access to is the Chehalis Western Trail. The trail is free to bike or walk and runs north to south through Thurston County, giving residents access to more than 170 acres of park land. It would be a really fun adventure (and cute photo op) to bike the trail with friends and bring a picnic lunch.
Another great way to exercise for free is by visiting skate parks. Users can bring roller skates or blades, bikes, and obviously, skateboards. Two great places to work on skating tricks are the Friendly Grove Skate Court (located at Friendly Grove Park) and the Skatepark at Yauger Park. For something to do with a larger group of friends, Woodruff Park, Rainier Vista Park (in Lacey), and Long Lake County Park (also located in Lacey and it features swimming spots and boat launches) are all parks with outdoor volleyball nets. This is another great (free!) way to spend your summer. I also like tennis and there are courts at all of these parks except for Long Lake.
To cool off without actually taking a dip, the Heritage Park Fountain offers free picnic spots and a fun spray park. It's open from 11:00 a.m. to 9:00 p.m. June to September and from October to May it's open 11:00 a.m. to 7:00 p.m. It's right in the heart of downtown, making the fountain a great way to relax after shopping, eating, or just exploring Olympia.
A final favorite summer activity of mine is going to garage sales (or garage "saling"). Often even cheaper than thrift shopping, you can sometimes even find free items at garage sales. A positive aspect of going to estate or garage sales is that you don't even have to drive. By looking online to find specific sales and their locations (on websites like Craigslist), you could plan a walk or bike ride around to sales. The most popular day by far for garage sales is Saturday, so if you want a little less structure, just drive or walk around residential areas and look for signs.
All in all, summer is a great time to try new things or to participate in activities that you don't normally have the time for. Olympia and Thurston County have some great local resources, so even though it's already halfway through August, it's still not too late to have some summery fun. Happy summer!