The Hands On Children's Museum's (HOCM) summer-long Summer Splash Festival presented by WSECU is rolling right along, and July may be the most action-packed month yet. The museum will be featuring Riveropolis, a 35-foot long river installation featured in the Museum's Outdoor Discovery Center from July 19 to August 17.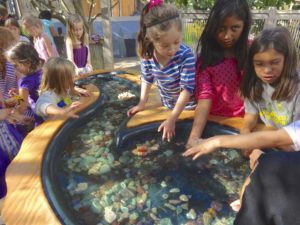 Amy Brockman, Senior Development Manager at HOCM, says the Riveropolis exhibit, sponsored by Small to Tall Pediatric Dentistry, will inspire endless investigation and experimentation as children build boats and bridges at adjacent tinkering stations to test in the flowing river. There will also be natural materials available like stones, sticks and rocks to experiment with.
To celebrate the opening and closing weekends of the month-long traveling exhibit the museum will be featuring their tried and true Cork Boat Regatta event sponsored by Dairy Queen. Children will have the opportunity to put their engineering skills to the test as they create their very own boats using glue guns, corks and other repurposed materials. They can then test their designs and race their boats on nearby water pools next to the Riveropolis exhibit.
From the creative mind of California artist Gregory Gavin, this traveling fantastical waterways exhibit is making its way for the first time ever to the Pacific Northwest. Gavin, who has been designing site-specific art installations since 1991, says his mission is to create irresistible products and environments inspiring children and adults to rediscover art, craft, and play.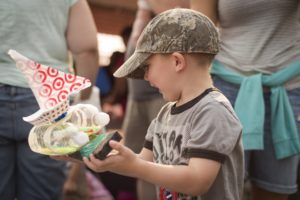 Indoors in the MakeSpace the Museum will feature an accompanying Bridge Building activity sponsored by HDR Engineering. Engineers from the firm will be visiting throughout the month to help facilitate the activity, which will give children the chance to create their own bridges and experiment with tension, trestles and weight bearing.
Another much anticipated July event is the Canoe Carving Demonstration sponsored by the Squaxin Island Tribe. Master canoe carver Taylor Krise from the Squaxin Island Tribe will be doing the carving on-site July 20. "We have a very strong partnership with the Squaxin Tribe," Brockman says. "The museum is actually located on Squaxin land, and when we broke ground for this facility, the Tribe was here and blessed the site."
To honor this relationship, one of the museum's permanent exhibits is a model of a traditional longhouse that the Tribe co-designed with HOCM.
The Painted Sand Castle will continue to be on display in the Outdoor Discovery Center, sponsored by Coldwell Banker. Brockman says this is a continual crowd favorite as kids get the chance to express their creativity by painting the larger than life sand castle. The sand castle will be accessible throughout the entire summer along with the popular Splash Ball exhibit – where kids take aim at underwater sea creatures using wet sponge balls. Splash Ball is sponsored by Capital Medical Center.
The museum's non-profit partners and other guests will also be visiting the museum during the entire Summer Splash event to interact with kids and families. Olympia Parks, Art & Recreation will be putting on a button making activity on July 12, and HOCM partner, the WET Science Center, will be doing an activity called Ocean Crowns and Salmon Hats on July 26. Decorate hard hats on July 27 with museum partner the Port of Olympia, or learn about casting and splinting with long-time partner, Providence St. Peter Family Medicine on July 28. Stilts and Fire Spinning performances by Love of Poi will also be on July 28.
If that wasn't enough to thoroughly occupy your family, Mud Pie Mondays will continue to take place every Monday throughout the summer in the outdoor garden space, falling under the category of Nature Activities sponsored by Lucky Eagle Casino & Hotel. This is a weekly guided activity where kids play by mixing potting soil with water in a tin to create a pie. They can choose from a multitude of options like flowers, shells, and rocks to decorate the top of the pie. The finished pies are then put on the Bakers Shelf for display.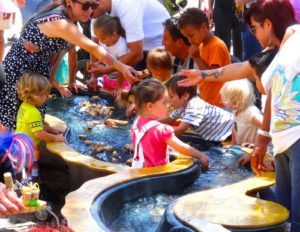 This is the museum's third annual Summer Splash festival and the event continues to provide three months of exciting interactive learning experiences designed to engage children and alleviate summer learning loss while kids are out of school. Stay tuned for upcoming August events!
For a complete listing of all Summer Splash events, visit the Hands On Children's Museum Calendar. To contact Museum staff, visit the Contact Page or call 360-956-0818.
Sponsored