Drive by CIELO's new home base at the Lutheran Church of the Good Shepherd on any given weeknight and you'll see a bustle of activity after classes have ended.

"If you hang around at night after things are closing up, nobody wants to go home," says CIELO Board Chair Sherry Sullivan. "They're talking and talking. It's a happy place."
That happy place is the result of a synchronistic match between CIELO, a non-profit organization that provides support and resources to Thurston County's immigrant and refugee community, and a Good Shepherd, a congregation with a strong focus on social justice. In August, CIELO began offering its many programs through Good Shepherd's facility while simultaneously adding an executive director. Since then, the number of children and parents served by their programs has doubled.
The move couldn't have come at a better time. While immigrants are facing increasing hostility and even violence nationwide, the Good Shepherd building is, quite literally, a sanctuary. "It provides a beautiful, safe space so our clients can receive the services they need," says CIELO's Executive Director Victoria Wortberg. "It's important when they're feeling as much stress as they are."
CIELO provides educational classes for adults and children, counseling and support services for victims of crime and domestic violence and sexual assault, mental health services and work skills training. Many of their clients have fled from violence in their home countries and may be suffering from the effects of trauma; others lack language skills or training that would help them gain employment. The non-profit functions as a community hub, providing a supportive network for immigrants and refugees and offering training and resources in their native language.
Within their new space, CIELO has been able to serve more clients and host larger events. Because many immigrants can only take classes such as English Language Learning (E.L.L.) and computer courses at night, the non-profit provides childcare and pre-school options for parents during that time. "Our capacity in the pre-school rooms is significantly larger than it was," says Sullivan.
Now, when CIELO wants to hold larger gatherings, they have access to the Parish Hall or an auditorium. "Good Shepherd is so gracious about giving us additional rooms when they're available," says Wortberg. "Our clients are amazed. They feel very welcome here, not only because of the space, but because of the level of emotional support we've had from the congregation. They've provided volunteers, financial support, flowers, and food which all create this sense of community."
From Good Shepherd's perspective, their new tenant is a good match. "The members take Christ's mandate to love your neighbor very seriously," says Congregational Council President Ron Tuvey. "Good Shepherd has a long history of social justice engagement. This seems to be a very good fit for us."
Congregants are getting to make a difference on an issue that they care about, according to Pastor Amy Hessel. "It's about getting plugged in to the local scene as opposed to the broad national scene. This brings it very close to home. These aren't just immigrants and refugees, they're people you can connect with in the hall. It's very heartwarming."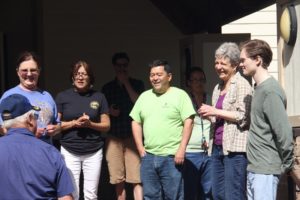 Aside from expanding capacity, CIELO also has gotten a boost from the building itself, says Sullivan. "The beauty and comfort of that space are just as important. There's a positive impact on the students themselves and everyone who comes to volunteer or serve."
Many of CIELO's volunteers are also members of the Good Shepherd congregation and the partnership continues in other ways. When Thurston County Food Bank asked Good Shepherd if they would be a drop-off site for food for Latinx families, they immediately contacted CIELO. "They provided the space, we provided the bilingual staffing," says Wortberg. "They're always looking for opportunities to practice their Christian stewardship."
Tuvey says he's noticed a difference since CIELO moved in. "The main thing is energy. They have a lot of their programs in the afternoons and early evenings and there's a plethora of activity coming from their involvement."
Hearing firsthand about the challenges and barriers CIELO's clients regularly face has been eye-opening, he notes. "I always knew that navigating the system was difficult. Now I have a heightened awareness around those issues."
The landlord/tenant relationship seems to be working well for everyone. "We have a partnership that's very different," says Wortberg. "Good Shepherd involves us in their strategic initiatives. We're not just renters, we're part of their family."
For more information about CIELO, visit CIELO's website or call 360-709-0931