Growing up around pageants, Ashley Engstrom always dreamed of becoming just like the girls she saw backstage, but she never thought it was possible living in Shelton, a city of about 10,000 people located in Mason County. Engstrom's
mother was the Miss Mason County Director at the time, but after the 2008 recession, the community was not able to maintain a pageant presence and Engstrom put to rest her childhood dream of competing for a crown.
It wasn't until 18-year-old Engstrom started attending South Puget Sound Community College in 2017 that she was approached by Miss Washington Executive Director, Peggy Miller, who reignited her interest in pageantry.
"I met Peggy through my mom, who asked when I was going to run for Miss Thurston County," Engstrom says. "I was timid, but I thought, why not? I gave it a try, ended up meeting some of my best friends, and eventually won scholarships and the Miss Thurston County title!"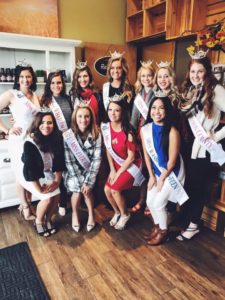 Founded in 1975, the Miss Thurston County Scholarship Program (MTCSP) is an official preliminary to Miss Washington and Miss America, and begins as a two-month program for local Thurston County girls between the ages of 17-25. As a contestant for Miss Thurston County, young women participate in workshops including resume building, interview preparation, fitness and nutrition, budgeting, and are also required to participate in at least two community service events.
Dianne Hoosier, director at MTCSP, says the goal of the program is to provide girls with life skills, valuable experiences and self confidence, regardless of any crowns or titles. All participants that compete also leave with some type of scholarship along with numerous connections to the community.
"We as a board feel strongly about all the girls getting something valuable out of this program," Hoosier says. "Just because you don't get a crown doesn't mean you can't get something out of this experience. We want to teach them skills they can take with them for the rest of their lives."
The core values of the Miss America Organization stem from the program's four points symbolized by the crown: scholarship, success, style, and service. Both Engstrom and Hoosier say service drives much of how the organization operates and the duties of the title holders.
"Service is really the focus of Miss Thurston County," Hoosier says. "We want to teach our title holders the value of community and giving back, and the only way to do that is to get them involved hands on so they can see the direct impact."
Miss Thurston County participants are required to adopt a platform and to serve their community on behalf of their chosen cause. Engstrom's passion for education inspired her platform called "Education Matters No Matter the Circumstance," which is a school drive she created to get new and gently used school supplies to kids in need. Engstrom is already working with four elementary schools in the Thurston County school district by providing boxes for kids and parents to donate their gently used or new school supplies.
Engstrom just completed her first year at SPSCC and will graduate with her AA in general education with dreams of pursuing bachelor's and master's degrees in teaching. Engstrom comes from a long line of educators and has her professional sights set on becoming an elementary school teacher.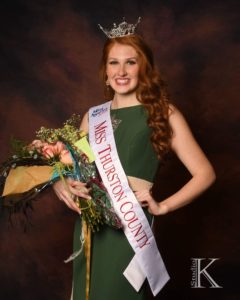 Next up: Miss Washington
As the Miss Washington competition draws nearer, Engstrom is busy prepping for the big show on June 24-30 in Burien, where she will compete with 24 of the state's finalists. At this stage, pageantry prep involves mock interviews every other week, wardrobe fittings, as well as continuous talent practice (Engstrom will be tap dancing).
A week full of appearances, autograph signing and community outreach will be followed by the preliminary night, where contestants will speak about their individual platforms. The culmination of the week ends with the final night, where the top 15 will compete in swim and talent. From there, 15 will become 5, with one woman finally being crowned Miss Washington.
Regardless of how Engstrom does at the Miss Washington competition, her summer will be jam packed with parades, speaking engagements and charity work. She says she will continue using her platform to grow her school supply drive, with her sights set on a scalable model that would expand from K-12 schools state and nation-wide.
"I want to make a difference with or without the crown," she says.
Miss America Riding a Feminist Wave of Change
Upon Googling Miss America, it's almost impossible to not see a headline talking about the major recent change to the competition. For the first time in its 97-year history, the pageant's Board of Trustees announced the organization will no longer recognize the swimsuit competition and judge contestants on their physical appearance, but rather, focus more on the contestants' talents, intelligence and ideas.
"There have been lots of mixed emotions from past contestants and people in the organization," Engstrom says. "But the main interest is to change for the better and focus on the empowerment of women, because this event is still the number one scholarship organization for women in America."
In the wake of movements like #MeToo and Times Up, it seems now more than ever is the time for traditional institutions such as the Miss America Organization to get on board with the next wave of feminism in order to truly evolve into a female-positive era.
"I'm so excited we can realign the focus on what these ladies are all about," Hoosier says. "If you're involved in the program at all, you know it's not about outward appearance, but about giving girls self confidence. It's such a great time to be a part of this organization. We're all changing together."
Hoosier says any community members that are interested in getting involved in an organization that supports the betterment of young women in the community should come to the Open Board Meeting happening on July 11 from 6:30 p.m. to 9:30 p.m. (location to be announced).
To buy tickets to the Miss Washington competition, visit the Miss Washington website. To become a sponsor or learn more about the application process, visit the Miss Thurston County website. To learn more, visit the Miss America Organization website.