It's 1986. A 7-year-old boy slowly lowers himself into a plush green and gold seat. Countless others have sat in this seat before him. Around him, there is an air of anticipation. Nervous giggles. Hushed whispers. He tries to take it all in – the huge ceiling covered in lights, the heavy curtains that seem so regal, and the stage. The stage! The stage where everything will happen. The stage where fantasy meets reality. The stage that will change his life forever. This is the experience that Kyle Murphy, managing director of Broadway Olympia Productions, attributes to creating in him a love for theater, the arts, and Olympia.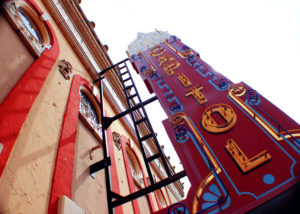 And now that love is coming to the Capitol Theater.
Your Saturday night will never be the same. "For five years, the people of Olympia have waited for a full season of musicals," Kyle explains, unable to contain his excitement. "Well…this is it!"
Kyle grew up in Olympia. Sharry O'Hare, who flew across the stage as Peter Pan during Kyle's first trip to The Washington Center for the Olympia Junior Programs, became a celebrity in his house. His love and passion for theater grew. As a teenager he was in shows with Kids at Play, Capital Playhouse, and Harlequin.
Unlike Peter Pan, Kyle did grow up. He left the world of musical theater for the "American Dream," diving into the business world in Seattle, and becoming a family man. The birth of his first child prompted him to return to Olympia, the city where he grew up, seeking a deeper sense of community than he'd been able to find in the big city.
But that love for theater would not be quenched. It was like an itch that needed scratching.
Kyle's sister, Christie Oldright, is a talented actress and vocalist right here in Olympia. Kyle couldn't help wishing that she and the other accomplished actors and actresses of Olympia would have more opportunities to perform musicals right here.
Scratch, scratch.
The Capitol Theater, a venue where Kyle had seen many performances, movies and shows as a child and teen, is where he saw art and music come to life. His childhood best friend, Todd Zabel, grew up under the legacy of the original owner E.A. Zabel. It's also where the theater company he spent the most time with in his youth, Capital Playhouse, was born. This historic theater has called to him for as long as he can remember.
Scratch, scratch.
Kyle's sought guidance from longtime friend Chris Serface, now the Managing Artisitic Director at Tacoma Little Theater. "Is now the right time for something like this? Is this something people want? I can't help but think that it is." Chris agreed. This is something that not just the artistic community, but the community of Olympia, would respond to.
Chris introduced Kyle to Lexi Barnett, an experienced musical theater director who recently directed Jesus Christ: Superstar at Tacoma Little Theater. The creative energy started flowing, and before long, the idea of a full season of big name Broadway musicals was hatched, with Lexi on board to steer the creative direction of the ship.
Scratch, scratch.
Kyle couldn't resist it anymore.
He was going to bring as much Broadway to Olympia as he possibly could.
"We have some absolutely amazing theater in this town already. Theaters that have been putting out quality work for decades. Our season will offer a different flavor of show than the majority of what is being produced in Olympia right now. We feel we will really complement what is already being done."
But it's more than that. "There are so many Broadway shows with amazing messages," Kyle says. "I want people to experience that without having to travel out of town. Olympia has some wonderful theaters that offer great opportunities for local performers, and we want to help build on that. I want to create opportunities for both amateur and professional   musical performers to shine in Olympia."
He wants to grow the theater-going crowd in Thurston County. He hopes that the big, recognizable Broadway titles will draw in people who might not typically think of live theater as an entertainment option, or feel like they must travel to Seattle or Portland for a show they know. Then, this opens them up to the idea of maybe going to a show that they haven't heard of before. "A fantastic show I know they will love," Kyle insists.
The Capitol Theater is a historic landmark in downtown Olympia. Since 1924, it has been a monument to entertainment in Olympia. Stepping inside its doors is like taking a step back in time. In 2009, the Olympia Film Society received the Historic Preservation Award for replacing the marquee with a replica of the original 1930's sign. One can't help but drive by, look up and smile.
"We are bringing big name shows with big casts," Kyle says. The inaugural season of Broadway Olympia, titled "Broadway at the Movies" will feature Legally Blonde, The Rocky Horror Show, The Wedding Singer, Young Frankenstein, and Cabaret. "If you have $20, there's no better way to spend it," he adds.
When asked what Kyle hopes to see from the community, he said, "We need a lot of support this first season!" Auditions will be open, and there will be opportunities for both volunteer jobs and paid positions.  And, of course, coming to see a show or 2…or all 5!
In the long run, Kyle dreams of seeing theater in Olympia become something that Olympia is known for, even becoming a travel destination for theater aficionados, much like the Shakespeare Festival in Ashland, Oregon. He attributes this idea to local actress and singer, Amy Shepard, who is involved with the company on several levels. "She's the one who put that big, scary idea in my head. But I think it would be amazing if one day had a festival that was a destination for theater lovers."
Chris Serface, who helped light this fire under Kyle, is on board. He's set to direct with Broadway Olympia this season. Lexi Barnett is now the Artistic Director. "After the loss of mainstay performing groups The Abbey Players, and Capital Playhouse, it is so wonderful to have a company dedicated to producing musicals in Olympia," says Chris. "Olympia is a special place that has always welcomed musical theater and as a result has produced some of the finest actors, directors, and technicians in our region.  I believe that Broadway Olympia is going to add a new jewel to Olympia's crown of being a community that embraces the arts.  The fact that it is all taking place in the historic Capitol Theater (Where Capital Playhouse got their start) makes it all the better."
And then there is Sharry O'Hare, that magical Peter Pan. She and Kyle have reconnected and she can't wait to support this amazing venture.
"You're not going to want to miss this," Kyle says with a smile. "See you at the show!"
For more information or to purchase tickets, visit the Broadway Olympia Productions website.
Sponsored