Lauren Wilson's decision to attend Pacific Lutheran University was based mostly on her desire to play volleyball for the Lutes. A little more than nine months after she arrived on campus, the gifted athlete ended her freshman year as an All-American – only in track.

Wilson, a 2017 graduate of Olympia High School, earned All-American honors after placing fourth in the high jump at the 2018 NCAA Division III Outdoor Track and Field Championships in La Crosse, Wisconsin.
Wilson cleared a personal best 5-foot-7 1/4 inches on her second attempt to become the only freshman in the nation to place in the top eight.
"When I cleared 5-6 on my first attempt I had no misses up to that point, so I was curious of just how high I could place," Wilson said. "Then when I PR'd and cleared 5-7 1/4, I knew I would be in the top 8 and was so happy about my PR that I didn't really care about the place I finished."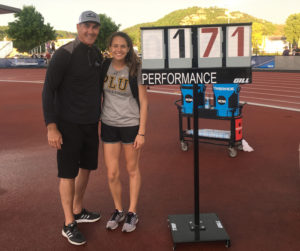 The event was slowed by a nearly three hour rain delay. Prior to the lengthy interruption, Wilson was one of three competitors tied for the fourth seed.
"The weather delay was awful. It made for a memorable experience, but the five high jumpers left in competition had to be monitored by NCAA staff and were contained in one area. It was a lot of fun connecting with the other girls and just laughing about the situation," Wilson said. "When we got back out there around 7:00 p.m. my nerves were gone. I wanted to compete, but my head wasn't as in it as before. Overall I guess the delay hurt me, but I already did what I wanted to do before the storm."
Ashland sophomore Cirrus Robinson cleared 5-8 1/2 on her last attempt following the lengthy delay to secure the national championship.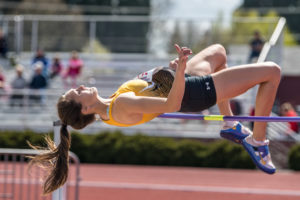 "The five of us all had decent attempts, but only one girl (Robinson) was able to clear it and she walked away winning the whole thing. We were all proud of her because jumping that high after a three-hour delay is not easy," Wilson said. "My goal was to PR. So placing fourth was a bonus and a really good feeling after putting in a lot of work all season."
Wilson was a dual standout athlete at Olympia, excelling in both track and field and volleyball.
Interestingly, it was the latter that initially brought her to PLU.
She finished her freshman campaign of volleyball with 91 kills and 29 digs, helping the Lutes win the Northwest Conference championship and advance to the second round of the NCAA Division III tournament where it pushed top seeded Colorado College to five sets before falling.
"I came to PLU primarily to play volleyball," Wilson said, "but I also love track so I couldn't pass up doing it in college. However, at the start of the season me and the other jumpers had no high jump coach."
With her time already stretched thin between a full academic slate and her volleyball commitments, Wilson contemplated whether being a two-sport athlete in college was in the works for her, especially considering the Lutes lacked a high jump coach at the start of the season.
"One day my dad asked me how track was going and I basically told him I would probably quit if we didn't get a high jump coach," Wilson said. "It sounds bad, but I had volleyball to focus on too and I didn't want to coach myself all year."
Fortunately, for Wilson the person she was telling this to had a lengthy background in the event himself – both as an athlete and a coach.
Lauren's father, Curt Wilson, was a state placer in the high jump at Timberline before moving on to college where he competed in the event at Washington State University, becoming just the 17th Cougar all-time to clear seven feet and finishing sixth in the event at the 1992 Pac-10 Championships.
In addition, he also served as an assistant coach at both River Ridge and Olympia.
It was basically a perfect fit.
"My dad stepped in to volunteer and everyone loved him as a coach," Wilson said. "Having him at nationals as my coach was very unique. He did a good job of separating coach from parent and his presence didn't stress me out. He was just my coach during competition."
Things seemed to work out just fine as Wilson joined teammate Machaela Graddy, who won the national title in the javelin, as the only Lutes to earn All-American honors at nationals this year.
"Being the only freshman on the podium definitely boosts my confidence," Wilson said. "Knowing that I can stay mentally tough when the stakes are that high is something I will always remember and be able to default back to during a tough meet."