Graduating from college is a notable milestone for anyone at any point in their lives. But this year's ceremony at South Puget Sound Community College (SPSCC) will have an extra touch of sentimentality as a local mother will graduate alongside her two sons.
Barb Linzy, an Oregon native who moved to Tumwater when she was 15-years-old, will be receiving her associate degree from SPSCC on Friday, June 15, next to her children, Nathan and Roger.
A hardworking mother of two raising kids largely alone while working full time is a story of perseverance and circumstance, albeit not an uncommon one in the United States.
According to a report released by the Census Bureau, just over a third of American adults have a four-year college degree. And while higher education levels have a higher earning potential, college still remains an unaffordable and unattainable goal for many Americans.
After graduating high school, Barb completed eight years with the Army National Guard then went back to school to receive a nursing assistant certificate while raising her two children and struggling to make ends meet.
It wasn't until she found out about the Workfirst program at SPSCC that she considered going back to school to receive an associate degree. Workfirst provides financial support to help connect students with a path into a high-demand, high wage career. These programs support things like technical training, job skills training, and pre-college skills training.
With both boys in middle school, Barb began an intensive, 28-credit quarter program, taking advantage of resources like the math and writing centers for weekly one-on-one tutoring.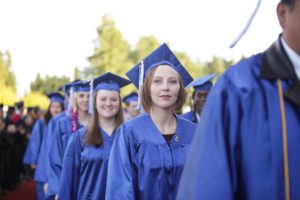 Upon completing her first quarter, Workfirst offered Barb a part-time job as classroom instructional tech. This gave her the unique opportunity to work part-time at the school while pursuing an Administrative Assistant – Associate in Applied Science degree.
Barb has since been offered a full-time job at the One Stop desk as a customer service specialist and says this job changed her life. "The income increase made it possible for me to purchase my home," Barb says. "The college has supported me in more than one way. They have helped me raise my family."
Barb will finish her Associate in Arts – Direct Transfer Agreement (DTA), which is a degree designed for persons interested in transferring to a four-year college or university. Her son Roger (22) will also earn a DTA; her son Nathan (21) previously earned a AA degree and will be earning a second degree in Computer Network Administration.
Both boys also thrived and persevered despite the odds. Roger was diagnosed with autism at the age of eight, and to escape the stresses of high school, Nathan took classes via Running Start at SPSCC, which Barb said proved to be a much more welcoming environment for him. Barb says both of her children have done great and found success. "I'm very impressed that they did this," she says. "It's been so amazing seeing them grow into such wonderful adults. I'm crying right now I'm so proud of them."
Barb, Roger and Nathan will walk together next Friday to receive their associate degrees. And if graduating with your children isn't special enough, Barb will be celebrating her 54th birthday the day of graduation, surely making this already special day one the entire family will never forget.
"This wouldn't have happened without all the support of our friends, family, my coworkers, Paul Grudis and Shawn Slape of Mercy Services, the Housing Authority and their awesome staff," Barb says. "The Workfirst program through DSHS and all of those people who believe that they make a difference in serving the community. Their hard work led to our success and we would not have made it without them."
Barb says she is a full supporter of anyone at any age going and getting a degree or pursuing higher education.
"Just do it! The best investment you can make in life is in yourself," she says. "And when your children see you succeed, they also succeed."
Barb will continue her education in pursuit of her bachelor's degree in Social Science at Central Washington University by taking online courses starting this summer, with her professional sights set on becoming a college advisor.
Nathan plans on continuing his education in the fall and Roger will be applying for the Craft Brewing and Distilling Craft Brewing and Distilling program this fall.
According to the college's website, SPSCC will celebrate more than 1,500 graduates and will award 1,847 associate degrees and certificates to the 2018 graduating class at Tumwater High School's Tumwater Stadium. The College's 53rd commencement ceremony will be held at 6:00 p.m. on June 15, 2018.
Former professor and counselor Yolanda Machado will deliver this year's faculty address. The student speaker for the event will be Danny Case, who will tell the transformative story of his journey of academics and sense of self since childhood, including the impact that SPSCC had on him. Case has served on the Student Senate as the Senator of Diversity & Equity Affairs and plans to enter the workforce after SPSCC before pursuing a bachelor's and master's degree in the future.
Sponsored