When you think of great places to relax, the dentist's chair probably does not spring to mind. However, Olympia Smiles Dentistry wants to change your view. All too often, people put off going to the dentist out of fear and their health suffers because of it. Maybe they had one bad experience as a child, or just never had a good one. Natalie Seay, Olympia Smiles Dentistry manager, says their dental office is different. "You have to start your journey somewhere and we're hoping they'll start it here with us so that we can make it better," she explains. "So that we can change the memory and the tune in your head when you think about going to the dentist or when you see that reminder card on your fridge."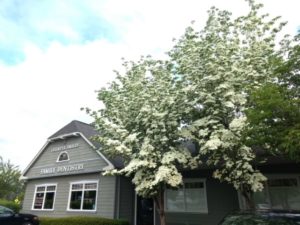 So how do you make going to the dentist a relaxing, positive experience? You start with the environment. From the moment they pull up, patients will notice the beautiful landscaping outside and a pleasing atmosphere inside. Olympia Smiles Dentistry doesn't feel like your typical dental office. There's no weird smells many come to expect and it doesn't have that sterile feel. But what really makes you feel at home is the welcoming staff who greets you. "We are all such a team and the patients really feel that," Natalie says. "It makes all the difference in their experience."
The amazing office staff is even willing to keep an eye on your kiddos if needed while you're in your appointment. With a designated kid's area out front, parents don't have to worry if they can't get a sitter. "We understand you can't always get a babysitter and not everyone has that luxury either," Natalie continues. "We don't want them to go without the care they need just because they can't get childcare. We try to keep a very casual environment, but still professional so we can ask how the dog is and they can ask us about our lives. We just want it to be very personal here."
And that special experience doesn't stop when you head back for your appointment either.
Patients at Olympia Smiles Dentistry get treated to the ultimate spa treatment starting with a paraffin wax hand dip. "Instead of going to the nail salon for a manicure you can just come to the dentist," Natalie says with a smile. The same goes for family members waiting as well. They can also enjoy a little relaxation time by dipping their hands. Not only does the paraffin make your hands super soft and help to break down callouses, but it also moisturizes your cuticles and has a relaxing lavender scent. Personally, I like when it starts to dry because it gives me something to fidget with and takes my mind off things, a sort of stress reliever.
Aside from the paraffin hand dip, there are other ways the staff at Olympia Smiles Dentistry aims to make you comfortable. "If patients are having a headache that day because they're getting dental work done and are all stressed out thinking about it, we'll do a heated neck roll and even warm blankets," Natalie explains.
But sometimes all the spa treatments in the world aren't enough to calm the anxiety people experience from a dental appointment. That's when medication needs to step in. "It just depends on the patient and how long it's been since they've been in and what their fear is" Natalie says. "So instead of passing any judgment, we just want people to get the care they need."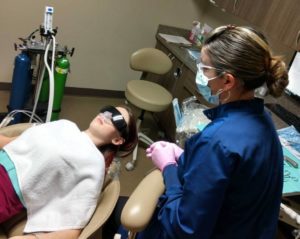 Previously, patients only had the option to get a prescription from the dentist for oral sedation. Although this can be a very helpful option for some people, it also requires some planning. Patients cannot drive after they take it and usually spend the rest of the day sleeping it off. Natalie says often even the next day can feel like you are in a fog. So at the request of several patients, Olympia Smiles Dentistry decided to add nitrous, or laughing gas, as an option for procedures. Unlike oral sedation, nitrous puts the patient in control. "You can drive to your visit and you can go back to work when you're done," Natalie explains. "There's no after effects or special instructions you have to follow. It only lasts while you're chair side and it takes the edge off your anxiety." And for some patients, it's seriously been a game-changer.
Natalie explains that many people only need the nitrous when they are getting numb because their fear is actually from the needles, not the procedure. However, others want to have the nitrous throughout the entire time. Patients never go to sleep and a staff member stays with them the entire time. And the best part, as soon as the nitrous is off your nose the effects go away, but the positive experience does not. "Our first nitrous patient left in tears thanking us so much," Natalie adds. "That was a good reminder that we did the right thing by providing this service."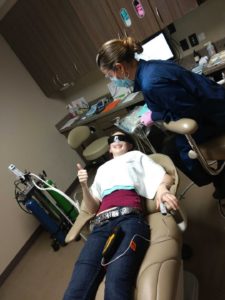 So whether you just have a little anxiety, are seriously scared of the dentist, or just really need a spa day, Olympia Smiles Dentistry has you covered. "We want to make their experience as peaceful as possible to transition them from a fearful, 'come only when it's an emergency' kind of patient, to someone that's going to come every six months," Natalie finishes. "We want to get them to the point where they are happy to be here every time they come."
For more information or to make an appointment visit the Olympia Smiles Dentistry website or call 360-528-4488
Olympia Smiles Dentistry
2604 Yelm Hwy SE, Suite A, Olympia
Tuesday – Friday: 8:00 a.m. – 5:00 p.m.
Sponsored