Want to break up your after-school or after-work routine? There are a couple new destinations to consider when picking a family-friendly outing with the kids – ones you might not have previously considered. Local taprooms and brewpubs surprisingly combine freshly brewed, local beer, coloring books, board games, juice and sodas with local live musical performances. From toddlers to teens, college students to grandparents, all are welcome.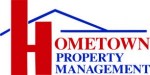 Music promoter, Roxy Boggio promotes all kinds of bands around Olympia and most recently for Cascadia Brewing Company. "At least one family for every show will show up with their kids, it's not reliant on the genre, it's just fun to be out listening," she shares.
"We rarely do shows restricted to 21 and older," says Tim Sexton, co-owner of Cascadia Brewing Company. He has been ramping up their live music nights to at least two performances a week. "Most families come early and stay for a few songs then head home. Our license says after 10:00 p.m. we have to be 21 and older, anyway."
This all-ages policy benefits other young Olympians, too.
When 18-year-old Aaron Hough plays his trombone at Matchless Brewing he experiences a freedom not possible during a school performance. "I feel like I have more room to do as I choose," says Hough. "I drag a lot of friends there from school. It gives them an education so they can hear something different and see different kinds of creativity, especially when it is improvised."
Hough, a senior at Timberline High School, plays with the Timberline Jazz Band, Wind Ensemble and Symphonic Orchestra. But, every other Wednesday he is performing with the jazz band MonkFlower at Matchless Brewing.
MonkFlower gets around. The band has also played at Top Rung Brewing in Lacey. Casey Sobol, co-owner, says though they have limited live music these days they do host a monthly deejay show. The second Thursday of each month, The Spins serve-up "a global vinyl listening party." The summer months will likely bring live music back to Top Rung Brewing.
Courtney Jafferian is the pub manager and music promoter for Matchless Brewing. They have expanded their regular schedule and try to host music every Saturday in addition to the bi-weekly MonkFlower show. Rock, pop, jazz and folk rotate through their calendar.
Jafferian has seen their patrons change during her tenure. "We always have at least one family, older folks and regulars are telling their families, grandparents are coming in with their daughter and son-in-law, grandkids, so three generations – it's kind of cool to see."
Derek McSwain, mandolin player with the Bluegrass band The Pine Hearts has been playing the "Brewgrass" show at Cascadia Brewing Company for the past three years. A music veteran, McSwain has performed in front of a lot of audiences and playing for children is one of his favorites. His only concern is that not enough parents are taking advantage of it.
"My music is not mainstream. If I could get one kid to think, 'I want to play music like that,'" McSwain pauses before adding, "It is a less popular form of music so they can go their whole lives without having a clue of what it is."
Boggio books a variety of bands at Cascadia Brewing Company. While some are more family-friendly than others, all reflect the local music appetite. "Cascadia just got a sound system so we are now hosting more than in the past. The Dizzies are a favorite, Erina is another one," Boggio shares.
Jessie Branch, singer and guitarist for the band Erina (pronounced arena), defines their music as spanning over a few genres – dreamy jazz-pop, influenced by soul and folk music.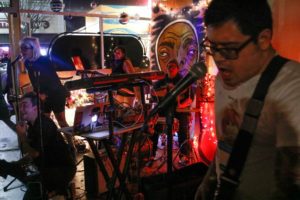 Though families are occasionally at her shows, she sees a lot more 18 to 19 year olds. "We'll have a ton of young students from Evergreen come out and it is awesome because it almost feels like they are more willing to listen and have a good time. It is really cool playing for young audiences."
Bands often bring their own following when they play. At a recent MonkFlower show, the entire front seating area was filled with high schoolers and twenty-somethings. Near the door, a family was playing a board-game while eating dinner and beside the stage a 5-year-old was dancing his heart out. This is family-time.
Matchless Brewing recently moved up their all-ages curfew to 7:00 p.m. to better define family time from party time. "I think the kids get excited being in an adult environment so they love to be active," shares Jafferian. "I love it because they aren't actually getting in trouble." The fun environment is perfect for kids and their parents and ends just before bedtime.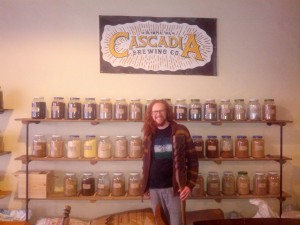 Depending on the event and the crowd, there is flexibility in the newly imposed curfew. Jafferian's message is simple: "Don't take advantage, this is a privilege." If families and kids are enjoying the show and showing respect for musicians and patrons, the fun can extend for everyone.
So, next time you are ready for a change of pace, pack up the kids and enjoy some live music at one of our local craft breweries. And, of course, if you decide to sample the beer, always drink responsibly.
Musicians of all ages are invited to contact Courtney Jafferian at Matchless Brewing and Roxy Baggio at Cascadia Brewing Company for bookings.
Thrifty Thurston highlights inexpensive family fun in Thurston County. The weekly series focuses on family-friendly activities throughout our community. If you have a suggestion for a post, send us a note at submit@thurstontalk.com. For more events and to learn what's happening in Olympia, Lacey, Tumwater and the surrounding area, visit our complete events calendar.