On this particular Friday morning, Alejandro Rugarcia breezes into his classroom with nary a moment to spare. The uptick in the room's energy is palpable. His students sit ready to begin their Spanish instruction. "Buenos Dias," he smiles and the lesson gets underway. This class is an introduction to Spanish. There is help with pronunciation, learning strategies and cultural information. Alejandro was born and raised in Mexico. One of six children, his mom still lives in Mexico. He brings his Latino experience to life with his distinctive accent and zest for living. His skilled teaching style brings together participation, repetition, memorization and a variety of audio and written tools.

This beginning class was offered through Senior Services for South Sound. All classes are open to the public but are often attended by more mature adults who have time to take a class on a weekday morning. People had been requesting a rudimentary Spanish class, and Alejandro stepped up to offer it. He also teaches with Olympia Parks, Arts and Recreation. Those students participate in a more advanced, on-going conversation class. Bringing his native culture to others and improving their language skills is one of life's delights for Alejandro.
The Spanish lessons are just one facet of Alejandro's life. I first met him over a cash register at the Eastside Co-op where he has worked as the volunteer coordinator for the past 13 years. His smile and easy manner are most welcoming. Over the years, he's done many things there, including making salads for their fabulous fresh food bar. With Alejandro, there's always a story, and it's always interesting. He interviewed for a position at the Co-op in 2004, when he was barely able to speak English. He was ill prepared for the interview, but still made an impression. Thirteen month later, they contacted him and offered him a job. His English had improved, and he's been there ever since.
Of course, there's more.
For 17 years he was an aerobics instructor in Mexico. He uses his love of music and movement in classes he teaches at Infused Fitness and Dance Cooperative. There you'll find a dedicated group of people who provide a variety of holistic health, movement and educational opportunities that promote over-all wellness. Alejandro gives instruction in salsa. The beginning salsa covers Latin dance techniques and fundamentals. A partner is not required to take the class. The goal is to learn the basics and get your body moving. He also teaches cumbia, folkloric rhythm and dance from Colombia that has been integrated with flavors from Spain and Africa.
Starting in 1997, Alejandro was dividing time between Yelm and Mexico, as he studied with Ramtha. He had already earned two bachelor degrees at home, one in performing arts and the other in business administration. His pop singing group Xinetez was popular in Mexico. Over time, events lined up for him to move to and settle into Olympia.
One of Alejandro's first jobs in Olympia was teaching Spanish to children. He started at Olympic View Elementary and later taught at Mountain View and Lincoln. For three years he honed his Spanish teaching skills. Through his connections he was encouraged to pursue an advanced degree at Pacific Lutheran University where he was already taking some courses. A friend suggested going to The Evergreen State College. He pursued that option and found great support from friends and associates. It took a while but between 2007 and 2012, Alejandro earned his MPA. As he remembers the help he received, his eyes well up and he recounts the deep gratitude he still feels. He credits many dear friends for supporting him along with way.
Alejandro subscribes to a healthy lifestyle and has lived with a heart arrhythmia for years. Last spring he had an incident, which resulted in being in a coma for five days. "I died twice," he says. That means they restarted his heart twice. Now he lives with a pacemaker. He takes responsibility for his well-being. "I cook. I work out," he notes. "I'm living every single day by being present." Alejandro  also remembers to attend to the stresses in his life.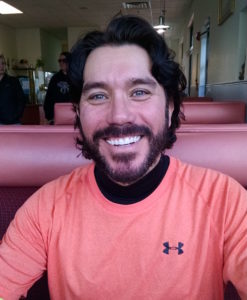 For his personal joy, he has sung in the past with the Masterworks Choral Ensemble, who will be performing at the Washington Center for the Performing Arts in April. Alejandro also teaches private vocal lessons for both opera and pop.  For the future, he's considering acting as a guide for small groups to Central and South America. Have you heard of Pueblos Mágicos?
I feel fortunate to write for Thurston Talk, because I have a reason to connect with people I might not otherwise have approached. I return the favor by writing pieces so that readers have the chance to 'meet' people with whom they might not otherwise make a connection. I am encouraging you to reach out to the people you read about. Say, "Hola," the next time you see Alejandro. Meet this Renaissance man who feeds his soul with a triumvirate of singing, dancing and teaching Spanish. It's a certain day-brightener!