Mullinax Ford already has one of the largest selections of Ford vehicles in a five-state region. With a move to consolidate their Olympia and Lacey stores into one 11-acre lot at the biggest auto mall in Washington State, they'll also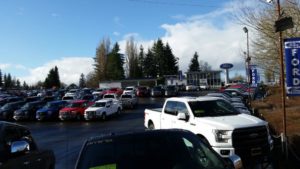 become one of the region's most prominent dealerships while serving as the mall's anchor.
Previously, the company leased a building on Pacific Avenue in Lacey, five miles from their property at the Olympia Auto Mall. In 2017 they purchased the former Toyota of Olympia site at the mall, a move that will make car shopping more convenient for customers, says Kevin Neiswanger, General Manager. "Currently we're two small stores and it's difficult to move inventory. Customers have to run across town if one location doesn't have what they need. Now, there will be one big store so when customers come in, they can view all the inventory at the same time."
The new location will feature a covered service drive while across the street, Mullinax will maintain their Quick Lane service center. "We're getting into the 21st century," says Neiswanger. "All of our employees will be in one place so it won't be confusing for customers."
The new location will also be more pleasant once the weather turns warm since the Lacey facility was built in 1964 and lacks air conditioning. "The building on Pacific can be horrible during the summer," says Neiswanger. "Once it hits around 85 degrees, it gets really hot. We've tried to maintain it, but we're due for a new facility." The move will help the company lower expenses on utilities and insurance as well.
The location appealed to owner Jerry Mullinax for several reasons. "The mall is very good at publicity and marketing," says Neiswanger. "It's a great place to locate a busy dealership. Jerry likes the City of Olympia and what Thurston County has to offer as well." The city has worked with both Mullinax and the auto mall to make the transition smooth, he notes. "They understand the importance of keeping business in town. The city has been really great."
The company has gone through changes since Jerry's father, Ed Mullinax, founded it in 1970, eventually making it the number-one-selling Ford dealership in the country. Later, they sold the business to Auto Nation but the corporate world was not a good fit and they ended up restarting the Mullinax "Up Front Pricing" brand in Florida 3 years later.
Part of the disconnect during that time was the approach. Jerry Mullinax believes in Upfront® Pricing, still a relative rarity among car dealers. "If you go to the store for a carton of milk, you know the price," says Neiswanger. "Our salespeople are not commissioned. They'll put you in the car that you want versus pushing you to the car that has the best profit margin."
Customers who want to haggle quickly realize that the low "Up front Price" is the price. "Some people still try to negotiate," says Neiswanger. "We believe that everyone should pay the same price for the same car and the process of buying it should be fun." Mullinax also refuses to charge clients for document fees, which typically cost $150 per purchase in Washington but can go as high as $850 in states like Florida. According to Neiswanger, the company has saved customers over $1 million in document fees.
Dealership staff operate on seven basic principles that Mullinax has printed on cars and displayed where employees can see them:
The team at Mullinax strives for quality customer care and believes in giving back to their community. Photo courtesy: Mullinax Ford

Upfront pricing

Friendliness
Striving to be different by speaking 'customer language' rather than 'car language'
Clean and well displayed inventory
Consistency in message and service
Large and varied inventory
Giving back to the community
"All of our employees have the ability to put $250 to whatever cause they want to support," says Neiswanger, citing an example of how they live these principles daily.
Even prior to the move, Mullinax maintained one of the top three Ford inventories within a five-state region of new and pre-owned vehicles. "That's hard to do with two small stores," says Neiswanger. "But, we can usually find what customers want."
Mullinax will make the move in early May and host a grand opening event some time before fall, contingent on completing several projects at the new location. Customers are already anticipating the change. "A lot of them are saying, 'It's about time,'" shares Neiswanger. "I've heard only positive responses."
For more information about Mullinax Ford of Olympia, visit www.mullinaxfordolympia.com or call 877-943-0031 (service) or 877-896-0827 (sales).
Sponsored