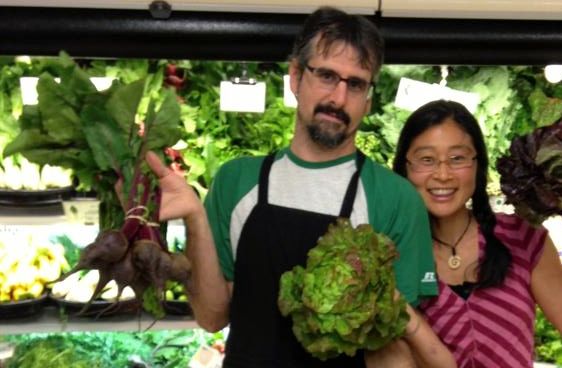 By Mary Ellen Psaltis
Buying freshly picked salad greens and locally sourced cheese is easy at either of the Olympia Food Co-op locations. The vegetables are organic and the dairy items are thoughtfully produced. These are reasons enough to shop there. But to take a step or two back to appreciate the bigger picture is to understand and ultimately choose to be part of a way of living and being that speaks to the heart of wellness and food justice.
I became a (non-working) member of the Co-op decades ago so I could buy decent food for my cat. Those were the days when the word organic engendered thoughts of righteous minds paying for overpriced produce to be better than others. Times have changed. Awareness has grown, and now it's clear the Co-op had the right idea all along. Real food is really important. Annual sales have grown from $2 to $18 million. "It's an exciting time," says Jenn Kliese, part of the Co-op's outreach and education team. Around 23,000 members agree.
The Olympia Food Co-op is part of an international movement to promote food justice. That in part, means getting wholesome food to more people within a system that supports equity and gives respect to all people and the earth. One way this manifests is through membership. Anyone can join and $29 gets you a lifetime membership. If you are a senior, disabled or have low income, membership fees and dues are waived. But you don't have to be a member to shop at the Olympia Food Co-op. Non-members pay 10% over the marked prices. Working members receive additional benefits and contribute about three hours per week.
The Co-op acts as a small business incubator for our community. Many local vendors have received a hand-up by being able to sell their products there when arrangements at larger grocers would have been prohibitive or unfeasible. I had my first taste of Cobb's peanut butter cup at a Co-op demo. That's a sweet memory.
At members' suggestion, the Westside location has been remodeled, and there is a fabulous new garden center adjacent to the grocery building. You'll find locally grown garden starts and plenty of chicken feed for your backyard hens. Plans for maximizing the Eastside location are now in progress. These projects happened because the Co-op takes the time to listen.
One core value of the Olympia Food Co-op, probably lesser known, is that the staff is a collective, making decisions on a consensus basis. This requires communication and a willingness to come to a meeting of the minds. It takes time and patience but honors the individual. "It's what sets us apart," noted Heather Fink, another Co-op staff member. Additionally, positions are non-hierarchical and there is equality in pay and benefits. This is not your typical business model. My personal experience in working with a consensus-based group is that there is profound potential to serve the greater good. Results are often phenomenal.
The Olympia Food Co-op's mission statement tells quite a story. (You can read it here.)
For years the Co-op has been a place where like-minded people can find community. People who care about how and where their food and grocery items were grown and produced can shop with confidence. When you spend money at the Co-op more of your food dollars stay in our community. If you happen to live in West Olympia you can walk to a store that has colorful vegetables and fresh eggs. There's even a loaner wagon to borrow to cart your treasures back home.
I am happy to report that my food path has covered great distances over the years. Fortunately, the Olympia Food Co-op remains a fixture in our community. Now I'm more interested in my own health (not just my cats), and the health of my community and the world beyond. I don't grow my own food, but I want to support those that deliver wholesome, earth friendly food and household goods.
Visit the Co-op. Join. Take a class. Taste the difference. Meet others who care about food. You won't know what you are missing until you see for yourself. Visit their new and improved website. It's lovely and will also tell you about classes, events, specials and much more.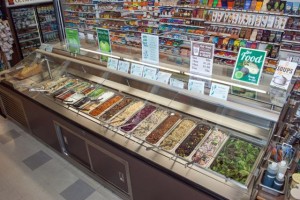 Both stores are open from 8:00 a.m. – 9:00 p.m. daily.
Eastside Olympia Food Co-op
3111 Pacific Ave. SE in Olympia
360-956-3870
Westside Olympia Food Co-op
921 Rogers St. NW in Olympia
360-754-7666