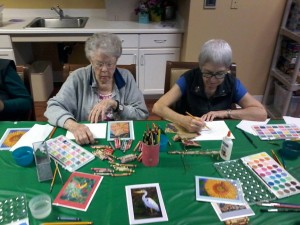 Studies estimate that almost 30% of the adult population serves as caregivers for an aged, ill, or disabled family member. Of these, more than 43 million adults care for someone over the age of 50, with almost 15 million of those suffering from Alzheimer's or dementia.
These same reports show that "the majority of caregivers (55%) in the Gallup study reported they had cared for three years or more. The average days per month spent on shopping, food preparation, housekeeping, laundry, transportation, and giving medication is 13, and 6 days per month on feeding, dressing, grooming, walking, bathing, and assistance toileting."
This high demand often leads to caregiver burnout. Defined as "a state of physical, emotional, and mental exhaustion that may be accompanied by a change in attitude—from positive and caring to negative and unconcerned. Burnout can occur when caregivers don't get the help they need, or if they try to do more than they are able—either physically or financially. Caregivers who are 'burned out' may experience fatigue, stress, anxiety, and depression. Many caregivers also feel guilty if they spend time on themselves rather than on their ill or elderly loved ones."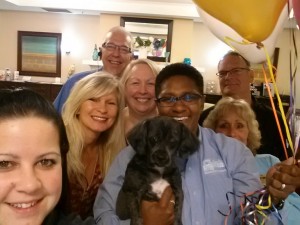 One solution to caregiver burnout can be found through adult day care options and caregiver support groups, provided locally at Olympia's Garden Courte Memory Care Community. Dawn Peterson and Viki Engstrom, Community Marketing Directors, warn that often the "caregiver does not know the amount of time it takes to care for a loved one, the stress it can cause, and the progression of the disease. They often forget the importance of taking care of themselves while they are caring for their loved one in this journey. Caregivers don't realize how isolated they can become."
Garden Courte's Respite Care is available for overnight stays. This allows families the chance to travel, schedule business trips, or simply take a recuperative break. Whether for a few days or a few weeks, their team is fully equipped for any guest or situation.
For shorter-term options, consider their Adult Day Care programs. As Peterson explained to a worried caregiver in her 'Ask Dawn' column, "It is important to know the signs of stress, and ask for help as often as you need it. Warning signs of Caregiver stress are: denial, anger, social withdrawal, anxiety, depression, exhaustion, sleeplessness, irritability, lack of concentration, health problems. Ways in reducing caregiver stress would be to get in contact with helpful resources in your community, learn all you can about Alzheimer's disease and care giving techniques, join a support group in your community, get help from family, friends, and your community. Get your loved one involved in an adult daycare program so that you can do something for yourself. Give yourself credit for what you do!"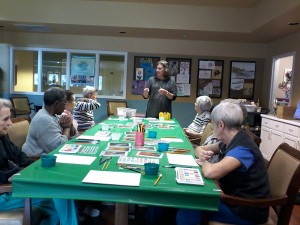 Both Day and Respite Care services can be used on an as-needed or regularly scheduled cycle. It's up to families and Garden Courte staffers to determine the best choice for their current situation.
In between breaks, Garden Courte also offers education for families. Their monthly News & Events page lists classes, Caregiver Support Groups, and open to the public events as well as links to a Newsletter full of recipes, biographies, information, and upcoming activities.
Garden Courte has a long history of caring for our loved ones. As such, they are a resource not to be missed and can help local families navigate the often stressful aging process. Dawn, Viki, and their team are always happy to provide support to anyone needing a helping hand.
Relieved families have written in their thanks for these sanity-restoring breaks. These notes praise day care and respite options as "they didn't realize how important it was to get away until they started the program."
Looking for more information on Caregiver Burnout? The AARP website offers insight into both symptoms and solutions and the adult services website Caring.com has an array of online support groups. But if in doubt, reach out to the helpful staff at Garden Courte. They're always available to answer questions, share resources and support, or simply welcome your loved one with open arms. Don't carry the burden of care alone.
Garden Courte can be reached by calling 360-491-4435 or visiting 626 Lilly Road NE in Olympia.