"Over the years, I have been in a lot of fitness clubs, but I have never been in one quite like Thrive Community Fitness in Lacey. I stopped in one day to find out about what types of personal training were offered and I didn't want to leave!"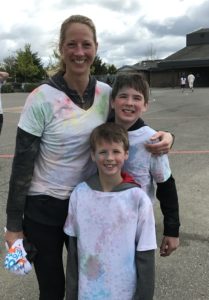 That's how Susy Rohrbach felt when she was checking out local fitness center memberships seven years ago. "I loved the atmosphere here at Thrive," shares Susy. "Everyone was so welcoming and the childcare offered was very affordable." Now, seven years later, Susy no longer needs childcare for her school-aged children, but she can't imagine working out anywhere else.
Susy regularly uses the treadmill and weight machines that are plentiful at Thrive. However, a few years ago she began the group interval program called Thrive Team Training (T3). "I love team training because it is a small group working with a personal trainer and you really get to know your teammates," says Susy. There are currently 17 team training sessions offered throughout the week on the team training schedule. T3 combines the benefit of social and physical health with the motto, "Get Connected, Get Results." You build strong friendships as you hold each other accountable and strive to reach your goals together.
As Susy built her fitness up through team training, she decided she wanted to work with a personal trainer one-on-one to challenge herself further. A personal trainer can really focus on individual weaknesses and strengths, developing a personalized training plan that meets the client's needs. "I wanted to focus on building my core strength," explains Susy. She met with a trainer who helped defined her short and long term goals. "My trainer Rachel did a fitness assessment with measurements and designed a plan that targeted my goals," she adds.
The personal trainers at Thrive are well educated on the physiology of the body, which means that your training plan will incorporate the proper exercises to avoid injury.
Personal Trainer Laura McGann Encourages All
Laura McGann is one of the personal trainers at Thrive. Like Susy, she arrived in Thurston County and began looking for a fitness center. "I visited several places and none compared to the friendly atmosphere at Thrive," shares Laura. Currently Laura has 10 clients, each with varying levels of fitness and experience. Laura loves helping people meet their goals and encourages people of all fitness levels to try a personal trainer. "A personal trainer is a great option for someone just beginning their fitness journey, to an athlete wanting to take their training to a new level," Laura says. Laura is perhaps uniquely qualified as a personal trainer as her experience also includes mental health. As a counselor who worked with middle school-aged students, she understands how to work with the mind as well as the body.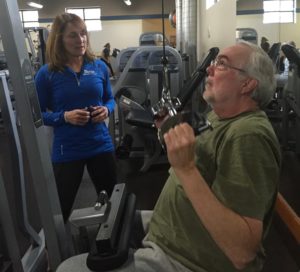 Laura works with clients in team training and personal one-on-one sessions. Laura is a very hands-on trainer and regularly texts her clients with words of encouragement. "I know when my client has a bad knee or which part of their body they want to change," she says. "We share stories and struggles; I am invested in helping them meet their fitness and personal goals."
A one-on-one personal training session can be either 30 or 60 minutes depending on the client's needs. Most clients meet with their trainers one or two times per week, but the schedule is completely up to the client and can change as their needs change. "I love to watch new clients become more comfortable in the fitness center environment," explains Laura. "They realize that everyone belongs here no matter what their goals are."
Personal Trainer Analisa Velasco Builds Self-Confidence
Analisa Velasco began working at Thrive after receiving her Personal Training Certification from the National Academy of Sports Medicine. Velasco is a very familiar face at Thrive teaching three team training sessions each week along with multiple personal training clients. "I enjoy helping people build their self-confidence," shares Velasco. "When people start to see their inner strengths they can be the building blocks to physical health and that is fun to be a part of."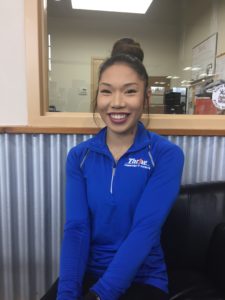 All members of Thrive are given the option of a free fitness consultation with any of the personal trainers.  "We show them how to use the different equipment, talk about setting goals and help them feel comfortable here at Thrive," explains Analisa. The fitness consultation is also a great opportunity to ask questions, and see the benefits of personal training before signing up for one-on-one sessions or team training.
Overall, the Thrive personal training program is great at helping clients reach their fitness goals, but they also do a fantastic job on the "personal" side of personal training. You can tell that they truly care about each and every member, which lines up with their mission to love and serve the community.
For more information on Thrive Community Fitness visit their website or call 360-350-0151. Thrive Community Fitness is located at 5401 Corporate Center Lane SE in Lacey.
Sponsored