Submitted by Community Youth Services
Community Youth Services (CYS) announced the retirement of CEO, Scott Hanauer to take place later in 2018.  Hanauer has been at CYS for over fourteen years, taking over the helm of Chief Executive Officer in 2015 when Charles Shelan retired.
Hanauer has been dealing with cancer related health challenges for the past two and a half years, the majority of his time as CEO. "It is time that I spend much more time taking good care of myself and be able to spend more time with my family. It is my hope that I will get back to riding my bike hundreds of miles a month, skiing down big mountains and glaciers and traveling with my family," sited Hanauer.
Prior to becoming the CEO, Hanauer was the Clinical Director at CYS for eleven years, helping the therapeutic foster care program gain national recognition, as well as leading the organization to become a licensed mental health agency. "I am most proud of adapting evidence based practices and partnerships with educational institutions that have helped put CYS on the map as well as continuous recognition for being on the leading edge as an agency," added Hanauer.  He spent equal time at Children's Home Society of Washington in Seattle before coming to Olympia, working with foster care and residential treatment programs.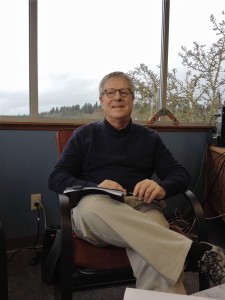 The Board of Directors have developed a search committee that includes contracting with Hagel Executive Search, a Puget Sound based firm, who specialize in nonprofit CEO searches. Hanauer will remain as CEO until a new person is chosen and a transition can be implemented. This transition plan will include time where Hanauer will assist with a smooth transition.
"I love my work.  I have especially loved my work at CYS over the last 14 years. Most of all I have appreciated the relationships I have been fortunate to develop within the community on many levels.  It is these relationships I will miss the most," said Hanauer.