Lindsey Nurmi was admittedly nervous before her first career start.
Six months prior to that occurring she was in middle school. Now she found herself playing high school varsity basketball. It was quite the change.
She doesn't remember too many specific details about the actual game, but she does remember former Black Hills assistant girls basketball coach Herb Guscott pulling her aside moments after the final buzzer sounded.
"He just looked at me and said, 'You're no longer a freshman,'" Nurmi stated. "After he said that, it stuck in my head and I just kept telling myself I wasn't a freshman. I'm on the floor and I need to play like I'm a starter because I was one. That actually helped me a lot. You can't play scared."
That was game No. 1 for Nurmi as the Wolves' starting point guard. A remarkable 99 additional starts – a large majority of them victories for Black Hills – have followed over the next four years.
The truth is if Nurmi ever played like a wide-eyed freshman it would have been that very first game because she has delivered time and again over the years, helping establish the Wolves as one of the state's premiere 2A basketball programs.
"I gave her the keys and she knew it was her time the moment she came in," Black Hills coach Tanya Greenfield said. "We had growing pains. There were times when she was turning the ball over a lot at first. It's an adjustment going from middle school to a starter on varsity in high school, but she got over that quick."
Nurmi first received word she was going to slide into the starting lineup during the Wolves' summer camp prior to her freshman year, and with Greenfield's encouragement she hit the ground running.
The wins immediately started to pile up for the program soon after.
"That took a lot of pressure off," Nurmi said about receiving her coach's full support at the beginning of her high school career. "I honestly just embraced playing so much because having Tanya's support I felt like I could do anything. If she trusts me and my teammates trust me, what do I have to worry about when I step out onto the court?"
A three-time first-team all-conference selection and the team's leading scorer this year at 14 points a game, Nurmi did have one aspect of her game which caused her some apprehension her first year – her outside shot.
She actually struggled offensively as a freshman – a problem she resolved the following off-season through a tireless workout regimen. However, at the time with her offensive skill set not yet quite where it needed to be, Nurmi believed if she wasn't going to help the Wolves on the scoreboard she would find other ways to make a difference.
"My freshman year I did not shoot the ball well or very much so I had to contribute somehow," Nurmi said. "I figured if I worked hard on defense and went after (every loose ball), everything else would fall into place. That's been my outlook my entire four years here."
Her shot eventually improved greatly, while her willingness to play defense and dive onto the floor remained consistent.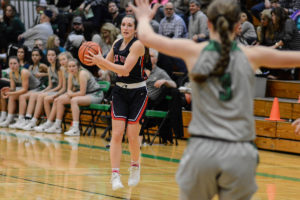 "She's 100 percent effort all the time," said Greenfield, who was named the 2A Evergreen Conference coach of the year last season. "That's had a huge impact on the players. It's hard to watch someone put in so much work all the time and not have it rub off on you."
Never was Nurmi's influence needed more than this season after starting junior forward Maisy Williams, a returning first-team all-conference pick from last year, was lost for a majority of the regular season after suffering a broken jaw.
"We were devastated at first," Greenfield said about the loss of Williams. "Lindsey was the one who immediately told everyone they had to step up and they followed her lead."
Many teams would have folded with such a loss. Nurmi simply upped her game and challenge her teammates to do the same. They've done just that as the Wolves dive into another postseason run.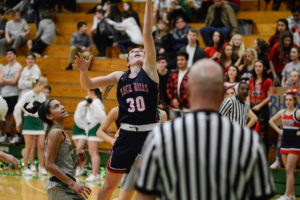 Nurmi and her Black Hills' teammates now look to win a third consecutive district title and opened strong on February 9 against the No. 3 seed, Hockinson, out of the Greater Saint Helens League. The Wolves came out on top in the heated battle with a 59-51 final score with Nurmi posting 14 points.
The Wolves have won ten straight district games, last losing in the opening round of the 2015 tournament during Nurmi's freshman season when Black Hills fell to Washougal, 60-57. Since that defeat the Wolves have been unstoppable at districts, hammering Mark Morris (53-30) to claim the 2016 title and besting rival W.F. West, 36-33, to post their second consecutive district crown last year.