Mardi Gras festivities have existed world-wide for hundreds of years. Typically falling 47 days before Easter, it's an excuse to cut loose and celebrate before the stricter Lenten season begins.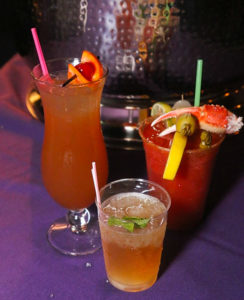 In the Czech Republic, it's called Masopust, in Sweden it's Fettisdagen, and in Brazil, France, Italy and Latin America the ever-popular Carnival is a highlight for tourists and locals alike. But here in the States, New Orleans has lead the way as our purple, green, and gold celebration destination since 1837.
But if you can't make it to the Big Easy this year, don't despair. Little Creek Casino Resort in Shelton brings the party to your backyard. On Fat Tuesday, February 13, they'll recreate the sights, sounds, and smells of Bourbon Street at the nearby Skookum Creek Event Center for one and all.
From 4:00 p.m. to 8:00 p.m., party goers can enjoy food and drink specials, live music, dueling pianos, and more. Promotions coordinator Jennifer Brines is excited for the event. "There will be face painting and a fortune teller as well as mask, hat and bead party favors," she shares. "And, if you buy the drink of the night—a Hurricane—you get to keep the glass it comes in!"
The fun doesn't stop at 8:00 p.m., either. "Immediately following the party we will have a 3X point multiplier on the casino floor," says Brines. These points can be used by Players Club members towards on-site events, promotions, birthday offers, valet parking, and specials throughout the resort. Not a member? Sign up online before your visit or at the Players Club desk.
Tickets to the Mardi Gras Party are $10 and include $10 in food and drink tickets. With chefs known for everything from exceptional seafood, locally-sourced ingredients, and regional delicacies, you're sure to enjoy Louisiana's finest flavors…washed down with a Hurricane or two.
Why limit yourself to one night of decadence? Book a room at the Hotel and Resort and stay for Wednesday's Island Grille Valentine's Day Dinner. This includes a Bellini Cocktail or Sparkling Wine, lobster, beef tenderloin, and shrimp for two with a delicious dessert of Granny Smith and Huckleberry Cobbler with honey-vanilla ice cream. If endless options are more your style, their Valentine's Day Buffet runs from 4:30 p.m. to 9:00 p.m. for only $26.95 per person in the Creekside Buffet.
Gorgeous rooms and suites were recently renovated to incorporate family-friendly spaces, upgraded accessibility, and elegant tribal styling and artwork. Bring your beloved or escape with friends for a much-needed midweek pick-me-up. Weather permitting the Salish Cliffs Golf Club is open to everyone and the Seven Inlets Spa can refresh and rejuvenate.
Located less than 30 minutes from Olympia, Little Creek offers something for everyone seven days a week. Need to break out of the mid-winter funk? Have long-lost friends or relatives to entertain? Looking for a night on the town that won't break the bank? They've got restaurants, gaming specials, concerts, and more.
Whether you celebrate from the Epiphany to Ash Wednesday or simply want a break from tax season and Superbowl drama, Little Creek's Mardi Gras Party is the perfect break the everyday. Dig out your beads and party hats, buy tickets early, and come ready to Laissez les bons temps rouler…Let the good times roll!
Little Creek Casino Resort is located at 91 West State Route 101 in Shelton. Call 800-667-7711 with questions or to purchase tickets or reserve rooms.
Sponsored