It would seem that a miracle has happened when you walk into the St. Martin's University Pavilion on a Saturday evening, and a gymnasium has been completely transformed into an upscale restaurant suitable for James Beard award winning chef, Ming Tsai. The dramatic, black and red accented table settings complete with chopsticks are the work of Valerie Fluetsch and her partner, Carli Cairone. Months of work and planning have created a scene right out of a magazine, and the guests are amazed and entertained for a fun evening of glamour with the celebrity chef from the Food Network. Every detail from the décor and food to the entertainment is carefully planned and scripted by Event Planning Specialists. Most importantly, this event raised 1.2 million dollars for the university and provided much needed scholarships for students.

This night is just one of the many community events that are planned and executed by Valerie Fluetsch and her company, Event Planning Specialists. Valerie plays an instrumental role in the budgets of many local non-profit organizations. Her fundraising events showcase the organizations in the best way possible with both a professional and quality event. When we walk into the room and admire the centerpieces, the result is the culmination of many long hours for Fluetsch and her team.
You might think that the favorite part of Fluetsch's job is seeing the finished product, but, in fact, she enjoys working with an organization long before the flowers are chosen. "I love looking at the guts of the event," shares Fluetsch. "I want to analyze the fundamental elements of the event to make sure it is in alignment with the mission of the organization." Event Specialists is able to provide an outside view and work in conjunction with the board members and employees to reach their common goal.
To understand how Valerie Fluetsch manages hundreds of details along with the many different people it takes to put on multiple successful events each year, you can simply look back in her employment history to where it all began at Tumwater High School. There may be no better training for event planning than working with students, parents, teachers and administrators as the athletic director. This position was made more challenging by the fact that Valerie Fluetsch was the first female athletic director in southwest Washington. There were many times that Fluetsch answered the phone in her office only to be told that the person on the other end of the line wanted to speak to the "athletic director not the secretary." Fluetsch handled it with her signature aplomb and proved to everyone that she was the best person for the job.
Not only did Fluetsch manage the daily details of running the athletic programs and all the events at Tumwater High School, she also taught health and physical education. "I used to say that 4:00 p.m. was my halftime," jokes Fluetsch, explaining that her day was far from over when the student left the classroom.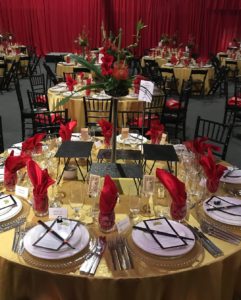 Not surprisingly, she also found time to team up with local business women and female athletes to plan Women in Sports Leadership conferences. Hosted at Tumwater High School, these events highlighted the special qualities and skills that can be obtained through youth sports. Keynote speakers like Megan Quann, an Olympic swimmer from Puyallup, helped shape student athletes' views on how they could make an impact in their own communities.
Fairly quickly, Fluetsch realized that organizing these types of events was not only her passion, but she was really good at it. She spent a year interviewing people about their jobs in event planning and work environments before getting her first job planning an event that recognized adults for their contributions to helping area youth. The event for TOGETHER! was the beginning of a twenty-year career of event planning for organizations and individuals.
Today, Valerie and her assistant Carli run everything from large statewide conferences for the state's Department of Health to small intimate family gatherings. "No event too big, no detail too small" is their motto. Hiring an event planner takes the stress off of an organization and allows families and organization leaders to enjoy their gatherings completely.
Tanya Mote, executive director of the South Puget Sound Community College Foundation, worked with Event Planning Specialists coordinating the SPSCC signature fundraiser known as The Experience. "Valerie and Carli are such a pleasure to work with," shares Mote. "Their creativity and excellence have helped take our event from a fundraiser to a must attend community event that raises so much more to support student success at SPSCC. We are so grateful for their expertise and ability to handle any situation with grace and style."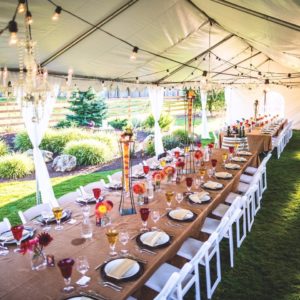 The beginning stages of wedding planning are the perfect time to engage Event Planning Specialists. Valerie offers a free consultation and begins by finding out what is the most important element to the bride and groom. Understanding everyone's desires helps to create the "dream" wedding within a budget.
One of Valerie's favorite events to plan each year is the Providence St. Peter's annual Cancer Survivor Celebration held each year in June. The free event is for cancer survivors and their families. "It is a beautiful, feel good event," shares Fluetsch. Survivors are spoiled for a whole day with good food, speakers and support.
Contact Event Planning Specialists to discuss your next special event. They will take your vision of a gathering and bring it to life with professionalism, fun and style.
For more information visit Event Planning Specialists online or call 360-790-6226.