Education has been very important throughout most of Olympia's history. While women have historically made up most of the city's teachers, they have only been able to move slowly into administrative and policy-making positions, including school boards. Ella Allen, the first woman who ran for the Olympia School Board in 1913, was defeated. Six years later, Frances Walthew made history and won election to the board.
Frances Belle Ham was born October 25, 1869, in Ishpeming, Michigan, to Charles Henry Ham (1825-1911) and Margaret Ann Fisher Ham (1836-1900). Both of her parents emigrated from Great Britain. They met in America and married in 1853. In addition to Frances, the couple had several other children including Mary Elizabeth, William, Charles, Mattie/Martha (Sackrider) and Franklin.
Sometimes nicknamed "Fanny," Frances attended the Grand Rapids Training School in Grand Rapids, Michigan, to become a teacher. After moving to the Pacific Northwest, she taught kindergarten in Seattle for two years. On May 21, 1902, Frances married William Adam Walthew (1867-1962), a dentist. Making their home in Seattle, the couple had two children, Margaret E. (1905) and Paul Eugene (1909). The family moved to Olympia in 1915.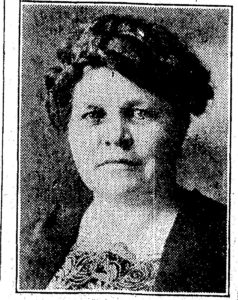 Frances became involved in the Parent-Teacher Association (PTA) at the state and local level. She was the treasurer of the state PTA, but resigned a few weeks into her second term due to ill health. In Olympia, she was a leader in the McKinley School PTA and even led the Garfield School Canning Club during World War I. Frances also participated as a member of the Minute Women, a World War I service organization that assisted the Thurston County Council of Defense with wartime fundraising drives. In addition, she was active in the Christian Science Church and the Pythian Sisters.
Frances ran for the Olympia School Board in March 1919, with the endorsement of many prominent women in the city. Writing to the Olympia Daily Recorder newspaper on February 28, 1919, a group of them stated that women played a critical part in education, then added, "We believe that Olympia should have the best educational facilities of any city in the state, and we believe that having a capable woman on the board will be a step in the right direction." Defeating incumbent, E. C. Townsend, on a vote of 795 to 494, Frances was elected for a three-year term. She was reelected twice. In 1922, Frances beat Will Duncan by just 22 votes (587 to 565), and in 1925 she defeated Sidney Rankin on a vote of 602 to 86.
Frances's tenure would see many changes in the Olympia School District. The district was transforming into a modern system that we could recognize today. At the time of her election, Olympia had 2,377 students and 53 teachers. There was one high school and five grades one to eight schools: Garfield, Lincoln, McKinley, Roosevelt and Washington. The names of almost all these schools remain the same today.
During this time the board directed a flurry of construction projects to replace aging infrastructure. New Lincoln and Washington schools replaced older structures, and an annex was built for Roosevelt. A 1920 reform gave two weeks of paid vacation for year-round employees, including janitors, secretaries and the superintendent.
Due to ill health Frances resigned from the Olympia School Board in September 1926 and died on December 6 of that year. The town mourned her passing, and state offices closed so workers could attend her funeral.
Besides her work on the school board, Frances left behind another legacy – a memorial scholarship through the Philanthropic and Educational Organization for Women (P.E.O.), a group she had been very active in. First presented in 1927, a $50 cash award was given annually to one, and later, four, female Olympia High School students who had both high academic achievement and earned part of their own living expenses. Awarded until the late 1940s, the scholarship first went to juniors for high school expenses and later to seniors for college expenses.
After Frances resigned, another woman would not be elected to the Olympia School Board until 1951. Esther Knox held office until 1983. The district's Esther Knox Administrative Building is named in her memory.
There is no such honor for Frances. However, she left a more intangible legacy by encouraging and supporting students. She regularly handed out diplomas at graduations and gave toasts at Olympia High School's junior proms.
Her attitude can best be summed up with a quote from the Morning Olympian newspaper issue of June 9, 1922. At the high school graduation, she reminded students that to succeed in life, one needed confidence and courage, telling them, "You will be received with doubt if you approach in doubt, you will be accepted with confidence if you have confidence." That is how she lived her life.