Gary Spelts has a big heart. And, a desire to give back. After job hunting throughout the summer of 2016 with little luck "due to my advanced age" he chuckles good-naturedly, he stumbled upon an idea of how he could give back, keep himself busy and create positive momentum in his adopted hometown of Olympia.
"I was applying for jobs and spent time filling out applications at Starbucks in downtown Olympia," he shares. "From the windows I had been watching the homeless in Sylvester Park." Gary, a 2008 graduate from the Evergreen State College with a degree in psychology, a two year degree in chemical dependency counseling and two years under his belt towards his masters in counseling, noticed something about the homeless people he was watching. "noticed that they'd formed family systems where the some of the older women would take on the role of "mothers" and would show the newer, younger women how to get help. At times men would fill the role of fathers. One in particular looked after the homeless adolescents, to ensure their safety and get them off the streets at night."
This is where Gary's big heart comes into play.
Gary had his own business called Creations, one he'd worked many years ago and was getting up and running again after unsuccessful job hunting. "Creations sells antique art, antique coffee and tea sets, antique books," he shares. In the past, the money earned from online sales of his treasures helped pay the bills.  Now, Gary is secure financially and decided he could use Creations to help address homelessness in our community.
Last May, Gary organized his first benefit event at the 222 Market in downtown Olympia. "I did it all myself," he says. From posters and flyers to networking with downtown businesses for donations and support, Gary planned and executed the event on May 31.  "The businesses in the 222 Market were so supportive and ready to help," he shares.
The event raised some funds, but more than that, it raised awareness to homelessness and how to help. "The Businesses at the 222 Market really care about the homeless," says Gary. "They've been giving donations of food for the homeless to me for some time and I distribute it throughout downtown." The funds from this event were donated to EgyHop, an all-volunteer organization dedicated to "bringing emergency supplies, services and resources to the homeless and low-income populations living on the streets of Olympia."
Gary learned a lot from that first event and it motivated him. He has organized a second event called "Christmas Gift Bags for the Homeless."  The event will be held on December 23, 2017 at First Christian Church on the corner of 7th and Franklin in downtown Olympia and will offer a bit of hope, kindness and much needed supplies and cheer to the homeless populations in our city.
"My heart breaks to see these folks on the street," says Gary. "They are often young enough to be my granddaughter. With over 500 homeless in Olympia and Lacey, my goal is to give them a Christmas, too. It's miserable to be homeless and I came up with Christmas Gift Bags for the Homeless to let them know we care."
Local businesses have been donating to Gary's efforts and he has boxes, bags and even pallets of items ready to be distributed. "Psychic sister has donated over 200 hats. Captain Little has donated so many children's toys. The Pet Works has donated a pallet of pet food. We have toothpaste and toothbrushes, over 300 chap sticks. This list goes on," shares Gary. Additional businesses involved include Hawley's Coffee and Gelato, Little General Food Store, Sophie's Scoops, Pantry, Compass Rose, Radiance Herbs and Massage, and De Colores Bookstore.
The bags will be distributed at First Christian between 6:00 p.m. and 8:00 p.m. on December 23 where a live band will entertain with Christmas music and some rock and roll, too. Volunteers are needed to assemble the bags and are invited to show up at 4:00 p.m. to help. Bags will include warm coats, hats, gloves, sleeping bags, hygiene supplies, food items and age appropriate gifts and toys to bring some Christmas cheer.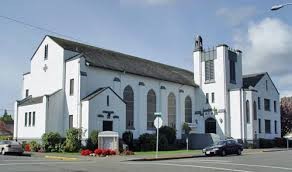 "It's about loving others, about giving back," says Gary. "I've been a taker for a long time – a successful career in advertising, owning my own business – and it's time to give back. We can all do something. It's about using the skills you have to help those that don't have anything."
Gary's goal extends past the Christmas season, too. "My goal is to continue helping the homeless, raising enough money through events to work with a local builder to construct a new shelter or small homes to offer more housing options for the homeless." And, he's already had a builder approach him about partnering.
Donations are still needed for the bags. When you are out doing your last minute shopping, why not throw a few items in the cart for others in need.  Winter coats for men and women, men's socks and gloves and sleeping bags are particularly needed.
You can contact Gary in advance to donate or volunteer at 360-451-5457 or creationsgls2@gmail.com.  Donations to Gary's efforts can be made in person at Christmas Bags for the Homeless on December 23 or online at the event's GoFundMe page.