"Mary is more than a caregiver, she is an enhanced member of the family," these are the words of just one of the many happy clients of Mary Janssen, an award-winning caregiver at FirstLight Home Care. Mary was nominated by her client to be recognized at the 17th Annual Caregiver Recognition Dinner and Auction. Mary Janssen, along with Katy Romero, both received Outstanding Caregiver of the Year awards for their work with clients of FirstLight Home Care. Katy Romero was nominated by a client who wanted to share Katy's "sense of compassion and selfless duty she brings to her work every day of the week."
Another FirstLight caregiver, Kari Olsen, was nominated by the family of a 91-year-old former nurse. "My mother feels like Kari is a dear friend," shares a client's daughter. "I never worry about my mom when someone from FirstLight Home Care is with her."
Each year, the Senior Action Network honors exceptional caregivers. In the category of In-Home based caregivers, FirstLight Home Care had four individual nominations. Each of these caregivers was nominated by their own clients who wished to see their caregivers receive recognition by the community for their work. Two of the four nominees were awarded with the coveted Caregiver of the Year awards but all were honored and appreciated by those in attendance at the Senior Action Network Dinner and Auction.
FirstLight caregiver Stephanie Lane was nominated by the spouse of a client that suffers from Parkinson's disease. "I can't say enough positive things about Stephanie," reads her nomination form. "It was due in part to Stephanie that we were able to keep my husband in our home for as long as we were able."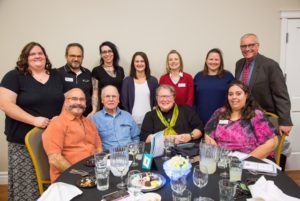 "It is always heartwarming to receive calls from clients who are pleased with their care," shares Sarah Lane, owner of FirstLight Home Care. "We share their stories and honor our employees in-house by celebrating a Caregiver of the Month, but it is really special to see our caregivers getting the recognition they deserve out in the community and being honored in front of their peers."
The Senior Action Network accepts nominations for all in-home based caregivers, facility employees as well as those that work at Adult Family Homes in the community. Family caregivers and volunteers may also be nominated and have their own category. Nominations are received and a committee made up of three chair people from the Senior Action community along with representatives from the industry select the final winners from the many nominations received.
FirstLight Home Care was the only home care agency with two winners this year. Katy Romero also received FirstLight's in-house award for Caregiver of the Year. Katy is able to connect with each of her clients in a uniquely special way. Some of FirstLight's elderly clients need gentle reminders and a soft touch while others may need a firmer and more authoritative voice. Katy recognizes what will motivate each client and is able to tailor her care to their needs. One of her clients is a veteran with PTSD who has difficulties leaving his home for any reason. Katy has been able to not only convince him of the importance of making his appointments, but gotten him to go willingly.
Mary Janssen's client was initially reluctant to have care at all after a neck injury limited his activity. After several months with Mary he no longer required care but didn't want his visits with Mary to end. Janssen uses her skills as a former chef to help her clients by cooking and storing meals for them. A master multi-tasker, clients are amazed by how much Mary can get done in a short visit.
FirstLight Home Care can provide everything from a few hours of assistance with light housekeeping and meal preparation to full-time in-home care. The caregivers at FirstLight will care for your loved ones as you would. Nominee Kari Olson noticed that each time she came to see her client she would put her hands in Kari's pockets. Kari began to hide surprises in her pockets. "My mom reached in Kari's pocket and was delighted to find some greeting cards with beautiful flowers on them," shares a client.
It is the desire of the caregivers at FirstLight to not only provide first-rate care but to also become trusted friends of their clients. That is what makes their client relationships so special and what make FirstLight Home Care so unique. And, it's why they were the only organization with four nominees and two winners for Caregiver of the Year 2017.
For more information on how FirstLight Home Care can support your family call 360-489-1621 or visit FirstLight Home Care online.
Sponsored