It may be hard to believe, but the holiday season is upon us once again. With Thanksgiving come and gone the reality is…there is only one month left until Christmas.

There is no better way to prepare for the holiday season than by celebrating Small Business Saturday, a nationwide event promoting the patronage of local small businesses in your home town. Downtown Olympia is well known for its unique shops and can't-miss restaurants, but is it your first stop for holiday gifts and experiences?
If you are like me, you may be thinking, "I want to support local businesses, but isn't it more expensive? Won't it take more time? Will I be able to find something for everyone on my list?"
Fear not. Downtown Olympia is home to small businesses of every shape and size with a variety of price ranges meeting the demands of a variety of interests. Best of all, when you shop downtown you come home with original, creative, one-of-a-kind gifts.
Whether this is your first Small Business Saturday or your annual tradition, having a plan before you shop will help you make the most out of your day, especially if you are crunched for time. While this is hardly a comprehensive list of all the amazing shops you'll find along the way, it is a great guide to the distinct sections of downtown Olympia I refer to as the "Blocks with the Most Bang."
4th Avenue – Between Water Street and Columbia Street
Not to be Missed:
Nearby Eats:
Just Around the Corner:

A closer look inside:  Eclection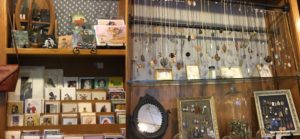 When Jacq decided to open her shop, Eclection, she knew the only way it would be successful is if she filled it with all the things she loved. And, sure enough, it worked. This weekend Eclection celebrates its one-year anniversary. "Some of my favorite things in the store right now are our greeting cards, designed by local artists and our selection of scented candles made by hand in Seattle," shared Jacq. Eclection may not be the biggest store on the block, but it has a big personality. Every shelf houses something special, from antique jewelry to gemstones to hand-sewn ornaments. I even found a vintage leather gun holster to wear on my belt in the basket of wallets.
 Capitol Way – Between State Street and 5th Avenue
Not to be Missed:
Nearby Eats:
Just around the Corner:
A closer look inside:  Compass Rose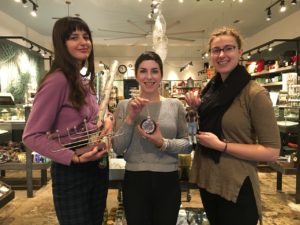 During my visit to Compass Rose, I asked the sales team an impossible question, "What is your favorite item in store this season?" Chrissy, Liz and Elizabeth took a moment to answer, desperately trying to choose. This is because at Compass Rose your favorite item will be EVERYTHING. They have ornaments of every shape and size, from a model of the world you can hold in your hand to a bear dressed as a pirate. Seasonal candles add fragrance to your home and a there is a seemingly endless selection of gifts and stocking stuffers. Adorable themed kitchen sets? Check. Locally made products? Check. Witty mugs? Northwest collectibles? Unstoppable skin care products? Check. Check. Check. Plus, they have stylish gift wrap and cards to make the gift giving that much more fun.
A closer look inside:  Belleza Ropa
Belleza Ropa is a woman's one-stop-shop for head to toe fashion. They offer the best brands in footwear, apparel and jewelry from local artisans to international brands.  "Belleza Ropa is a great stop for finding unique gifts for those special women in your life," said owner Jeannine. "We have handmade, leather bags, a new selection of Brighton jewelry and an extensive collection of socks with prints for every personality."  During Small Business Saturday, Belleza Ropa will be offering special discounts and gifts with purchase.
A closer look inside:  Psychic Sister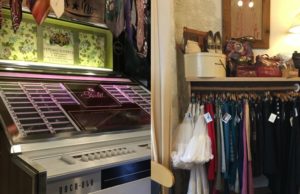 Psychic Sister is vintage boutique meet physic connection. "What really sets our boutique apart from others is the care we take with the garments we receive," explained Tahnee, Psychic Sister's shopkeeper. "Each piece is cleaned and mended before being put out to sale. We take such care to preserve them because each item is special, tells a story, holds life and history." This season, in addition to their vintage apparel for men and women, Psychic Sister has added a unique line of astrology shirts for every sign. Those that are called can also schedule a psychic reading session. While the psychics are only in a few days a week, you'll find the Psychic Jukebox just inside and in business every day they are open.
Washington Street – Between 4th Avenue and Legion Way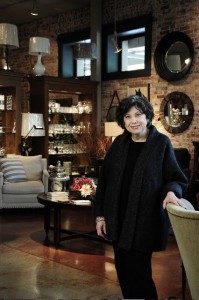 Not to be Missed:
Nearby Eats:
Just Around the Corner:
A closer look inside:  Captain Little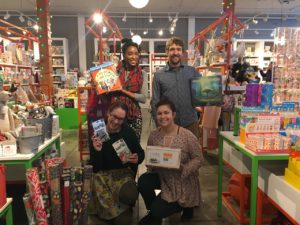 Captain Little is not just for kids. That is because it isn't just a toy store, it's a place where dreams come to life. There are costumes and puzzles. There are tools for artists and games to challenge your intellect. There are beautiful stories, squeaky toys and even an edible chemistry set. The sales team knows all the nooks and crannies where the best gifts lie. Michael may recommend his new favorite board game, Photosynthesis, where players race to grow their seeds into trees by maximizing favorable conditions. Sophie may encourage you to pick up the new, glow in the dark, holiday edition of Crazy Aaron's Thinking Putty. No matter what you choose, at Captain Little it is simply impossible not to leave thrilled.
A closer look inside:  The Mouse Trap
A holiday would not be complete without something savory to eat and delicious to drink. Alex meets all your needs for those holiday parties, family gatherings and romantic evenings by the fire with her specialty store, The Mouse Trap. Whether for you or someone on your list, there are tasty and practical gifts galore.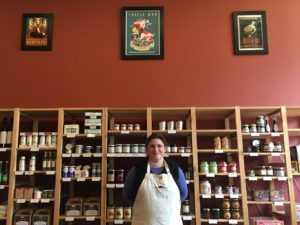 Let Alex recommend her favorite wine and cheese and set you up with all the cheese specific utensils, serving dishes and complimentary pairings, like crackers and meat spreads, to make your taste buds sing. A popular gift choice is the Cheese of the Month Club. Alex will hand select cheeses to send  each month with a great assortment of crackers and goodies to go with it.
Have some extra time or need some more inspiration? Explore a little deeper down 4th Avenue to Finders Keepers Antique Mall and Orca Books for unique and hard to find treasures. Have a theater enthusiast on your list? Check out Harlequin Productions or The Washington Center's season subscriptions or single show tickets. Or see what's playing at The Capital Theater. Gift certificates and subscriptions fit easily into stockings. And of course, swing by The Pet Works to pick up a surprise or two for the special animals in your life.
See you in downtown Olympia on Saturday, November 25, 2017 and all holiday season long as we come together to support our small businesses, strengthen our community and add a local, personal touch to our gift giving traditions.