Aaron Borden had his first job, a paper route for a local newspaper, at 11-years-old. He quickly expanded, working for two larger newspapers and mowing lawns when time allowed. It was clear he was born for business and working with people. "I wanted money to buy toys, bicycles – you know, whatever," Borden says with a smile. "As a kid I would try to make deals with my dad. I would try to sell him things all the time. Entrepreneurism has always been like a game to me. It's fun to try and generate money."
This entrepreneurial spirit eventually led Aaron to open his own business, AJB Landscaping & Fence Services. He first became interested in landscaping while working at an underground utility supply house. "I started making friends with contractors and learned a lot about the business from them," he says.
There was never a question, however, as to where he would locate his business. Aaron grew up in Thurston County and loves living in Tumwater. "I've traveled to difference places – West Virginia, Oregon, California, Nevada – and it just seems like the quality of life in Thurston County is so much better than anywhere else I've experienced," Aaron explains. "I really love the environment and the fact that it's really growing and becoming a bigger town, but still has that small, hometown feel where everybody knows each other." Having lived here for so long and knowing so many people in the community helps his business as well.
A Passion for Service
It's the personal connection that he loves the most. "My favorite part is the sales," he says. "Going out and meeting new people and then collaborating with them on their estimates to provide the best experience we can. That by far outweighs any other aspect of our business."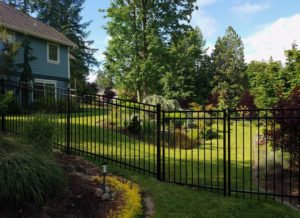 AJB Services offers everything you could want for your residential landscaping and fencing needs. From pouring concrete and creating irrigation systems to installing retraining walls, pavers, sod and synthetic turf – if it's landscape related, they do it. In addition, they install all kinds of fencing.
What makes them stand out from other services companies is their passion for their customers and the service they provide. "We really care about our customers and it shows in the reviews we get," Borden explains. "For example, we will admit if we make a mistake, take responsibility for it and do everything in our power to make it right." AJB Services has a 4.8 out of 5 stars on HomeAdvisor, a rating that Aaron says truly reflects how important it is to them to treat their customers well.
"We like to over promise and over deliver, that's our mantra," he adds. This can be challenging, as most people "want champagne on a beer budget," he says. But AJB Services prides themselves in being able to take anyone's budget and give them as much as they can for their dollar. They ensure their services exceed in value what the customer expects. "We are consistently on time and within budget. Dependability and availability are cornerstones to our success," Borden shares.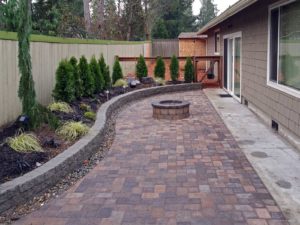 Aaron extends this to his team of employees. "I love that we can provide jobs for people to support their families," he says. "Everybody that works for me is like family. We encourage a family environment and that makes it fun."
One of the ways Aaron keeps work fun is the AJB Service Referral Card Ambush. He plans surprise "ambushes" to thank customers for their business. He gives out AJB shirts, hats and gift cards to all kinds of places. You can watch the videos of these fun ambushes on their Facebook page.
That passion for service extends to helping those in need in their local community as well. Aaron and his wife Meghan support many local families in need, including foster families, through monetary and in-kind gifts such as clothing and food. "We absolutely love helping those in our area by giving back to families in need," Meghan says. AJB Services also has a program where they send employees out to fix fences for those in the community that cannot afford the repairs. AJB Services was also a sponsor for the South Sound YMCA Supergala this past year.
When he is not working, Aaron spends time with Meghan, their two boys and their two bull mastiffs. He is an avid clam digger and loves to barbecue. "I've got a really high-end pellet grill called a REC TEC – they're the Cadillac of pellet grills – and I am really getting into barbecuing," he says. "I also like to fish in the ocean." But he admits that growing businesses is still his favorite hobby, just like it was when he was 11.
"I really enjoy what I do," he says. "I spend 14 hours a day working and I don't burn out because I enjoy it that much."
To learn more, visit the AJB Landscaping & Fence Services website, follow them on Facebook, or call 360-789-3707.
Sponsored