Submitted by Charter College
Americans are getting older. That means more healthcare needs, which translates to more jobs in the healthcare industry. In fact, the Bureau of Labor Statistics (BLS) reported: "Healthcare occupations and industries are expected to have the fastest employment growth and to add the most jobs between 2014 and 2024. "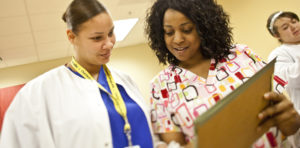 Charter College officials recognized this trend and opened a campus in Lacey in 2015 to help address it, offering residents of Thurston County career educational opportunities in healthcare. The site, located at 4520 Lacey Blvd. SE, Suite 40, currently offers two blended on-campus education certificates for Medical Assistants and Pharmacy Technicians.
"Our career service and educator teams watch trends to stay on top of areas of job growth for potential students," explained Campus Manager Dr. Bruce Higdon. "And research shows that Medical Assistants and Pharmacy Technicians are going to be in even higher demand as the baby boom population continues to age."
According to the BLS: "Employment of medical assistants is projected to grow much faster than the average for all occupations. The growth of the aging baby boom population will continue to spur demand for preventive medical services, which are often provided by physicians. As their practices expand, physicians will hire more assistants to perform routine administrative and clinical duties, allowing the physicians to see more patients."
The BLS has similar predictions for pharmacy technicians: "Employment of pharmacy technicians is projected to grow faster than the average for all occupations. The population is aging, and older people typically use more prescription medicines than younger people do. Higher rates of chronic diseases such as diabetes among all age groups also will lead to increased demand for prescription medications. Advances in pharmaceutical research will allow for more prescription medications to be used to fight diseases."
Charter College's innovative blended learning curriculum combines a hands-on classroom experience with online course work. This schedule offers students more flexibility with their schedules, allowing them to work and manage family life. It saves them daily travel time and expenses, and offers the convenience of learning from home while blended with classroom hands-on learning.
Details on the programs are available at the Charter College website or by calling 888-200-9942.
Charter College is a private, independent institution of higher education, providing students with a career-focused education in growing job fields that include healthcare, business, information technology, aviation and select trades. Charter College operates college campuses in Washington, California, Alaska, New Mexico, and Montana and operates an online program. For more information, visit http://www.chartercollege.edu.