As a kid, friends called Francia Reynolds a "tom boy."
She was always busy, playing games in the streets with the boys and having fun. "There were very few opportunities in girls for sports back then," Reynolds said.

Now, 60 years later, a 70-year-old Reynolds still has the urge to be active, the gumption to play sports. And, she's taking advantage of today's opportunities. Ignoring the concern of being too old, Reynolds is charging full speed ahead in sports. During the Washington State Senior Games this month, she'll be running sprints in the track events and chasing a ball on the soccer field.
"I'm trying to do as much as I can now," Reynolds said.
There are so many excuses that can get in the way of exercising, so Reynolds knows she has to make a commitment to staying active. And she's active with a capital "A." In the track events at the Senior Games, she'll run the 50, 100 and 200 meters. She'll also throw the discus and the hammer, and (gasp) she'll do the long jump. Then there's the soccer tournament she'll play in.
To help make sure every senior who wants to play can, Reynolds is the commissioner of the Senior Game's soccer tournament, organizing the event.
Now in its 21st year, the Senior Games are going strong, giving the getting-older crowd a reason to get up off the couch, exercise and have fun. There will be over 2,000 athletes competing in the Senior Games this month in about 24 events, including track, swimming, golf, badminton, bowling, archery, softball and more.
Visit the Senior Games online for a full schedule of events and activities.
"We provide an incentive and we provide the opportunity," said Jack Kiley, president of the Senior Games.
The games are aimed at men and women who are 50 and older and have decided they're not going to go easily into old age.
"The mission is to improve their health and the quality of life by continuing their training and continuing their interest in a particular area," Kiley said. "They've gotten off the couch and gotten into what they did 30 or 40 years ago."
As people age and become, as Kiley said, "more senior-ish," they have less and less opportunity to compete. "We try to give them that opportunity," he said.
Perhaps the one taking that opportunity most seriously is George Rowswell. At age 100, Rowswell, who was a lineman on the Washington State University football from 1936 to 1939, didn't let the "I'm too old" excuse keep him from participating in the Senior Games. Even though he's now in a wheelchair, he'll compete in the shot put.
"He just doesn't want to give up," Kiley said.
Dianne Foster continues to be a doer, as well, both as a runner and as an administrator. She's the coordinator for track in the Senior Games, helping to provide opportunities for others. Over the years, Foster has tasted success as an athlete. Growing up in Lakewood, Foster earned All-American honors at Pacific Lutheran University in cross country, Nordic skiing and track. At the first Capital City Marathon in 1982, Foster was the first woman finisher.
"It's about giving back to the sport," Foster said of her motivation for working with the Senior Games. "I've been successful and been blessed being able to compete in track and cross country. I feel it's something I can contribute back."
Foster has been wowed by many "oldsters" who have run track in the Senior Games. There's Keith Wood, who now in his late 80s competes in the every track event, including the 10K.
"He's just one of these guys who will never stop," Foster said. "Keith wants to break his age group record."
Dedication and commitment is a theme to the Senior Games. With respect and appreciation, Kiley likes sharing a story about Shannon Houlihan. A couple of years ago, Houlihan came to complete in the softball throw in remembrance of her father who competed in the same event before he died. However, she came two days after the event was held and no one was at the field at Tumwater High School.
"She decided she couldn't just ride home and be mad at herself for being so stupid," Kiley said.
Instead, Houlihan climbed the fence and made her throws and a friend measured her throws. "All in memory of her dad," Kiley said.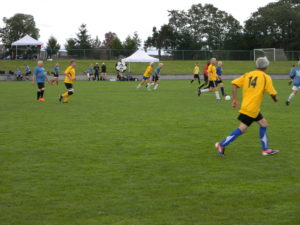 Reynolds, along with everyone else competing in the Senior Games, is a believer in the old adage – use it or lose it. "I don't stop. I just keep going to the gym," Reynolds said. "I have a personal trainer who makes me do x, y and z. Then I run a mile and then I play soccer. I don't stop."
She plays in three soccer seasons during the year up in Seattle on an over 50 women's team. Then in winter she plays in Thurston County on a co-ed, over 40 team. Continuing to be active, not sitting on the couch and just watching TV, keeps her fit. For her, there's no such thing as "too old".
"I'm actually 70 now. I am the oldest on the team because a woman older than I am fell and broke her wrist," Reynolds said.
And, this makes no difference to her. She keeps moving, being the "tom boy" she's always been.