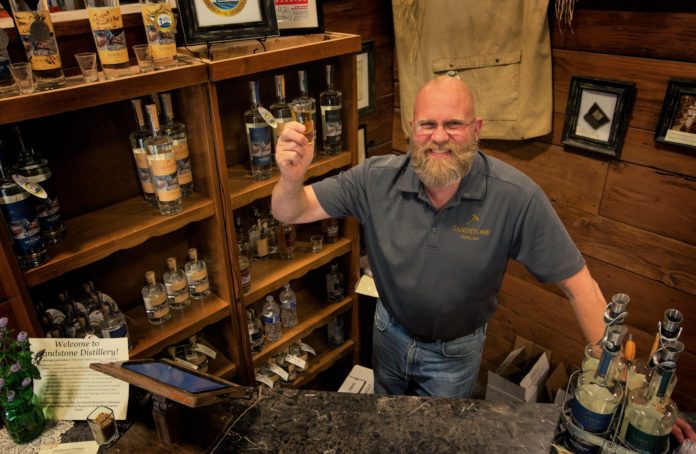 When John Bourdon of Sandstone Distillery left his trucking business behind to become a full-time distiller of spirits, he envisioned the job as that of no nonsense manufacturer. While the role of distiller truly is one of production, John has slipped quite organically into the role of host and tour guide for our beautiful region. He was truly surprised this May when he was nominated for and won the Excellence in Hospitality Award from the Olympia Lacey Tumwater Visitor and Convention Bureau (VCB).
According to the VCB, "This award honors a hospitality professional who consistently goes out of their way to make visitors feel special."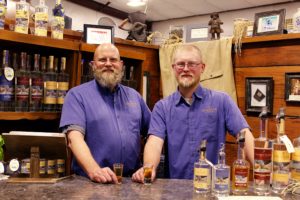 "It turns out I am in the hospitality business and the tourism business without even knowing it," laughs John.
If you have ever paid a visit to the Sandstone Distillery it's not hard to see why John Bourdon deserves this award and, by extension, his family who exude a spirit of hospitality. John loves to tell a good story and, if you take the tour, you'll hear plenty of tales. His style of storytelling contains just enough fact and fancy to both entertain and inform as they are part history lesson, part self-deprecating folly and part enthusiasm. His son and fellow distiller Justin also takes up the mantel of tour guide imparting bits of history, tinkering and science along the way.
You will not find the Hospitality Award hanging anywhere in Sandstone Distillery. The plaque, fashioned from the blow-down wood of Veteran Memorial Oak from Legion Way, is currently hanging on the wall of Robert Bourdon, John's father. Robert lives in an assisted living facility in Olympia and, as is John's way, this leads to a story.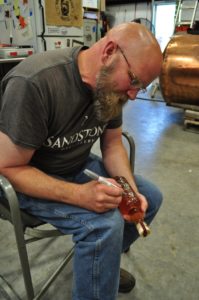 "When I sold the trucking company I had a sail boat," says John. "We took that 33 foot sailboat, my dad and I – he was 81 at the time – he had always wanted to do a crossing on the ocean. So, we took that opportunity. We sailed from Bud Bay in Olympia at Swan Town Marina out and around down to San Francisco where we met up with Justin who flew down and the three of us made a trek to Honolulu, Hawaii."
So much happened during this journey that Jenni, John's wife, thinks John should write a book about it. They even found a glass float from Fukushima along the way. But the trip was to be forever remembered for what happened next.
"Halfway across my Dad had a stroke," explains John. "We were in the center of the ocean. We were 1,200 miles from Hawaii. We were 1,200 miles from San Diego. So now what we do we do? Long story short, we connect with a 900-foot-long cargo ship. With rough seas and whatnot, we ended up swapping some paint causing a little damage to my boat, but we managed to get Dad on board. We got him to Honolulu and squared away and now he lives in an assisted living center."
John feels his father has always been supportive of everything he set out to do. And not only that, Robert set an example as an entrepreneur, as was his father before him. Upon reflection, John also feels his gift of storytelling may have been passed down from his Dad as well.
"So, I took the plaque to show it to him," says John, "and hung it on his wall, because that's his legacy."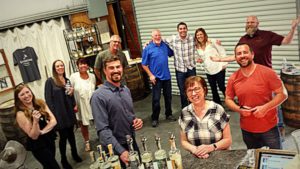 When you visit John, Jenni and Justin at  Sandstone Distillery, remember you are visiting a working distillery with whiskeys, vodkas, and gins in various stages of production. While they try to keep disruptive distilling tasks limited to Tuesdays and Wednesdays when the tasting room is closed, sometimes things still need to get done. They may have to start up the grinder or pour out a barrel, but they do their best to turn it into a special occasion for any guest visiting that day. Maybe you'll even get to taste that newly tapped barrel one day when you visit.
On Tuesdays and Wednesdays when they tasting room is closed, the hospitality doesn't end. This is your opportunity to sign up to be a "Distiller for a Day". As a distillery student, you'll have the hands on experience of the entire process from grain to bottle and you'll find out if you've got what it takes to be a distiller.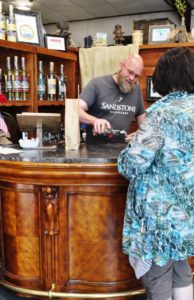 "The student does everything, just like we would," says John. "That's a full day. It's good for someone who is looking to be a distiller some day to get a taste of what it's like. You'll start at 6 in the morning and you might not be done until 6 at night. It's an all-day thing."
Sandstone Distillery, who you can follow on Facebook, also hosts concerts complete with a dance floor and food trucks. To learn more about these events and other special offerings at Sandstone Distillery, sign up for their email announcements.
There are also opportunities, if you contact the Bourdons, to have your private event at the Distillery. They can host anything from cocktail parties to rehearsal dinners to mark special occasions.
The most quintessential hallmark of a good host is someone who can put a potentially diverse group of people at ease. And, while touring the Distillery, it's easy to see that John and his family have that gift. By the end of the tour, a group of strangers chat companionably as they taste the offerings of the day. Maybe it's the tastings or maybe it's the Bourdons themselves, but by the end it feels as though you're parting ways with old friends.
Sandstone Distillery
842 Wright Rd SE in Tenino
360-239-7272
Tasting Room Open Thursday through Monday, Noon to 5 p.m.
Sponsored