Last year, on International Geocaching Day, my cousin's son Jack introduced my daughter to geocaching. Traveling from Minnesota, my cousin's family typically spends a week or two at our family cabin along the shores of Hood Canal. During their visit last year, Jack was eager to get a badge from Washington and to share his hobby with our family.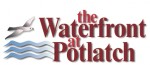 I had wanted to try geocaching with my tech savvy daughter for a while, so we were excited to have Jack as our guide.
"Hood Canal is so scenic and has many forests and hidden things to find and see," says my cousin, Melissa Crow. "I like seeing Jack really passionate about geocaching.  He works hard to persevere to find ones that are difficult.  I love that it gets us outside and exploring all kinds of environments and places."
With apps installed on our phones and the compasses set for our first geocache, we head out on our search toward Alderbrook Golf Course. "This ammo can turned out to be Jack's favorite cache along Hood Canal," says Melissa. "It's high up on the edge of the golf course with expansive views of the Canal."
But, if you do not have a lovely cousin (and parent of an avid geocacher) to get you started, let this article help you find success, so your family can quickly (and pleasantly) check off the first geocache on your list.
For first timers we recommend bringing along a small baggy of trinkets to trade at each cache. We scoured the house and found board game pieces missing a home, pennies and pieces of beach glass. It does not need to be fancy or have any special meaning, but the philosophy is that if you are going to take a treasure from a geocache, you need to put something in its place.
Sometimes your cache will have a travel bug or another trackable item. This is a great find for kids because they can see where this item has been and where the original owner wanted it to go. Pick it up and move it to another cache. Here are some instructions on how to log your trackable item.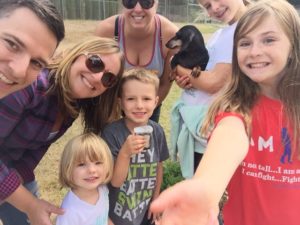 Melissa also recommends dressing for the environment. Pack a rain jacket and good walking shoes. (Insert eye roll here because what Washington family doesn't bring these along everywhere, 12 months out of the year?) Many of the caches are "off the beaten path," so long-sleeved shirts and long pants minimize bug bites and scratchy vegetation. Be sure to charge your phone in advance since using the compass on the app can drain a battery.
While it does not fit in your purse, patience is also something geocaching families should bring along for the trip. Some caches can be challenging to find. Reading the hints and peeking at the photos can assist you in helping younger kids solve a cache and get you back in the car when it is clearly time for an ice cream stop. Our suggestion – Olympic Mountain Ice Cream at the Union Country Store.
If you are staying near Alderbrook and are looking for some beginner geocaches, here are a few not to miss, as recommended and approved by a crew of kids ages 7 – 13.
Dalby Waterwheel
Parking is a little tricky here, so make sure you are all the way off the highway.
Watch little ones because the geocache is on the highway side of the fence.
It's a great little spot and usually shady.
Retreat
Located at Harmony Hill Retreat, this geocache is scenic and serene.
Try to avoid hollering and keep kids quiet since there are often guests here.
The terrain is easy, flip-flop approved.
Almost Union
Parking is also tricky at this cache. If you have two adults, send one with the kids and have one stay in the car.
No need to access the beach to find this cache, but you may have to look high and low.
La Pointe at Alderbrook
This cache was our starting point for our geocaching adventures.
It provides a fresh, unique view of Hood Canal.
Up at the Wikiup
We recommend that you end your geocaching time here.
We took some epic slow-mo videos on the slide after finding this geocache.
From one parent to another, I hope this geocaching primer helps your family combine technology with outdoor adventures. I have found that this marriage keeps everyone happy while on a family weekend holiday. Oh, and a scoop of mint chocolate chip to finish off the day never hurts, too.