The new Toyota of Olympia dealership is now open at 6969 Tyee Drive in Tumwater. Whether you are looking for a new, used or certified pre-owned vehicle, or need to get your car serviced, Toyota of Olympia's large inventory will make it a one-stop shop while their amazing amenities and customer service will ensure you have a relaxing, enjoyable experience.
"The entire property was designed with our customers and staff in mind," says Carol Peebles, customer relations manager and executive assistant to the general manager/owners. "We wanted to make it easier for our staff to give our customers world-class service."
The new building is almost 94,000 square feet and sits on 22 acres. With the previous location logging 44,000 square feet, they are more than doubling their square footage to better serve customers. Toyota's new location will allow a 1,000+ car inventory, including new, used and certified pre-owned, offering customers more choice, all in one location.
A New Way To Shop Cars
Customers will notice the difference as soon as they drive on the lot. A giant covered entry invites you to pull in, where your car will be parked for you by a friendly team member. A bottle of water is offered and you will walk right into the dealership. "It's a wonderful convenience to our customers to be able to offer valet parking," says Joe McCorkle general manager for Toyota of Olympia. "We don't want our customers getting wet, and we all know it rains here just a little," he adds with a smile.
When you enter, the spacious floor is open and airy, with a front desk manned by four people to help you with all your needs. Computer stations will be spread throughout the lobby, for customers to use – something most dealerships don't offer. "The idea is that people can shop prices online, right from these computers," says McCorkle. "It's about customer convenience."
That's right, you can price shop other dealers while still at Toyota of Olympia. They don't mind, because their staff's autonomy means they are confident you won't find a lower price on any vehicle.
Like the current location, the space will include a delicious catered café, a play area for kids and of course coffee. And, they will continue to offer free pick-up, drop off and delivery services for their customers as well.
Once you find your new car, customers will enjoy a dedicated new car delivery room where you can keep warm and dry while the salesperson goes over programming the Bluetooth phone features, setting the radio and reviewing the many features of your new car. You'll know how to operate your new car when you drive it off the lot, and be warm and dry while learning. Of course, if you have trouble afterwards, you can call or come back in – they are happy to help anytime.
Swift Service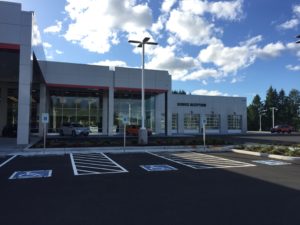 The new building also expands Toyota of Olympia's ability to offer swift service with extra convenience to their customers by more than doubling the service center capacity. The new building offers space for 24 cars in the front service bay and includes space dedicated solely to quick lube service (oil change, tire rotation and alignment check), helping keep up with the large daily demand for this service.
At the current location, the talented service team could only handle 4 oil changes at once. Now, Toyota of Olympia will have the space for 12 services at a time. To help their staff, this service area has an underground "basement", the same size as the above ground service area. This make it quicker and easier for the team to service the cars. The new location has also upgraded to two car washes instead of just one, getting your car back on the road quickly as well as shiny and clean.
For even more efficiency, there is a dedicated "quick moving parts" room right in the middle of the service center, allowing staff to easily access parts that are used most, such as oil filters. "A technician that works in the bay doesn't have to walk all the way to the part department, but can just go right here," explains McCorkle. "It saves his time and more importantly, the customer's time."
Finally, the service buildings are arranged for easy access for customers. Again, no stepping out into the rain necessary. Even if you don't own a Toyota, you can take advantage of these fast services. All of the technicians are trained in all makes and models and they can service any car.
Customers who shop online will also be getting more help. The new building has room to increase staff on the business development team – the group that answer online inquires. Currently, Toyota has space for eight team members. Now they have space for 16, with room to add even more.
"Our goal is to respond in under ten minutes with all the information a person may want, including specific car specs from the manufacturer, trade-in value, interest rates and what the payment would be under at least 3 different options," says McCorkle. "Again, it's okay if they don't buy the car from us. We want them to be informed buyers so we give them all that information without trying to coerce them into coming down. We know that after shopping around, they will come back because our prices can't be beat."
Toyota of Olympia's new location is open now. Visit the Toyota of Olympia team at 6969 Tyee Drive in Tumwater, next door to Home Depot, just off I-5. Their team is ready to give you a tour of their new home. For more information visit the Toyota of Olympia website or call 360- 328-7726.
Sponsored