Submitted by The Landing at Hawks Prairie
The Landing at Hawks Prairie shopping center in Lacey, WA will host its annual celebration open to all Lacey-area military families on Saturday, July 22 to honor the commitment of and sacrifices made by the men and women of the U.S. Armed Forces.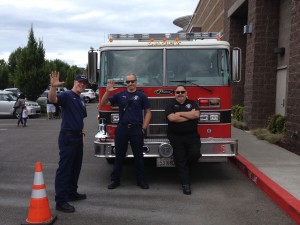 From noon to 3:00 p.m. on the July 22, The Landing at Hawks Prairie will welcome service members and their families from Joint Base Lewis-McChord and also local fire and police, for an afternoon of free hot dogs and refreshments, face painting, giveaways that will include coupons from center tenants, and children's games and activities.
Hawks Prairie owner Cimmarusti Holdings LLC is once again sponsoring this event for the third consecutive year as a tribute to not only the service men and women stationed at Lewis-McChord and throughout the world, but to honor their families as well.
"We consider this to be a small gesture of our immense appreciation for these selfless, modern-day heroes," said owner Ralph Cimmarusti. "In our minds, we can never do enough to thank the brave members of our military for the sacrifices they make to protect and preserve our freedoms,"
Ralph Cimmarusti and his brother Larry, who currently own and operate the Original Roadhouse Grill restaurants in Oregon and California (and previously owned Tony Roma's and Burger King restaurants in several states), have a two decade-plus history of staging fundraisers on behalf of the families of law enforcement officers killed in the line of duty.  They strongly believe it is their responsibility as members of the local community to honor the memories of officers who have made the ultimate sacrifice in protecting our communities.
"This event is just our way of recognizing these service men and women, and their families," said owner Larry Cimmarusti.  "We owe them so much, so this is just one way to say thank you."
Located in the heart of the Puget Sound region, Joint Base Lewis-McChord (JBLM) is the Defense Department's premiere military installation on the West Coast. JBLM provides world-class installation support to more than 40,000 active, Guard and Reserve Service members and about 15,000 civilian workers. The base supports 60,000 family members who live on and outside the base, and nearly 30,000 military retirees living within 50 miles.
This special event will be held as the corner of Galaxy Drive and Martin Way at The Landing at Hawks Prairie, which is located at 1200 Galaxy Drive NE in Lacey.