Submitted by Olympia Food Co-op
This year, we are celebrating 40 years of Co-op Local. When thinking local at the Olympia Food Co-op, it's easy to focus on all the family farms that surround us … though, have you considered the small batch producers in our Chill Department? When researching, it's been great to learn of their history and products. And most exciting, is hear gratitude to our membership for supporting their efforts, which have enabled them to expand their lines and distribution!
Here is a small selection of local Chill vendors to explore at both our stores. There are many more – ask us next time you're in!
Flying Cow
This wonderful yogurt, Flying Cow, is made in Rochester by Selma Bjarnadottir. She and her partner Keith take meticulous care of their "A2" herd. This variety of cow's milk help to create a yogurt that is especially nutritious and easy to digest. Selma uses old-fashioned techniques, with only fresh whole milk and yogurt cultures. The yogurt is then packed and sold in returnable jars made in the United States. If you are headed to Seattle, you might venture into Molly Moon's where all the varieties of frozen yogurt is made from Flying Cow.  Check out this great article on their farm and work!
Exquisite N Traditional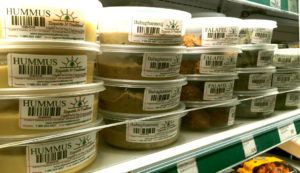 We are fortunate to have Habib and his family in Olympia, where since 2006, members of the Co-op have been enjoying  their creamy Hummus.  Over time, Exquisite N Traditional has expanded their line to include Babaghannouj, Falafel, Grape Leaves, Tabbouleh, and Rawmus. Also they have added an incredible Tiramisu, quick to fly off the shelves. All products are packaged in small containers, creating a perfect amount to mix and match, building a tasty and healthy meal. A former Olympia Food Co-op Board Member and father of two, we have enjoyed Habib's contributions to our community.
OlyKraut
Their debut was in our Chill Department eight years ago. Now, OlyKraut has expanded, to be found in many stores in Portland, throughout the I-5 corridor all the way to Bellingham, and into Eastern Washington and Idaho. OlyKraut is a Certified B Corporation, a growing global movement where, "… through their products, practices, and profits, businesses should aspire to do no harm and benefit all." Sash Sunday is a local business owner who embodies responsibility and passion for our local economy, with a special connection to local organic farmers. For many years, she has been involved with our Local Products Committee of the Board. Throughout the year, OlyKraut's seasonal product line slightly changes, as they collaborate with various organic farms. An Eastside Chill Manager recently mentioned, "You don't have to be a health nut to love OlyKraut products – the brines are delightful cocktail mixers. I highly recommend Spicy Garlic Brine for your spicy Bloody Mary. And if you like it mild, any of the other brines will make it incredible."
Cobb's
A popular name here at the Co-op certainly is Cobb's. Their first product, an incredible Peanut Butter Cup with Salted Dark Chocolate, became an immediate success, and they soon expanded to other flavors: Sunbutter with Espresso Chocolate, and Walnut Crunch with Fennel Pollen. For picnic spreads, they have created Cashew Cream Cheese products in four flavors. Their latest sensation, the grain-free and dairy-free Half-Baked Cakes, come in six selections, and the availability varies as they sell fast. Also, interesting to note, Cobb's products are sold in stores around the Pacific Northwest, yet these tasty Half-Baked Cakes are only offered in Olympia, due to their short shelf life. Check out this Thurston Talk article from 2014
Hot Babe Hot Sauce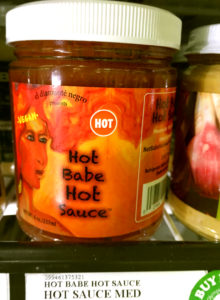 Take a culinary vacation with this Hot Babe-Hot Sauce. Sandra Bocas has brought her family recipe here all the way from Trinidad, and how lucky are we that she shares it with us! The Bocas family restaurant, El Diamante Negro, was started over 50 years ago, and this hot sauce was found on every table. Memories of her grandmother's deliciously fresh sauces inspired the creation of her first pepper sauce, Hot Babe-Hot Sauce, with a distinct Habanero heat and fresh lime flavor. This sweet quince spicy hot sauce can be used in a variety of ways, such as a glaze for baking, roasting, or grilling, with Asian dishes, and tastes great on cheese. Here is a Thurston Talk article from 2014
Post Script
We at the Olympia Food Co-op are celebrating our 40 year anniversary! Since day one, our Local Buying program has remained strong, because of you, our membership! One of our ways to support our local partners is to provide a low margin, so when you purchase their products from us, you know they are getting a fair share of the sale. This helps us to remain loyal to our mission statement. We have two locations, and both stores are open daily, 8am – 9pm.