If Cheers is the place where everybody knows your name, Pizzeria La Gitana must be its European cousin. When guests walk into the downtown Olympia restaurant they're often welcomed by the owner himself, Marian Licxandru.
"It always impresses me when I go to a restaurant and the owner greets you, knows you and is glad to see you," says Bill Hainer, a frequent patron. "Both Marian and several of the wait crew always stop by to say hello. It's a positive, friendly environment."
Hainer and his wife Cathy, both retired teachers, have been dining at the Olympia location since it first opened. They moved into Jubilee in 2012 after a period in Yelm, which is where they first discovered Pizzeria La Gitana's sister restaurant. "We had already been to the one in Yelm and we loved the pizza, so we were thrilled to see it open in Olympia," says Cathy.
One factor that keeps them coming back is the ambience. The Hainers have traveled throughout Europe and South America and the atmosphere reminds them of the places they've visited. "It feels like somewhere you can sit and have a glass of wine with your pizza in a very welcoming and warm environment," says Bill. "We're never hustled or hurried along when we come here. We've grown to like the people a lot and become friends with them."
Every weekend Pizzeria La Gitana has some type of entertainment, whether it's flamenco dancers or jazz musicians, which adds to the ambience, says Cathy. "Especially after our South American experiences, we appreciate that." The cover-free evenings are so popular that anyone without a reservation will likely not be able to get a seat, a fact that pains Licxandru. "We hate to let people go, but it's very hard to fit them in without reservations," he says.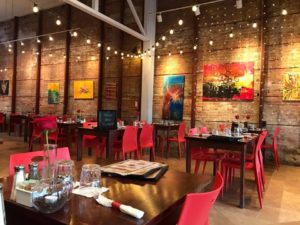 The Hainers also appreciate the restaurant's location. Bill and Cathy are avid theater-goers, and the Washington Center for the Performing Arts location just one block away is a plus. "In addition to going to shows in Seattle for the last 30 or 40 years, we've always gone to at least five programs at the Center," says Cathy. "Now we've decided to discontinue our visits to Seattle so we'll be here more. We can go to La Gitana at 5:30, then walk down the alley and we're at the theater. It's a great location for people like us."
The couple has more time for such pleasures since retiring. Cathy taught middle school and high school language arts and Bill's last role was as an administrator for an alternative school in Monroe. "It was set up to honor people who had chosen to homeschool their children while still providing resources from the public school system," he says. Initially they retired to 20 forested acres outside of Yelm, but after eight years they decided it was time to get closer to more urban areas.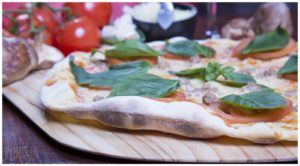 The couple visits the restaurant often enough that the staff knows what they like. "The pizza is wonderful," says Cathy. "We like thin crust pizza and theirs is one of the best that we've found. We're pretty traditional and tend to always order the same thing: sausage and mushroom pizza with double mushrooms and a bottle of Andeluna Malbec. We both graze off of one side salad with olives and end up sharing a flan for dessert."
Recently, Lixcandru challenged them to expand their palate slightly. "The server will come over and say, 'The usual?'" says Bill. "On our last visit, Marian came by and suggested a slight addition. We're going to add that next time."
The Hainers' experience is exactly what Licxandru has in mind. "My vision is to create a really authentic Italian pizzeria where everybody smiles and greets the guests and are there to help," he says. "The music and the food are awesome and it feels like somewhere in France. I want a European oasis in the middle of downtown Olympia and Yelm and it looks like it is something our guests appreciate and want as well."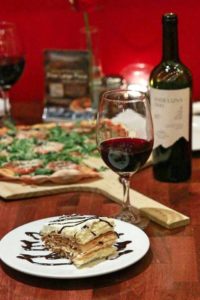 At the suggestion of several customers, Licxandru and his wife and co-owner Lumy recently added sound panels to modify the restaurant's acoustics. "The sheetrock sound was bad," says Licxandru. "It was bouncing back and forth when we had live music so we listened to our guests and it's made a huge difference."
A loan from a local bank will allow the Olympia site to expand its kitchen and add pasta to the menu, along with a few other dishes, he says. "We have enormous success with our pasta in Yelm and now it is time to bring those dishes to the Olympia location, too. We'll have to close for a week or two and will give the place a more European facelift."
That's good news for the Hainers. "We still go out to the Yelm restaurant every so often just for their wonderful, homemade pasta," says Bill. "They haven't had it here yet. That will keep us coming here." He pauses. "Actually, they'll keep us coming even if they don't have pasta."
Visit La Gitana at 518 Capitol Way South in downtown Olympia or 309 E. Yelm Avenue in Yelm.  Pick your order in advance by reviewing the menu here.
Sponsored