David Crawford grew up playing street hockey with his brothers. He has always been a hockey fan. So, three years ago when he learned about floorball, a game that is similar to hockey but not played on ice, Crawford was all in. Now, Crawford, who is the recreation director at Saint Martin's University, is passionate about sharing floorball with others.
"I've had a stick in my hands most of my life," Crawford said. "This was an easy fit for me."

While the roots of floorball are in Sweden and Finland, Crawford first learned about floorball while on a business trip to Canada in 2014. His interest has become a passion both as a player and in sharing the game, telling others about a sport that is new to the United States.
In his passionate attempts to share his new favorite sport, Crawford has put on clinics for North Thurston Public Schools, showing PE teachers the fast-moving game they could use in their gym classes. He has also coordinated two clinics for kids through the City of Lacey. And at Saint Martin's University, he has made the sport available on recreation nights.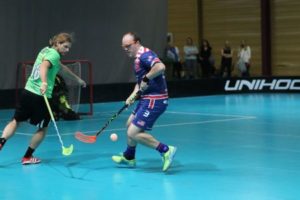 To help spread the word about floorball, he has also started an email campaign. "Hopefully, it will explode," Crawford said. "I'm just trying to get the word out about the sport. Right now, it's let's learn. Let's play. Let's teach and let's have fun."
With his background in coaching and educating about different sports, spreading the news comes naturally. "This is easy for me," Crawford said. "My focus is this area. I want Thurston County to be the leading edge in growing it. That's partly because I live here."
There are no floorball leagues in the state, but there is a group playing pickup games in Woodinville. "Other than that, there's me in Washington," Crawford said.
Crawford's passion is not just verbal. He is also good at playing the game. Last summer, he played on the U.S. national floorball team in Latvia.
"It's one of the sports that's for everybody," Crawford said. "It's recognized by the International Olympic Committee. It's in the process of becoming an Olympic sport. It will be in the World Games this summer in Poland. The U.S. will be competing."
Floorball is played with sticks similar to hockey sticks that are a mix of fiberglass and carbon fiber. The grips look and feel like a tennis racquet grip. The balls are like whiffle balls.
Crawford said one of the nice things about floorball is that the rules protect players from injury. Players are required to keep their sticks below their waist when near other players. You cannot grab the ball with your hand. You cannot lift your stick above your head. Rules focus on controlling the stick.
Floorball is fast paced. While there is contact in the sport, most of the rules are to avoid contact. You cannot hip check. You cannot body check as you can in hockey. You can shoulder someone, similar to soccer or basketball when you are jockeying for position over the ball.
"While it is aggressive, it takes away some of that aggressiveness so I'm not going to get laid out when I touch the ball," Crawford said. "Floorball is very similar in the flow to basketball, soccer and hockey. Athletes that have that game mentality see that similar feel."
Crawford sees floorball as an alternative to other sports. Football, basketball, baseball, softball, volleyball and soccer reign supreme, but he says floorball can become something different, another option for the kids who are not starters in other sports.
"Give them more opportunities," Crawford said. "We'll draw kids who weren't good playing basketball or football. They might try floorball and take off."
Crawford has friends who are starting floorball programs in different states. He said those who have tried this new sport that is at the grass roots stage in the United States have enjoyed it. "I've never had anyone who actually played it and said this is a joke," Crawford said. "They're usually exhausted and excited."
Crawford said the health benefits are good. "They're running up and down the floor," Crawford said. "You can play it anywhere. If you don't have a rink, okay. If it goes past this line it's okay. I can get someone playing within five minutes, very, very quickly."
While floorball is like hockey, Crawford said what makes this sport more adaptable is you do not have to know how to skate. And you do not have to play it on ice. That makes it more affordable.
In Crawford's attempt to spread the news about floorball, he has launched a company called Floorball Guru. The purpose is to give people a resource to learn about floorball.
"It's, 'Hey I've heard about this, what's the next step?'" Crawford said. "I do a weekly newsletter where I am just trying to help people get started. Like anything new, people don't want to try anything they don't know anything about. Hopefully, this is a resource to go to that will give them the confidence to want to start a program."