Submitted by O Bee Credit Union
The Olympia Brewery was once a major tourist attraction in the South Sound. The highlight of the plant tour was the last stop — the tasting room — where adults where served beer and children had all the root beer they could gulp down. "While the brewery may have closed, brewing is alive and well in our area and we want to bring back the spirit and community of the tasting room," said James Collins, President and CEO of O Bee Credit Union. That's the idea behind "O Bee Happy Hour," a free, after-hours beer tasting for members only featuring local craft brewers.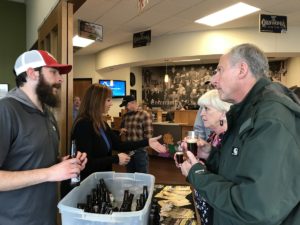 "O Bee" stands for "Olympia Beer;" the credit union started in the Olympia Brewery and the after-hours beer tastings are a way of honoring the legacy of the tasting room while supporting the recent surge of craft brewing in the area. In addition to the Happy Hours, O Bee has been working with South Puget Sound Community College to offer a scholarship for the college's new craft brewing course beginning in fall 2017. "We see this 'brewing revolution' as a positive development for the community as a whole and we want to help it succeed," added Collins.
O Bee also collaborates closely with the Olympia Tumwater Foundation to preserve and share the history and memorabilia of the Olympia Brewery. "We love that our history is tied to the brewery. We have members here who worked at the brewery back when O Bee was housed in the Schmidt family's first home on the brewery grounds," said Ashley Labrador, Tumwater Branch Manager.
There will be two more free beer tastings this spring. The first one is already sold out; it will take place at the Tumwater Branch on Friday, May 26 and will feature Dick's Brewing Company of Centralia. The second one will pop up at the Lacey Branch on Wednesday, June 21, also with Dick's Brewing. As a new generation of craft brewers move into the area there will be no shortage of beer to sample as O Bee opens its doors to more beer tastings throughout fall. For more information, visit O Bee Credit Union's website.