The American Academy of Pediatrics recommends babies be breastfed for at least a year. However, what is natural is not always intuitive or without complications.

Closing the chasm between desire to breastfeed and the ability to do so is Carrie DiStefano. Carrie is the owner and superhero mama behind Olympia Lactation. She offers both individualized, in-home lactation consulting and monthly prenatal breastfeeding classes to help moms and babies succeed. Carrie says her primary objective is to, "help families with meeting their breastfeeding goals." This valuable service is tailored specifically to each family and, "can be highly variable based on the age of the infant as well as the problem or concern that a parent feels she or baby are experiencing."
Understanding that breastfeeding can be stressful, Carrie schedules appointments in clients' homes so they can be as comfortable and relaxed as possible. She listens to the family's concerns and gathers a complete history of the pregnancy, labor and delivery, all of which can impact breastfeeding. Carrie assists with positioning during a feeding and assesses baby for any other issues that may affect breastfeeding success. The appointment includes the creation of a breastfeeding plan and follow-up, usually via text message, for a week to make sure that all are comfortable and doing well. "I want to be sure all questions have been answered and just in general be a resource of evidence-based breastfeeding information for all the families I work with," she explains.
Carrie also offers prenatal breastfeeding classes. She strongly recommends that every first-time breastfeeding mom take such a class, either from her or another trained professional in the community. "Often moms say they plan to breastfeed for at least six months or longer, and having a level of understanding of what's normal in regard to newborn feeding is incredibly helpful and sets them up for success," she says. Classes covers topics such as breast anatomy, latch, positioning, common concerns and what to expect the first few days. The classes occur in-home and can include up to five couples.
Carrie, a busy military wife and mother of two, discovered her passion while navigating her own breastfeeding challenges as a new mom. "I didn't enjoy breastfeeding and felt it was one of the most difficult things I had ever had to do," she says. After several months of struggle, she was finally able to enjoy breastfeeding and the connection to her baby that it creates. This led to a desire to help other moms. She says of that time, "I felt strongly that I wanted to assist other families in their breastfeeding journey." With two young daughters at home, she went back to school.
The training to become an International Board Certified Lactation Consultant (IBCLC) is a lengthy one, requiring more than 90 hours of lactation education, 14 health science courses and several hundred clinical hours. She began this training while her family was stationed in Germany in 2012. After returning to the U.S., she completed her clinical hours and certification exam.
She has been helping families breastfeed with success for several years now, but has only recently moved to Olympia. When not with a client, she works part-time as a hospital lactation consultant.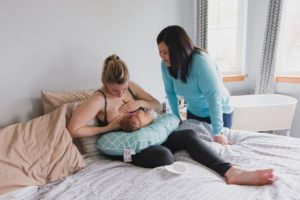 Carrie also loves to explore her new home with her family. They camp, hike, ride bikes along the Chehalis-Western Trail and explore new areas through geocaching. Carrie says, "I never even knew I liked outdoorsy activities until we moved here!"
If there was one thing Carrie would want you to know, it is that breastfeeding gets easier. "The first several weeks with a new baby can be overwhelming, but if families can work through those difficult weeks, it does get better. If a new mom and baby are struggling, please don't hesitate to reach out for help; it is easier to correct a problem earlier than it is later."
You can reach Carrie DiStefano through her website. She is also available by email at carrie.distefano@consultant.com or text message at 360-918-2392.