Sometimes you really do not know what is right in your own backyard. I would have never guessed that just a couple of miles from my house is a business which ships million dollar helicopters all over the world. But just south of the Olympia Airport one can find Northwest Helicopters LLC, a much bigger operation than I ever imagined. Pulling up, I immediately notice the vintage Hueys on the lawn and the posted security signs. I have always wondered why I hear helicopters flying over my house so regularly, and today I am finally going to find out the answer.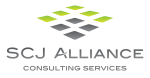 Aviation memorabilia decorates the foyer of the impressive building, and I am immediately drawn to a picture of Amelia Earhart. Walking into the office of owner Brian Reynolds, I cannot help but notice the dull hum of a helicopter landing. It is not every day that I get to experience something like this, and I am curious to know how Brian ended up here. He tells me that the lobby photo I noticed sparked his interest as a child. After finding it in his great aunt's attic, he realized it was addressed to her from her friend, Amelia Earhart. And the rest is obviously history.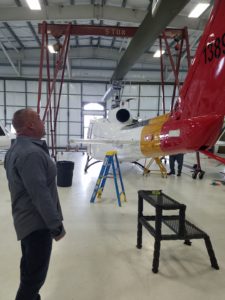 After becoming certified to fly, Brian had trouble finding work as a helicopter pilot, so he ended up going to flight school to fly commercial planes in Denver. Here, he got the phone call that would change his life forever.
A flight mechanic friend in Olympia called to offer him a helicopter pilot position. "I'm in the middle of college here; I can't just leave," I told him. And he said, "Well you have to make this decision tonight. You either take this job or it's going to someone else." Within a few short hours he had his decision and the next day headed out on a plane to Olympia. Brian explains laughing that he literally got to town and went right to work for the small company, which consisted of just him, the owner, and one helicopter.
Fast forward to just a year later when the elderly owner decided he was ready to get out of the business. "I had two choices. Go find another job or buy this company from him. I had no options and no plans, but he gave me a really good deal and a way I could pay for it to get this going," Brian explains.
The first few years were not easy Brian tells me, but he learned from watching other bigger companies' mistakes. With no formal business experience, he quickly realized that everything was on the job training. "It just evolved from there. I never planned it to be what it is today. Opportunities fell upon opportunities. I went to two helicopters, then four, to eight and twelve. We just kept growing," Brian adds.
For the first ten years Brian says they focused on logging operations, but when the price of lumber dropped overnight, they had to make some changes. He shifted his business to helicopter maintenance and overseas sales. Being the only Bell Service Center in the state, Northwest Helicopters LLC made a name for itself. Then their first big sales contract came from the Philippine Air Force, which opened the door for other similar ventures.
A majority of the helicopters they sell to third world countries consist of the Hueys, reminiscent of the Vietnam War era. Brian explains, "They're simple, they're robust, and something they can maintain and easily to operate. All this new stuff with all the fancy computers and video screens, they just can't deal with that." The other niche the Huey helicopters fill is for the collectors who want to relive their past. They come to Brian, wanting to purchase their own personal Huey designed exactly to their specifications. "We do a lot of recreating people's fantasies," Brian adds.
With close to 60 employees now, Northwest Helicopters LLC say their business is still about 40-percent flying. With contracts for all the state agencies, their business choppers are used for everything from fire-fighting to restoring power. "Helicopters are generally used when you're having some sort of emergency," Brian explains. Although expensive to fly, they can land and takeoff in tight spaces where other aircraft cannot.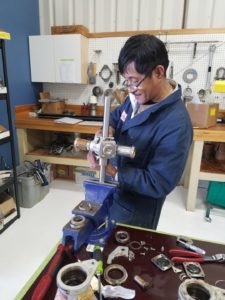 When I ask Brian if he still gets to fly himself, he tells me that is actually his favorite part of his job. These days this helicopter pilot spends his time in the air, flying as a stunt actor for major motion pictures. It started with another phone call from a guy who needed a Cobra for a movie, and he just happened to own one. "So I went down and got on the first film. And from then on it just went up and everybody started calling, and we were sending these things all over the country," Brian says.
Most recently, you can catch Brian on the big screen of the new King Kong movie, Skull Island. He says they shipped a bunch of Hueys to Hawaii for the production. "It's probably the most challenging flying you can do. That's probably why I enjoy it. Everything is really flown close together because of the camera angles. And it's pretty dangerous," Brian says. He may only end up on the actual screen for around ten seconds, but he loves the artistry that comes with it. "You're basically making something out of nothing. You're taking someone else's visions and cards and you read through them, and you read the script and picture and you try to develop what's in the director's mind," he says. Also on his impressive movie credit list is Batman vs. Superman, War Dogs and X-Men.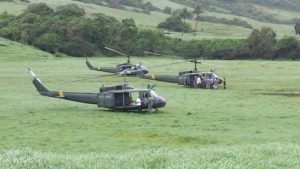 Even though Brian could be classified as famous in some circles, he is still just a down-to-earth helicopter pilot who loves the aviation industry. And, he is doing his part to make sure the younger generations get involved, too. "That's really the key. You have to get people interested to replace people ready to retire. It's important to keep the flow going. There's lot of different ways you can go," Brian explains. Besides working closely with the Olympic Air Show, Northwest Helicopters LLC also provides scholarships to students at Clover Park Technical College in their aircraft mechanic school.
Surprisingly, a lot of Brian's employees had never worked in the aviation industry before joining his crew. But let's face it; this is an exciting atmosphere to be around. "Helicopters are just cool. A lot of people just like the aspect of being involved in something that's done a little differently," Brian finished.