No family dominated the state high school triple jump scene in the 1980s more than the Taylors.
Brothers Johnny and Richie Taylor of Timberline High School combined to win four consecutive state titles in the event between 1983 and 1987.

Jaylen Taylor is ready to continue that legacy.
Jaylen, a senior on the Blazers' track and field team who is Richie's son and Johnny's nephew, has certainly emerged as one of the top contender's for this year's 3A triple jump throne following his eye-popping early-season performances.
Three decades after his dad captured the state championship as a junior, Jaylen has put up the best numbers so far in the event for any athlete in the state regardless of classifications.
He opened the year by jumping 46 feet, 2 inches at the South Sound Jamboree before upping that distance his next time out at the Kent Meridian Invite, winning the event with a personal record leap of 46-8, which is the current seasonal high among state triple jumpers.
His early season success has led to invites to several high-profile meets such as the Oregon Relays and the Arcadia Invitational.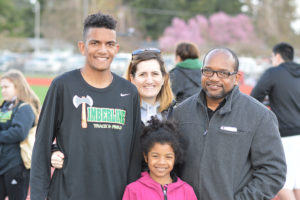 Easily, the most remarkable aspect of all of this is the fact that Jaylen is a relatively new to the sport, having only taken it up a little more than two years ago.
"Johnny and I started doing track around 5-years-old," Richie said. "Jaylen still has a lot to learn, but he's getting there. He's starting out great considering we've had cold weather. He actually shocked me when he went 46-2 at the first meet of the season. You don't usually see that this early in the year. The definitely wasn't the case with Johnny and me. It wasn't until the end of April when we started to really get things going."
Despite his bloodlines, Jaylen initially failed to give track much of a thought growing up. Baseball was his main focus.
His sophomore year, however, he elected to at least agree to give it a try, however, not as a triple jumper.
"Originally, I was going to be a 400 runner," Jaylen stated.
That changed once assistant track coach Zandrea Edenstrom got a hold of him.
Edenstrom has her own impressive local triple jump history. A 1999 Tumwater graduate, she is one of the school's most successful athletes in the event, claiming a second-place finish at the 3A state meet during her senior year and a fourth place as a junior.
And who was her coach while she was a Thunderbird? Richie Taylor. She wasn't about to let a Taylor at Timberline slip through her fingers.
"She knew my dad and pushed me toward that," Jaylen said. "So I decided to try it out. She thought I would be good at."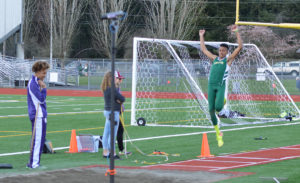 Uncle Johnny's sophomore year he won the first of his three consecutive state champions. Jaylen's dad finished second in state as a sophomore – losing to Johnny in the 1986 finals.
History was indicating big things for Jaylen during his sophomore campaign. Things went in another direction.
"Sophomore year didn't go that well. It wasn't so great," Jaylen said with a smile.
Undeterred, Jaylen kept working and improving, leading to far more success his junior year.
"The end of last season the light came on and he started to believe he could do this," said Timberline coach Todd Taylor, who is not related to Jaylen and his family. "He's been dialed in since. He's a captain, a leader, a role model. He does everything you want out of an athlete."
Jaylen ended his junior year by finishing sixth in the triple jump at the 4A state meet, igniting the spark for this season.
"It was probably 30 minutes after I stepped off the podium I decided I was done with baseball and I was going to focus everything on track," said Jaylen, who has since drawn the interest of several colleges, including Washington, Idaho and Clemson, who he lists as his top school.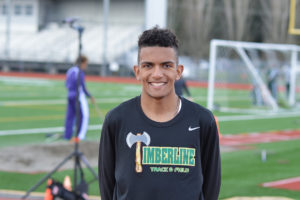 Jaylen has several marks he has circled this year.
First is one that has been within the family for a long time.
Johnny, who ran track at the University of Oregon in addition to playing defensive back on the Ducks' football team, still holds the Timberline school record of 48-6 1/2 – set during his state title winning jump his senior season in 1986.
That distance helped Johnny become the first three-time state champion in the 3A ranks and remained as the state meet record for nearly 20 years until West Valley of Spokane's Rashad Toussaint, the only other 3A athlete to win three consecutive titles in the event, broke it in 2004 (49-2 1/4).
"Johnny is actually expecting it," Richie said about his son breaking his brother's school record. "We talk about it all the time and he's expecting Jaylen to get the record. We still have almost two months before state. If he stays focused and just keeps working at it he has a shot."
Added Jaylen, "(Johnny) wants me to break it because he knows it's eventually going to be broken at some point. It might as well be his nephew."
The next distance on Jaylen's hit list is 50-9 1/4 – the all-time state triple jump record set in 2011 by Kasen Williams of Skyline.
"Jaylen's a TA for Edenstorm and on her board he has 50 posted on there," said Todd Taylor. "Is that reasonable? We don't know, but he's working and he's improving. His goal is to climb up on that podium (at state) and continue the family lineage."